Page ten, officers, victory parades
Most of my World War One material is either by H. D. Girdwood, an English company, who sold their views under the trade name 'Realistic Travels' and concentrated on the British troops and UK market, or Keystone which concentrated on US troops, the U.S. market, and entered the war with the U.S. in 1917. Due to the high gloss and exaggerated curve, the Keystone views do not scan very well. They will therefore almost all be of far higher quality than they appear on the screen. The Keystone views all have a full text description on the back - the Realistic Travels views do not.
Please click here for a high quality scan which gives a true indication of the quality.
Girdwood's views have more immediacy and action. They were issued in sets of between 50 and 500 views so the numbering sequence is pretty muddled. Customers could also pick out the views they required and so a box or collection may have non-sequential numbering. They come on Underwood-type mounts or on lighter mounts with curved or beveled edges. These are interchangeable and most views appear on both types of mount.


These are ALL condition 8, 9 or 10 and priced at $8 each unless otherwise mentioned.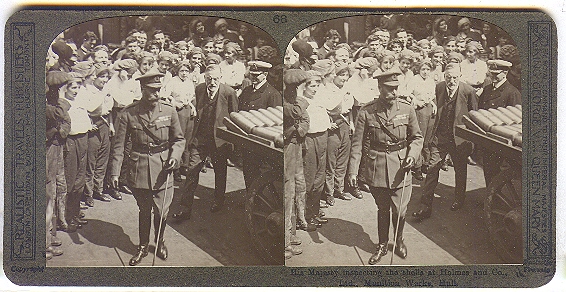 'His Majesty inspecting shells at Holmes & Co., Ltd, munition works, Hull'.
Order #12846.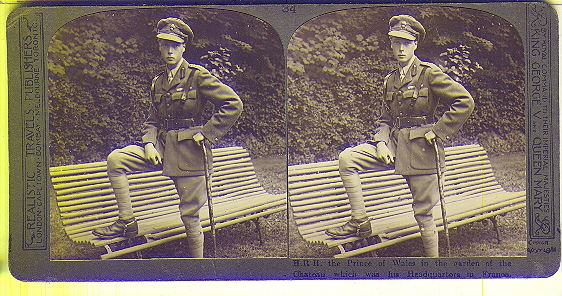 'H.R.H. The Prince of Wales in the garden of the chateau which was his headquarters in France'.
Order #12847.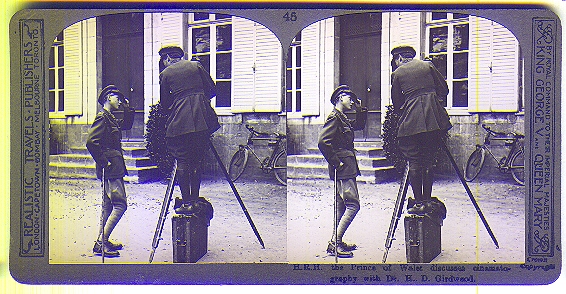 'H.R.H. the Prince of Wales discusses cinematography with Dr H.D. Girdwood'. Girdwood was the owner of 'Realistic Travels' which produced most of the UK WWI views. This is a highly sought-after view which is reflected in the price.
Order #12848.
Price $65.

'President Wilson address Congress on question of international peace and imminent danger of war with Germany'.
Order #12849.
Price $18.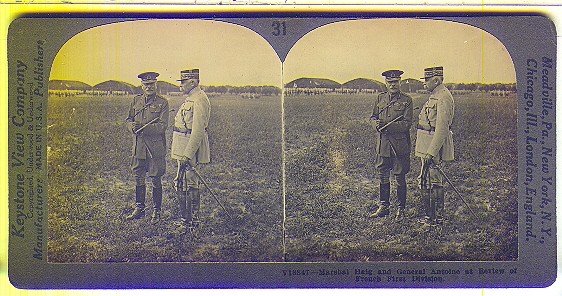 'Marshal Haig and General Antoine at Review of French First Division'.
Order #12850.

'Marshall Foch, General Pershing, Madame Joffre, Marshall Joffre, and General Dubail, at Paris'.
Order #12851.
Price $18.

'Jullunder Brigade Staff at their headquarters in France'.
Order #12852.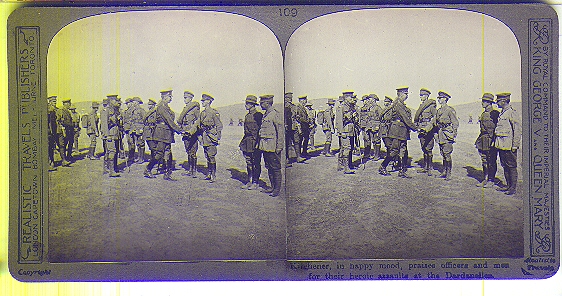 'Kitchener in happy mood, praises officers and men for their heroic assaults at the Dardanelles'.
Order #12853.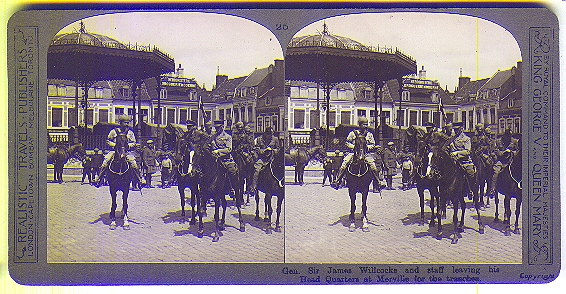 'Gen. Sir James Willcocks and staff leaving his headquarters at Merville for the trenches'.
Order #12854.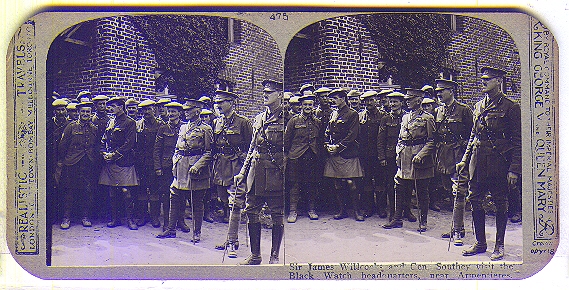 'Sir James Willcocks and Gen. Southey visit the Black Watch headquarters near Armentieres'.
Order #12855.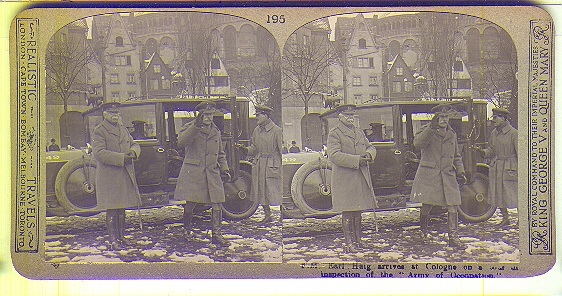 'F.M. Earl Haig arrives at Cologne on a tour of inspection of the "Army of Occupation"'.
Order #12856.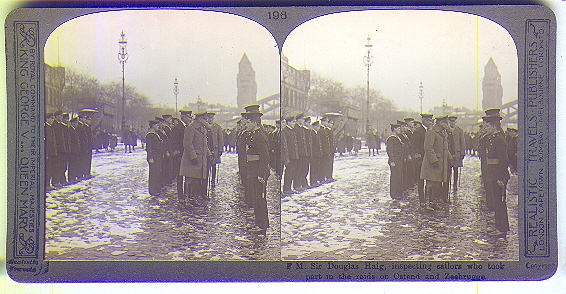 'F.M. Sir Douglas Haig, inspecting sailors who took part in the raids on Ostend and Zeebrugge'.
Order #12857.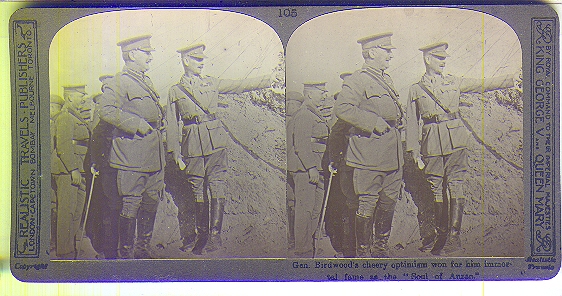 'Gen. Birdwood's cheery optimism won for him immortal fame as the "Soul of Anzac"'.
Conditions. Lines are part of the original view.
Order #12859.

'Cape Town's greeting to General Smuts, back from the victorious campaign in East Africa'.
Order #12860.

'Welcome to D.E.O. Rifles, back from Botha's succesful campaign'.
Order #12861.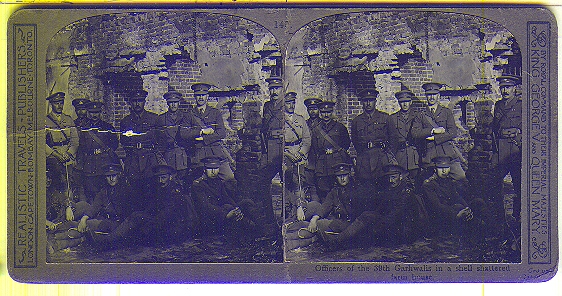 'Officers of the 39th Garhwalis in a shell shattered farm house'.
Condition. Split across center, especially left image.
Order #12862.
Price $4.

'His Majesty with his military secretary, Brig.-Gen. Sir R. Grimston'.
Order #12863.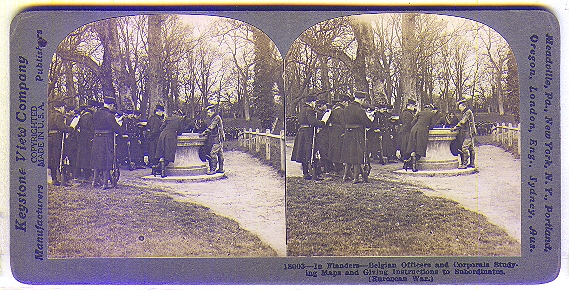 'In Flanders - Belgian officers and corporals studying maps and giving orders to subordinates (European War)'.
Order #12864.

'Generals on a visit to an outpost held by the Black Watch'.
Order #12865.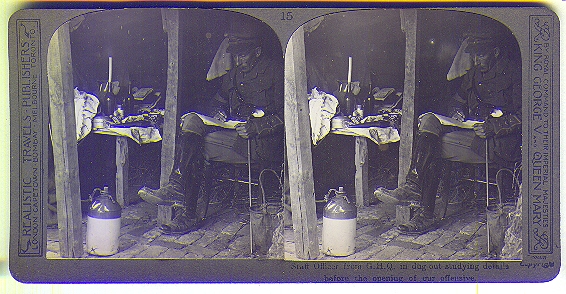 'Staff officer from G.H.Q. in dug-out studying details before the opening of our offensive'.
Order #12866.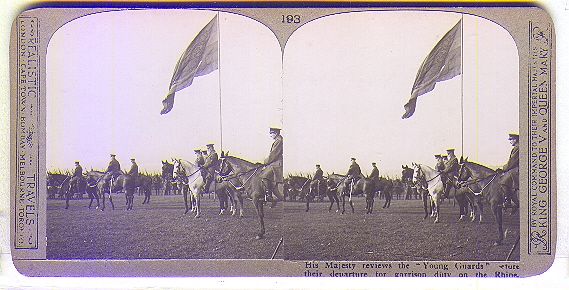 'His Majesty reviews the "Young Guards" before their departure for garrison duty on the Rhine'.
Order #12867.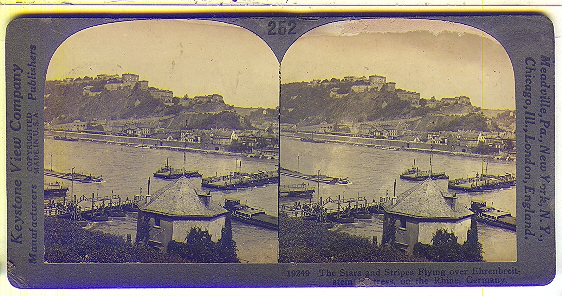 'The Stars and Stripes flying over Ehrenbreitstein Fortress on the Rhine, Germany'.
Condition. Image loss across the top.
Order #12868.
Price $4.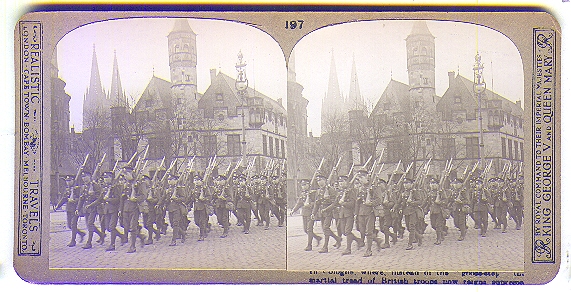 'In Cologne where, instead of the "goose-step" the martial tread of British troops now reigns supreme'.
Order #12869.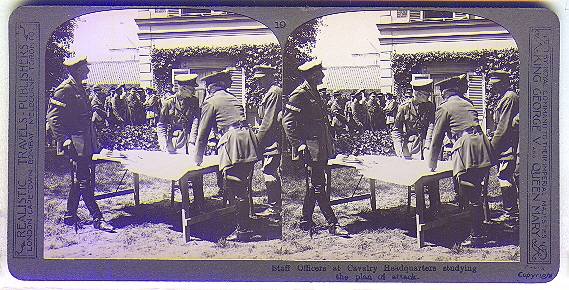 'Staff officers at cavalry headquarters studying the plan of attack'.
Order #12870.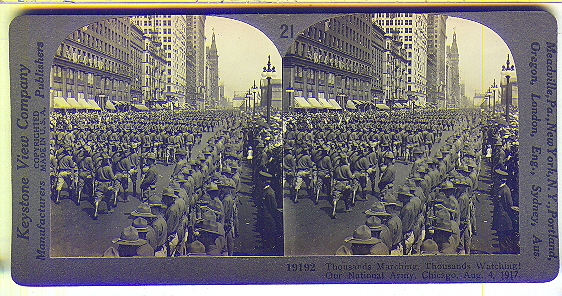 'Thousands marching, thousands watching! Our National Army, Chicago, Aug. 4 1917'.
Order #12871.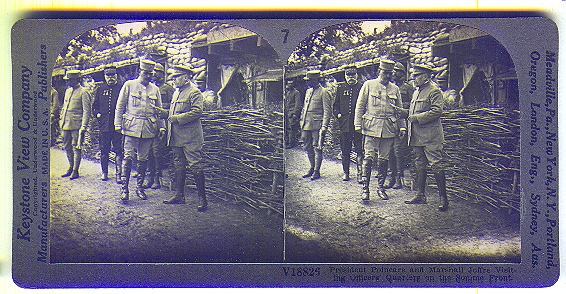 'President Poincare and Marshall Joffre visiting officers' quarters on the Somme Frent'.
Order #12872.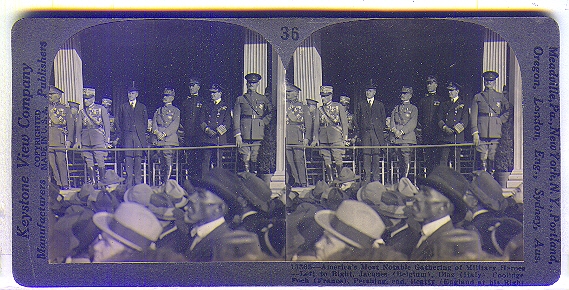 'America's most notable gathering of military heroes - Left to right: Jacques (Belgium), Diax (Italy), Coolidge, Foch (France), Pershing and Beatty (England) at his right'.
Order #12873.
Price $15.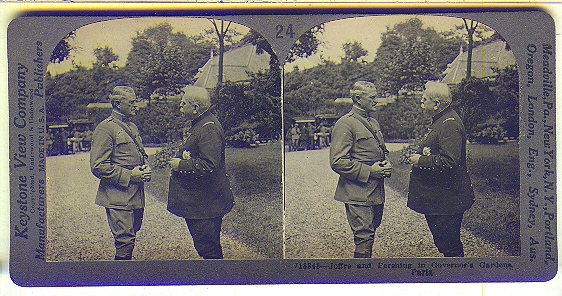 'Joffre and Pershing in Governor's Gardens, Paris'.
Order #12874.
Price $18.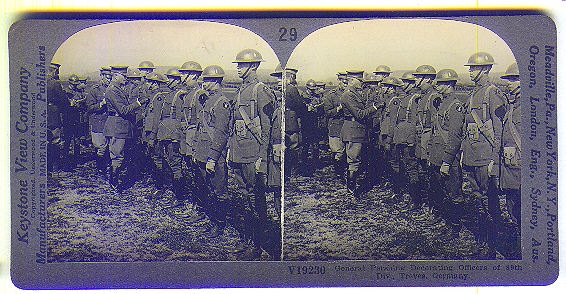 'General Pershing decorating officers of the 89th Div., Treves, Germany'.
Order #12875.

'Lord Kitchener inspecting his Guard of Honour (at the Guildhall)'.
Order #12876.


'Lord French and staff reviewing units of the new army in Hyde Park'.
Order #12878.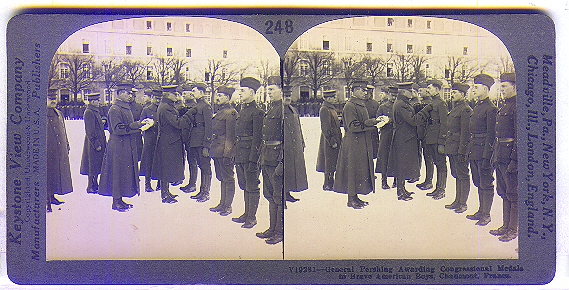 'General Pershing awarding congressional medals to brave American boys, Chaumont, France'. Slight processing stain on left image.
Order #12879.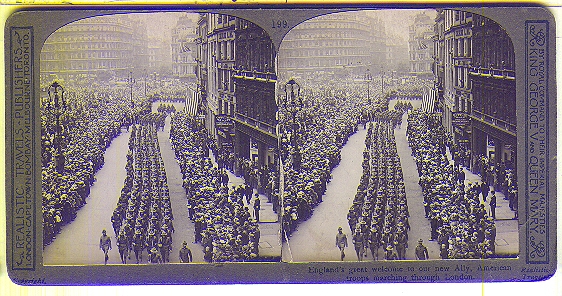 'England's great welcome to our new Ally, American troops marching through London'.
Condition. Mount split thru center.
Order #12880.
Price $5.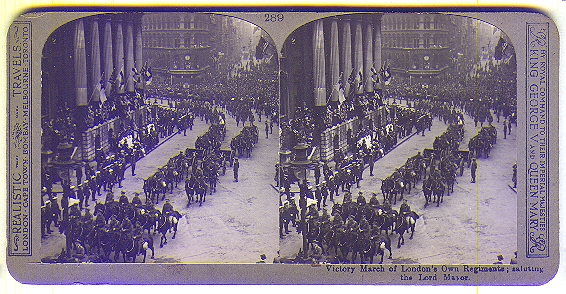 'Victory march of London's own regiments; saluting the Lord Mayor'.
Order #12881.

'Peace Procession of Indian Troops saluting the Unknown Warrior at the Cenotaph, Whitehall'.
Order #12882.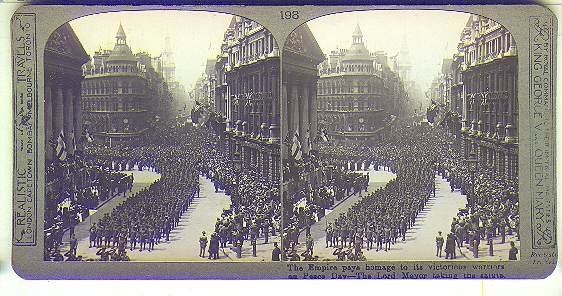 'The Empire pays homage to its victorious warriors on Peace Day - The Lord Mayor taking the salute'.
Order #12883.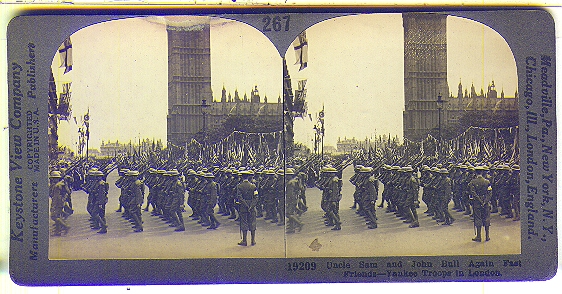 'Uncle Sam and John Bull again fast friends - Yankee troops in London'.
Condition. Stain at top of left image.
Order #12886.
Price $6.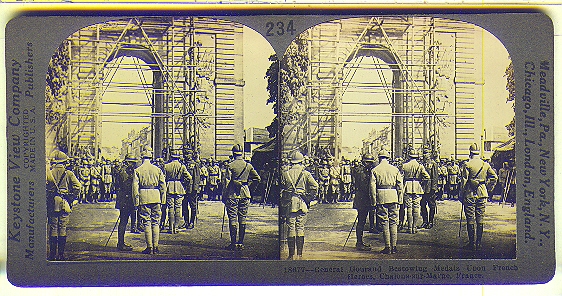 'General Gouraud bestowing medals upon French heroes, Chalon-sur-Marne, France'.
Order #12889.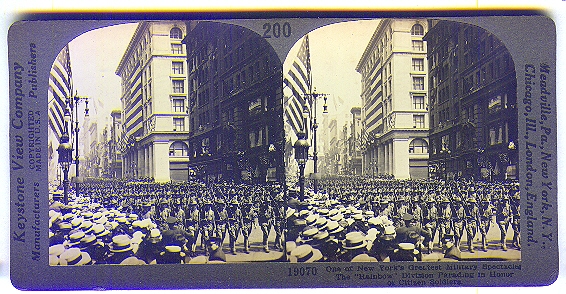 'One of New York's greatest military spectacles. The "Rainbow" Division parading in honor of citizen soldiers'.
Order #12890.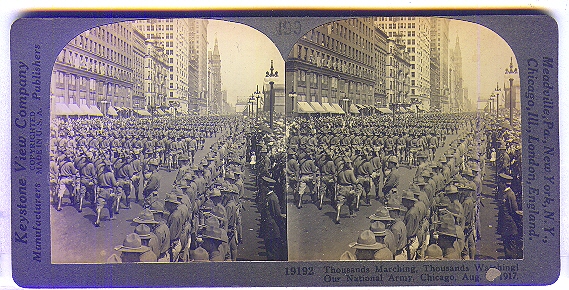 'Thousands marching, thousands watching! Our National Army, Chicago, Aug. 1917'.
Order #12891.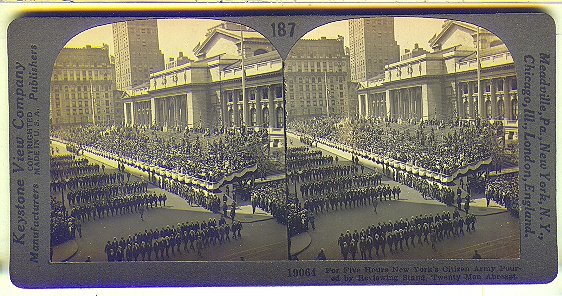 'For five hours New York's citizen army poured by reviewing stand, twenty men abreast'.
Order #12892.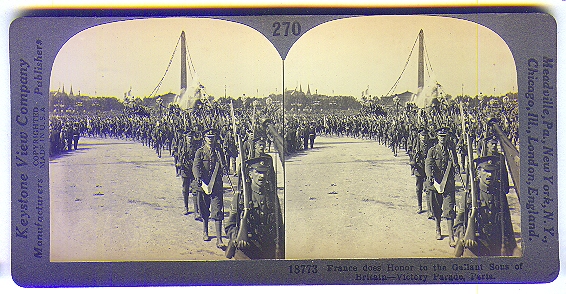 'France does honor to the gallant sons of Britain - Victory Parade, Paris'.
Order #12893.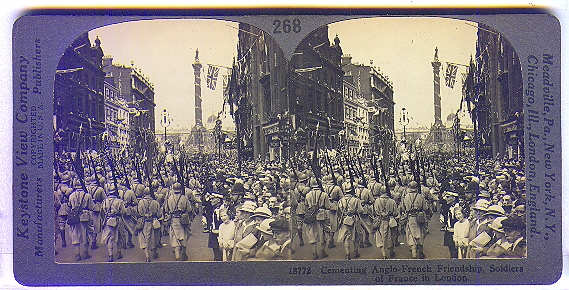 'Cementing Anglo-French friendship, soldiers of France in London'.
Order #12894.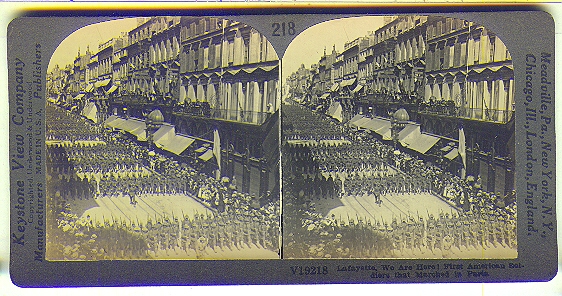 'Lafayette, we are here! First American soldiers that marched in Paris'.
Order #12895.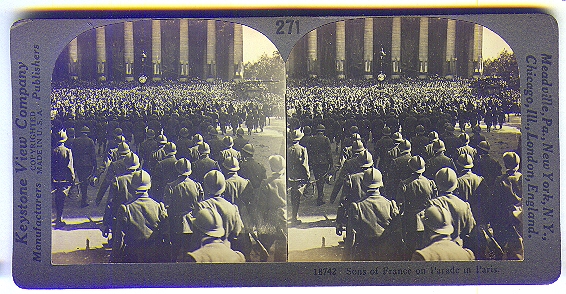 'Sons of France on parade in Paris'.
Order #12896.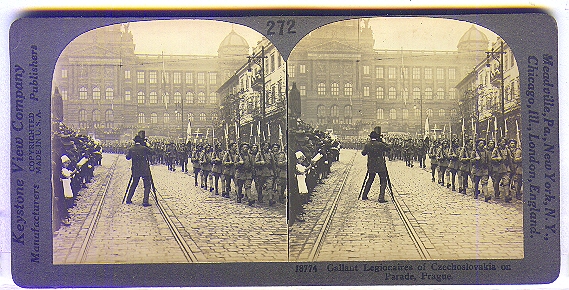 'Gallant Legionaires of Czechoslovakia on parade, Prague'.
Order #12897.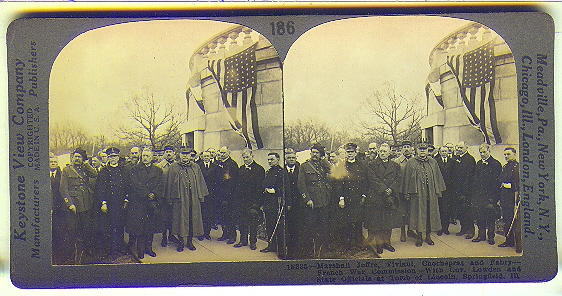 'Marshall Joffre, Viviani, Chocheprax and Fabry - French War Commission - With Gov. Lowden and State Officials at tomb of Lincoln, Springfield, Ill.'.
Condition. Slight processing fault on right image.
Order #12898.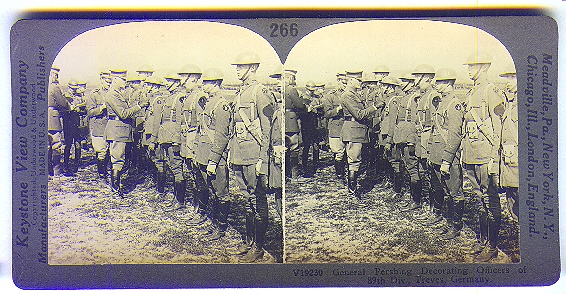 'General Pershing decorating officers at 89th Div., Treves'.
Order #12899.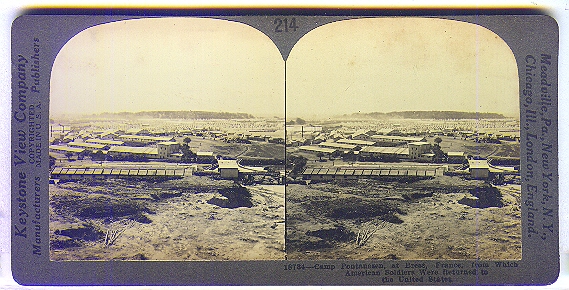 'Camp Pontanezen at Brest, France, from which American soldiers were returned to the United States'.
Order #12900.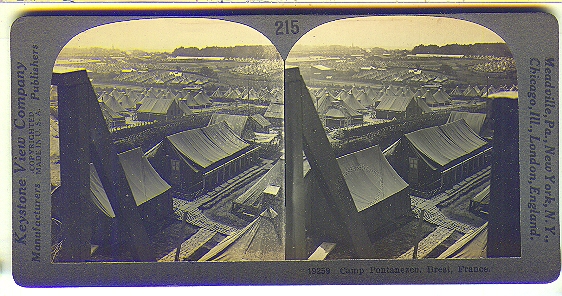 'Camp Pontanezen, Brest, France'.
Order #18601.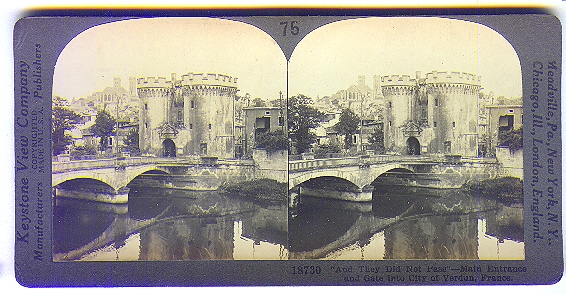 '"And they did not pass" - Main entrance and gate into City of Verdun, France'.
Order #18602.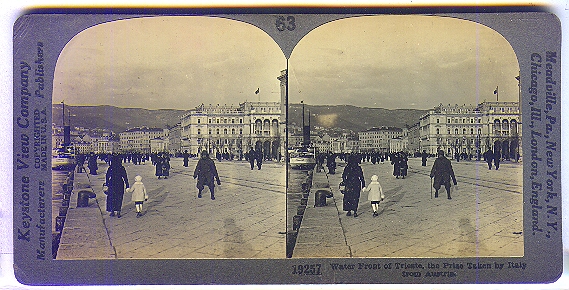 'Water front at Trieste, the prize taken by Italy from Austria'.
Order #18603.

'Temporary homes in devastated Lens, long occupied by the Germans, France'.
Order #18604.
Price $18.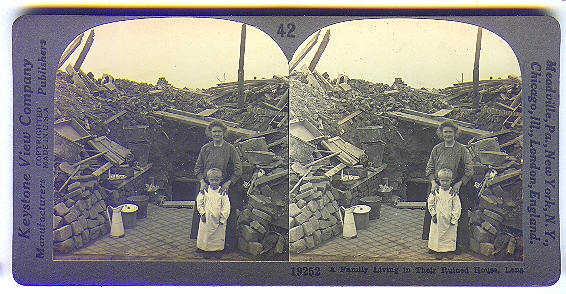 'A family living in their ruined house, Lens'.
Order #18605.
Price $18.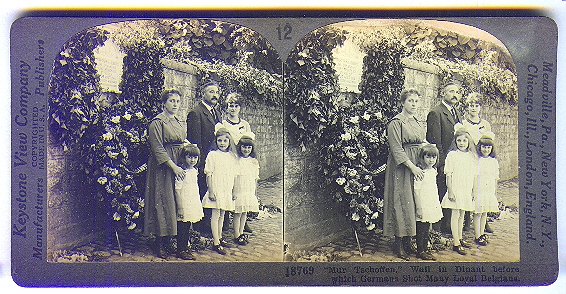 '"Mur Tachoffen". Wall in Dinant before which Germans shot many loyal Belgians'.
Order #18608.
Price $18.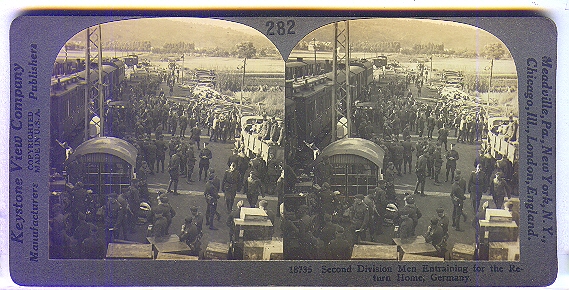 'Second Division men entraining for the return home. Germany'.
Order #18609.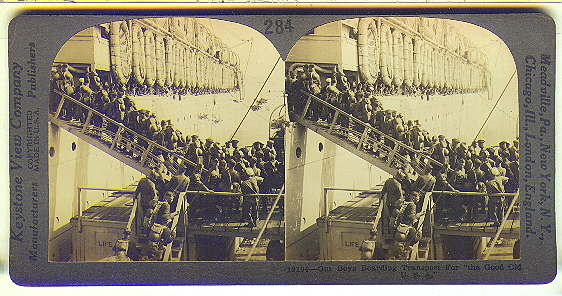 'Our boys boarding transport for "The Good Old USA"'.
Order #18610.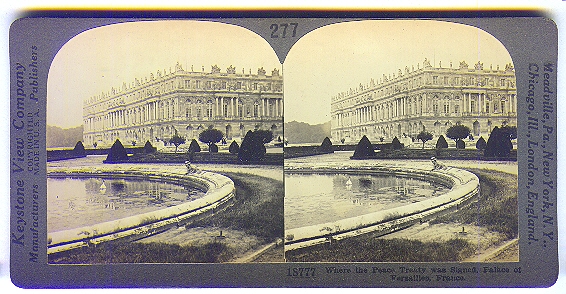 'Where the Peace Treaty was signed. Palace of Versailles, France'.
Order #18611.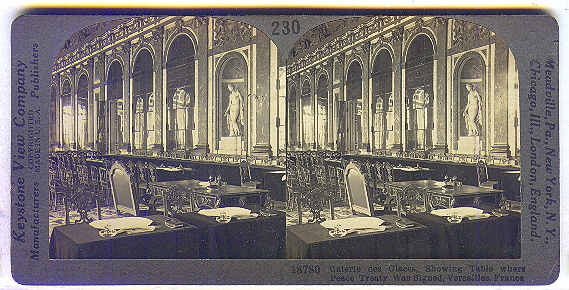 'Galerie des Glaces, showing table where Peace Treaty was signed, Versailles, France'.
Order #18612.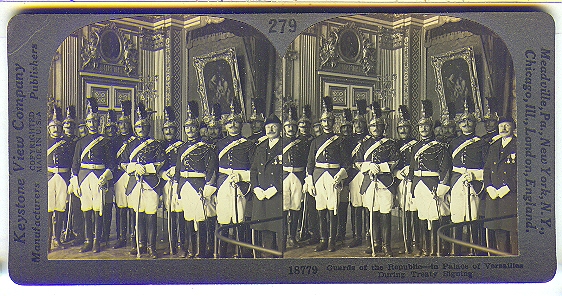 'Guards of the Republic - in Palace of Versailles during Treaty signing'.
Order #18613.
Price $18.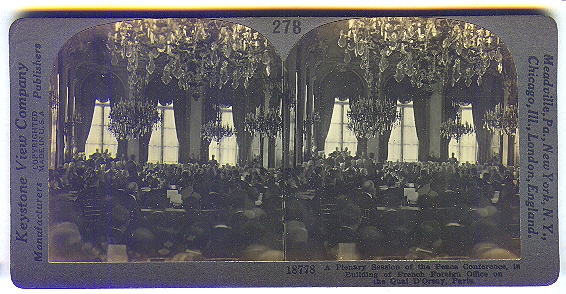 'A Plenary Session of the Peace Conference in building of French Foreign Office on the Quay d'Orsay, Paris'.
Order #18614.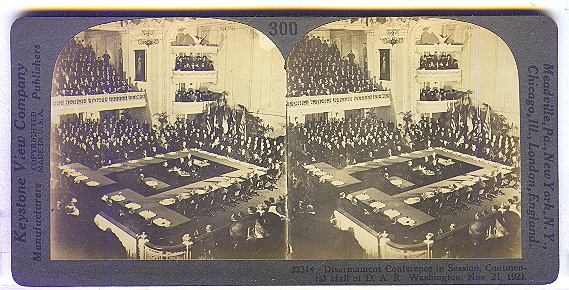 'Disarmament Conference in Session. Continental Hall of D.A.R., Washington. Nov. 21, 1921'.
Order #18615.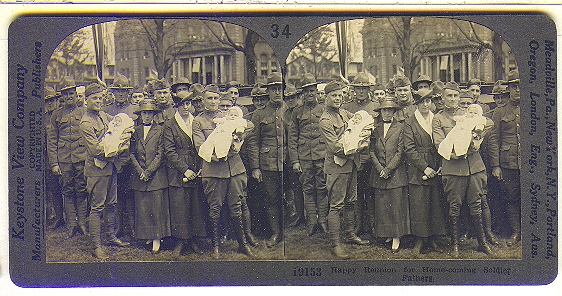 'Happy reunion for home-coming soldier fathers'.
Order #18616.
Price $18.


Our brains ache, in the merciless iced east winds that knife us . . .
Wearied we keep awake because the night is silent . . .
Low drooping flares confuse our memory of the salient . . .
Worried by silence, sentries whisper, curious, nervous,
But nothing happens.
Watching, we hear the mad gusts tugging on the wire.
Like twitching agonies of men among its brambles.
Northward incessantly, the flickering gunnery rumbles,
Far off, like a dull rumour of some other war.
What are we doing here?
The poignant misery of dawn begins to grow . . .
We only know war lasts, rain soaks, and clouds sag stormy.
Dawn massing in the east her melancholy army
Attacks once more in ranks on shivering ranks of gray,
But nothing happens.
Sudden successive flights of bullets streak the silence.
Less deadly than the air that shudders black with snow,
With sidelong flowing flakes that flock, pause and renew,
We watch them wandering up and down the wind's nonchalance,
But nothing happens.
Wilfred Owen. Killed in action 4 November 1918

To page one - Troops on the move
To page four - Guns and gunners
To page five - In the trenches, over the top, fixed defenses, communications, materiel
To page seven - Battlefield landscapes, prisoners
To page eight - Miscellaneous and war damage
To page nine - The wounded, the fallen, war graves