Page one, troops on the move on horseback and on foot
Most of my World War One material is either by H. D. Girdwood, an English company, who sold their views under the trade name 'Realistic Travels' and concentrated on the British troops and UK market, or Keystone which concentrated on US troops, the U.S. market, and entered the war with the U.S. in 1917. Due to the high gloss and exaggerated curve, the Keystone views do not scan very well. They will therefore almost all be of far higher quality than they appear on the screen. The Keystone views all have a full text description on the back - the Realistic Travels views do not.
Please click here for a high quality scan which gives a true indication of the quality.
Girdwood's views have more immediacy and action. They were issued in sets of between 50 and 500 views so the numbering sequence is pretty muddled. Customers could also pick out the views they required and so a box or collection may have non-sequential numbering. They come on Underwood-type mounts or on lighter mounts with curved or beveled edges. These are interchangeable and most views appear on both types of mount.

These are ALL condition 8, 9 or 10 and priced at $8 each unless otherwise mentioned.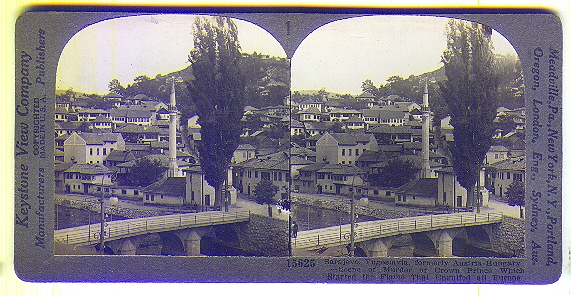 Keystone. 'Sarajevo, Yugoslavia, formerly Austria-Hungary - Scene of murder of Crown Prince which started the flame which engulfed all Europe'.
Order #5202.
Price $12.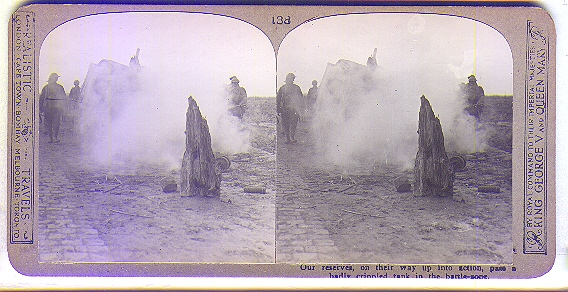 'Our reserves, on their way up into action, pass a badly crippled tank in the battle zone'.
Order #5203.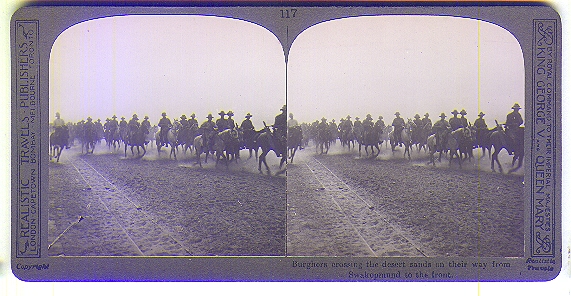 'Burghers crossing the desert sands on their way from Swakopmund to the front'.
Order #5204.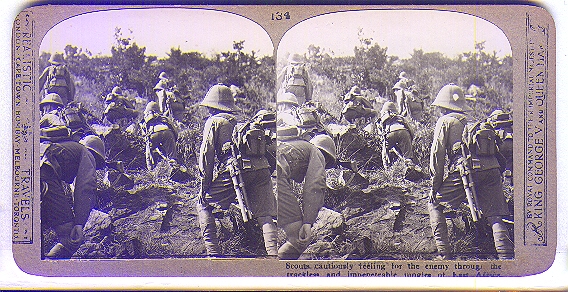 'Scouts feeling their way through the forests of East Africa'.
Order #5205.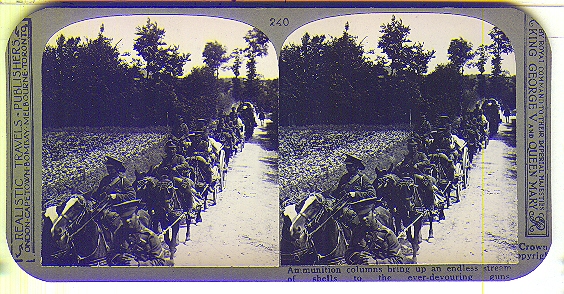 'Ammunition columns bring up an endless stream of shells to the ever-devouring guns'.
Order #5206.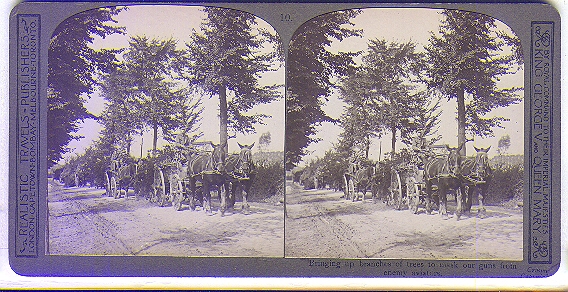 'Bringing up branches of trees to mask our guns from enemy aviators'.
Order #5208.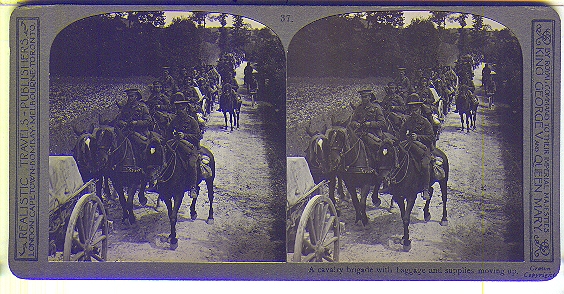 'A cavalry brigade with luggage and supplies moving up'.
Order #5209.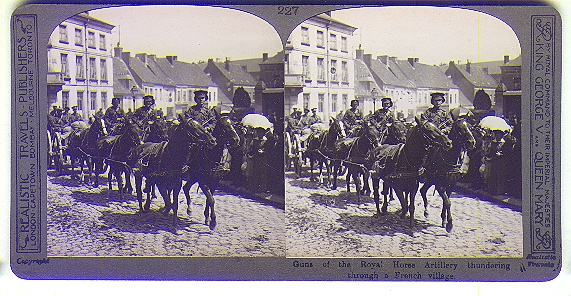 'Guns of the Royal Horse Artillery thundering through a French village'.
Order #5210.

'Convoy and caterpillar bringing up guns and ammunition over flooded roads'.
Order #5212.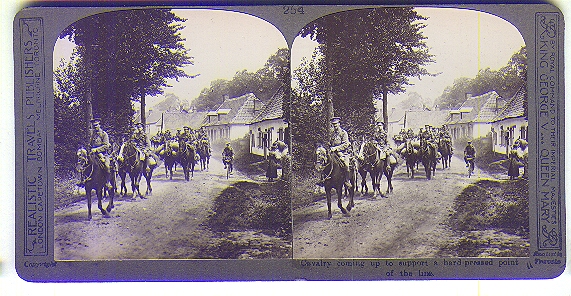 'Cavalry coming up to support a hard-pressed point of the line'.
Order #5213.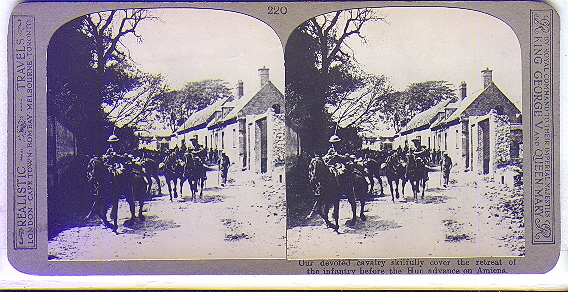 'Our devoted cavalry skilfully cover the retreat of the infantry before the Hun advance on Amiens'.
Order #5214.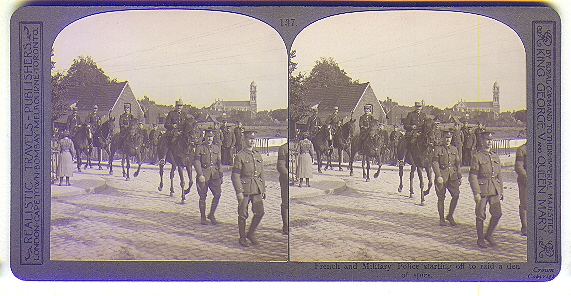 'French and Military Police starting off to raid a den of spies'.
Order #5216.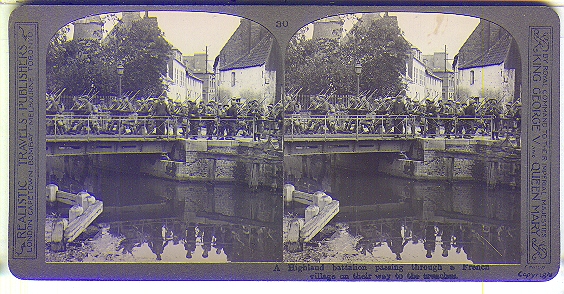 'A Highland battalion passing through a French village on their way to the trenches'.
Order #5218.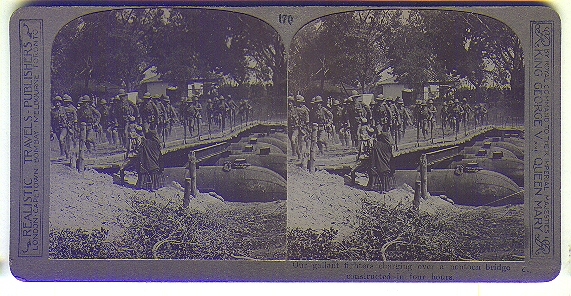 'Our gallent fighters charging over a pontoon bridge constructed in four hours'.
Order #5219.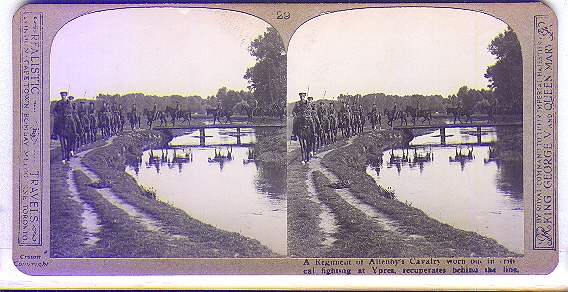 'A regiment of Allenby's cavalry worn out in the critical fighting at Ypres, recuperates behind the line'.
Order #5220.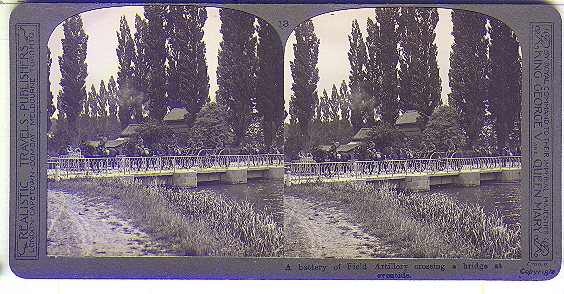 'A battery of Field Artillery crossing a bridge at eventide'.
Order #5221.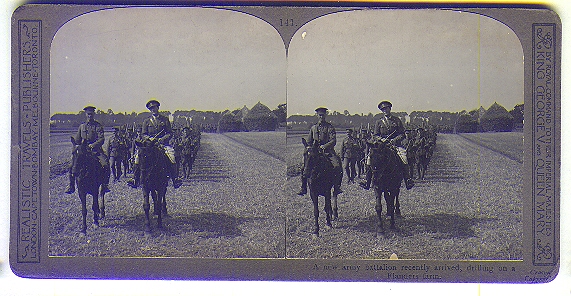 'A new battalion, recently arrived, drilling on a Flanders farm'.
Order #5222.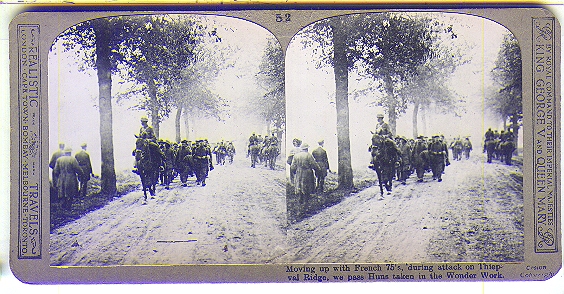 'Moving up with the French 75s during attack at Threpval Ridge, we pass Huns taken in the wonder work'.
Order #5224.

'London Territorials passing a ruined house on the shell-swept La Bassee Road'.
Order #5225.

'The Manchesters crossing a French farm on their way back from the trenches'.
Order #5226.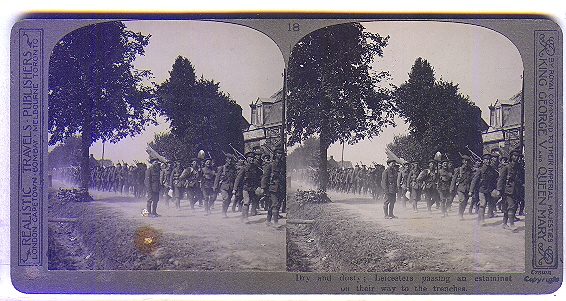 'Dry and dusty; Leicesters passing an estaminet on their way to the trenches'.
Condition. Stain on left image.
Order #5227.
Price $6.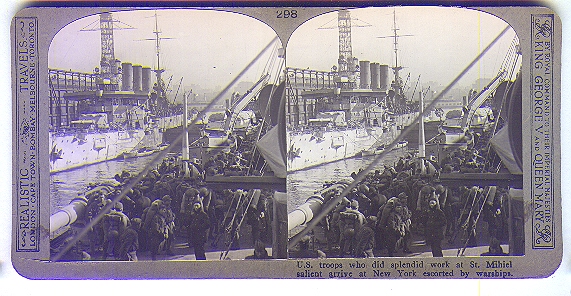 'U.S. troops who did splendid work at St Mihiel salient arrive at New York escorted by warships'.
Order #5228.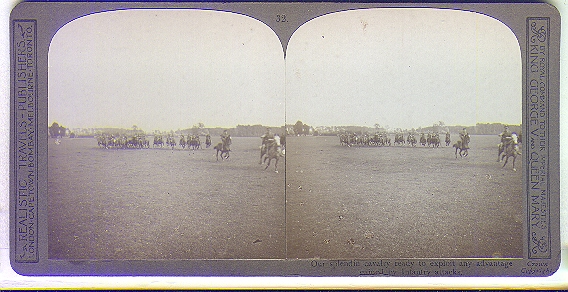 'Our splendid cavalry ready to exploit any advantage gained by infantry attacks'. Clearer than scan and in original condition.
Order #5229.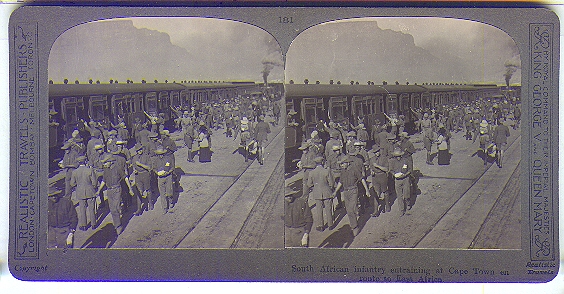 'South African infantry entraining at Cape Town en route to East Africa'.
Order #5230.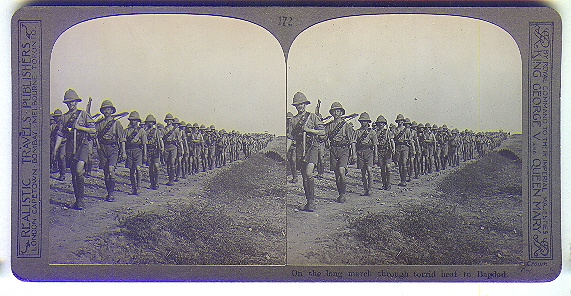 'On the long march through torrid heat to Bagdad'.
Order #5231.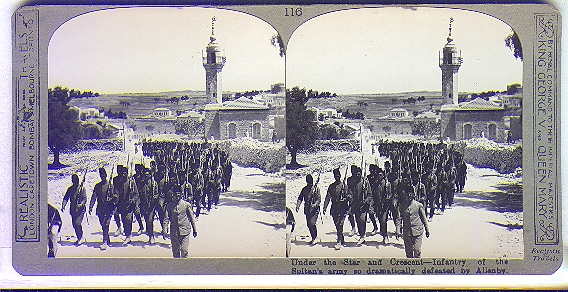 'Under the Star and Crescent - Infantry of the Sultan's army so dramatically defeated by Allanby'.
Order #5232.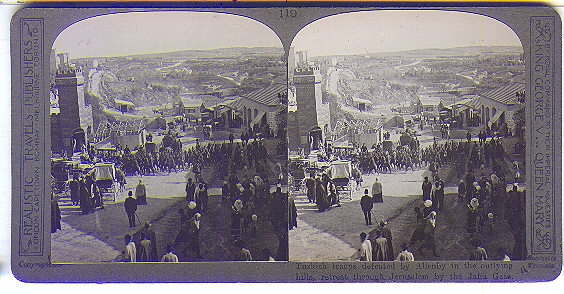 'Turkish troops defeated by Allenby in the outlying hills, retreat through Jerusalem by the Jaffa Gate'.
Order #5233.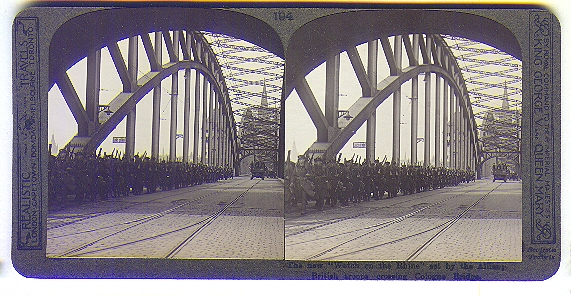 'The new "Watch on the Rhine" set by the Allies; British troops crossing Cologne Bridge'.
Order #5234.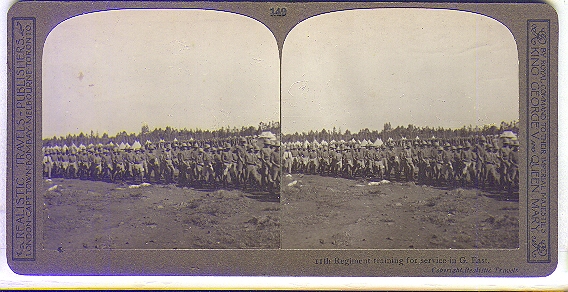 '11th Regiment training for service in G. East'.
Order #5235.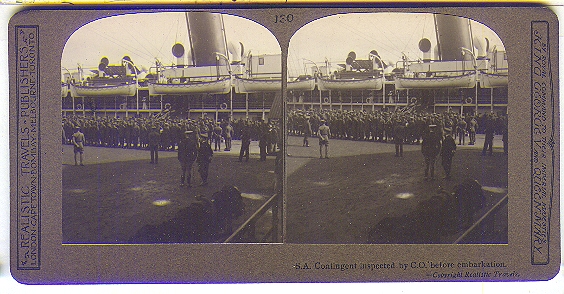 'A contingent inspected by C.O. before embarkation'.
Order #5236.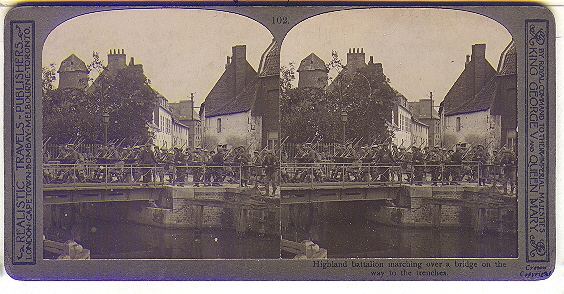 'Highland Battalion marching over a bridge on the way to the trenches'.
Order #5239.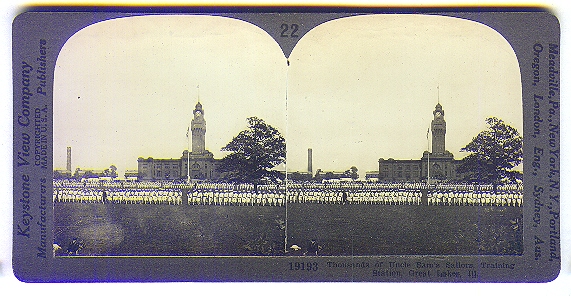 'Thousands of Uncle Sam's sailors, training station, Great Lakes, Ill'.
Order #5240.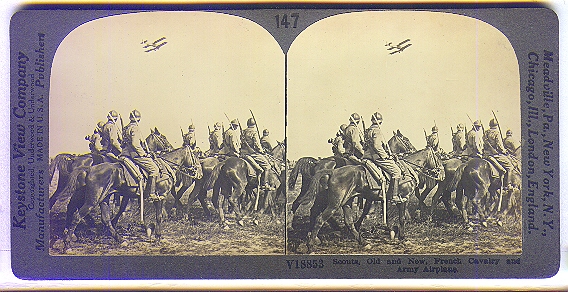 'Scouts old and new. French cavalry and army airplane'.
Order #5241.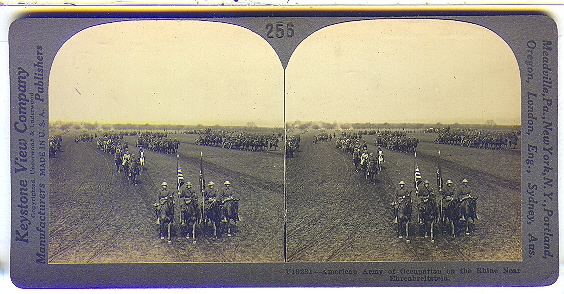 'American army of occupation on the Rhine near Ehrenbreitstein'.
Order #5242.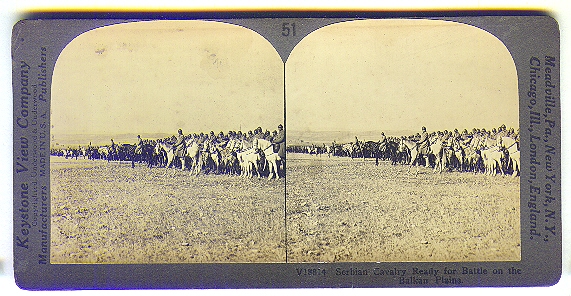 'Serbian cavalry ready for battle on the Balkan plains'. Slight marks in sky on left image.
Order #5243.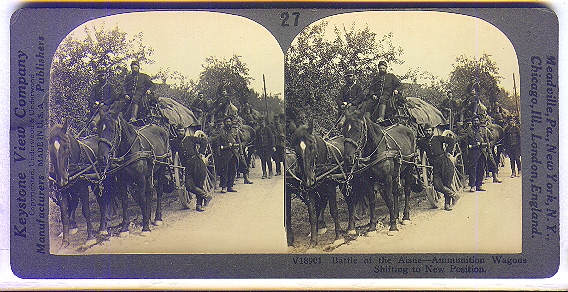 'Battle of the Aisne - Ammunition wagons shifting to new position'.
Order #5244.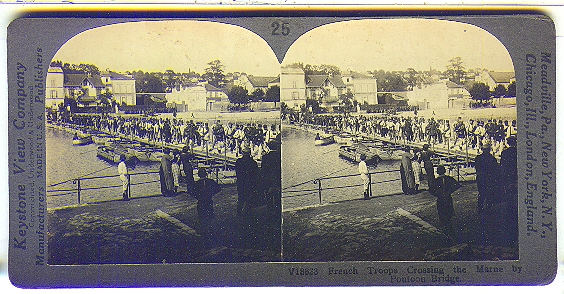 'French troops crossing the Marne by pontoon bridge'.
Order #5245.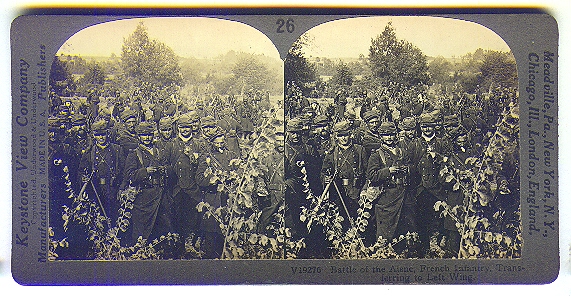 'Battle of the Aisne. French infantry transferring to left wing'.
Order #5246.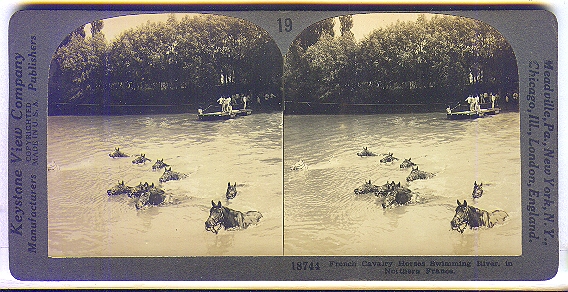 'French cavalry horses swimming river in northern France'.
Order #5247.

To page four - Guns and gunners
To page five - In the trenches, over the top, fixed defenses, communications, materiel
To page seven - Battlefield landscapes, prisoners
To page eight - Miscellaneous and war damage
To page nine - The wounded, the fallen, war graves
To page ten - Officers, victory parades