Page four, Guns and Gunners
Most of my World War One material is either by H. D. Girdwood, an English company, who sold their views under the trade name 'Realistic Travels' and concentrated on the British troops and UK market, or Keystone which concentrated on US troops, the U.S. market, and entered the war with the U.S. in 1917. Due to the high gloss and exaggerated curve, the Keystone views do not scan very well. They will therefore almost all be of far higher quality than they appear on the screen. The Keystone views all have a full text description on the back - the Realistic Travels views do not.
Please click here for a high quality scan which gives a true indication of the quality.
Girdwood's views have more immediacy and action. They were issued in sets of between 50 and 500 views so the numbering sequence is pretty muddled. Customers could also pick out the views they required and so a box or collection may have non-sequential numbering. They come on Underwood-type mounts or on lighter mounts with curved or beveled edges. These are interchangeable and most views appear on both types of mount.


These are ALL condition 8, 9 or 10 and priced at $8 each unless otherwise mentioned.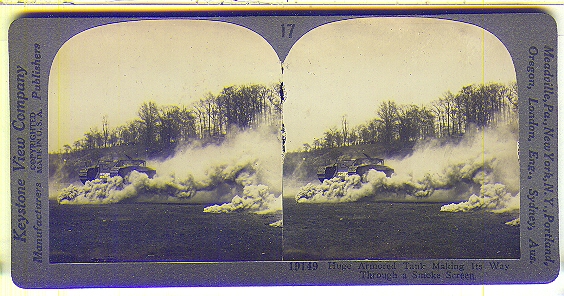 'Huge armoured tank making its way through a smoke screen'.
Order #9327.
Price $18.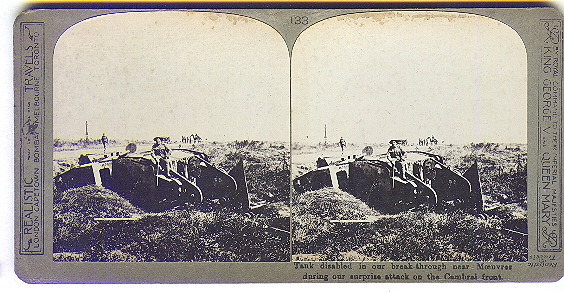 'Tank disabled in our breakthrough near Moeuvres during our surprise attack on the Cambrai front'.
Order #9328.
Price $15.

'A tank comes to the rescue of its comrade, bogged in in the Luce valley during the advance on Rosieres'.
Order #9329.
Price $18.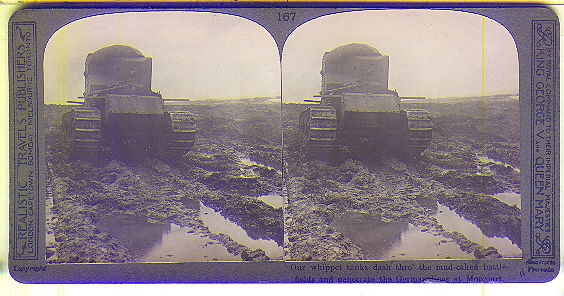 'Our whippet tanks dash thro the mud-caked battle fields and penetrate the German lines at Morcourt'.
Order #9330.
Price $18.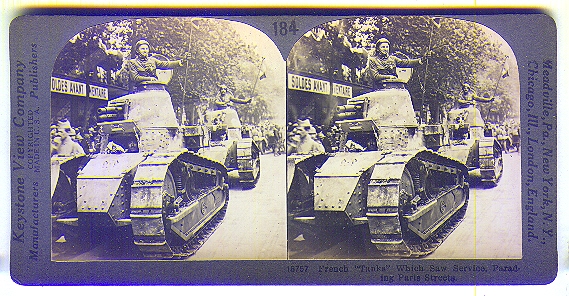 'French Tanks which saw service. Parading Paris streets'.
Order #9331.
Price $18.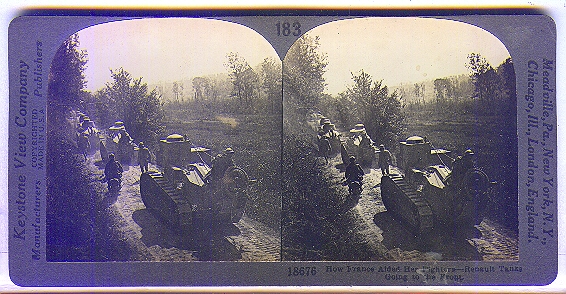 'How France aided her fighters - Renault tanks going to the Front'.
Order #9332.
Price $18.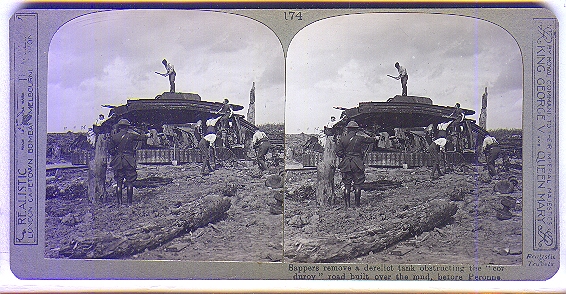 'Sappers remove a derelict tank obstructing the "corduroy" road built over the mud, near Peronne'.
Order #9336.
Price $15.

'A British infantry maxim gun going into action'.
Condition. Stain on left image.
Order #9338.
Price $5.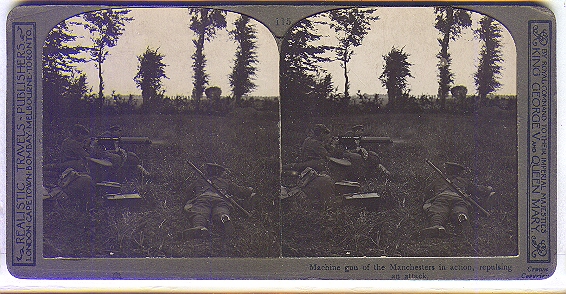 'Machine gun of the Manchesters in action, repulsing an attack'.
Order #9339.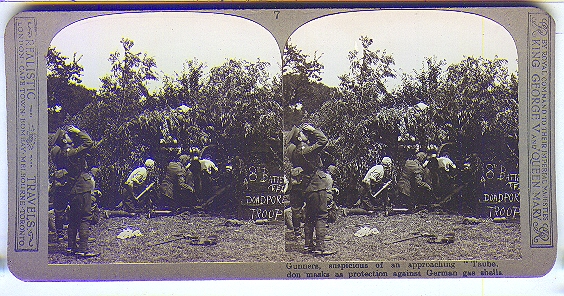 'Gunners, suspicious of an approaching "Taube" don masks as protection against German gas shells'.
Order #9340.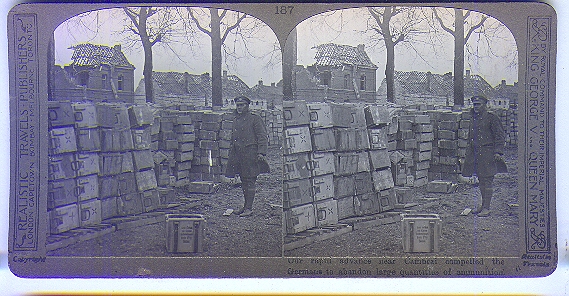 'Our rapid advance near Cambrai compelled the Germans to abandon large quantities of ammunition'.
Order #9341.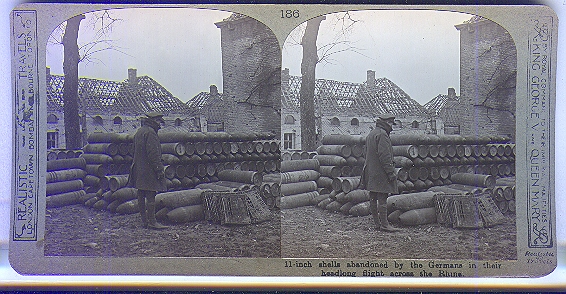 '11-inch shells abandoned by the Germans in their headlong flight across the Rhine'.
Order #9342.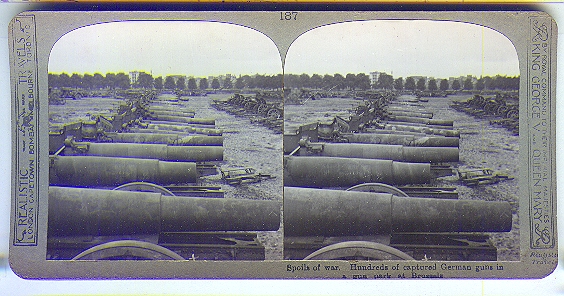 'Spoils of war, hundreds of captured German guns in a gun park at Brussels'.
Order #9343.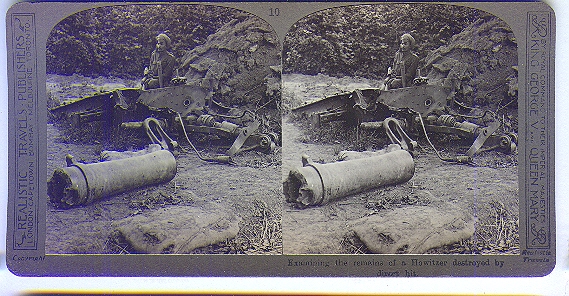 'Examining the remains of a howitzer destroyed by a direct hit'.
Order #9344.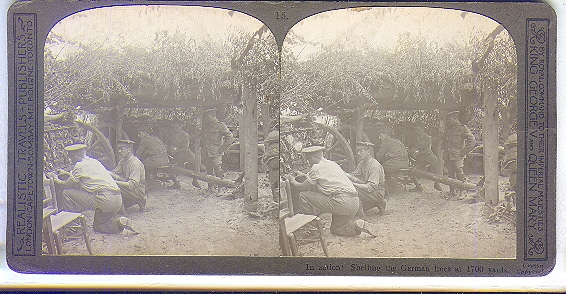 'In action. Shelling the German lines at 1700 yards'.
Order #9345.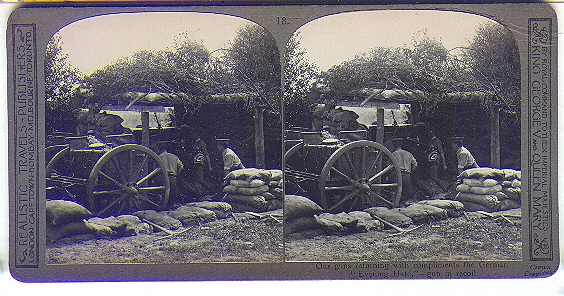 'Our guns returning with compliments the German "Evening Hate" - gun in recoil'.
Order #9346.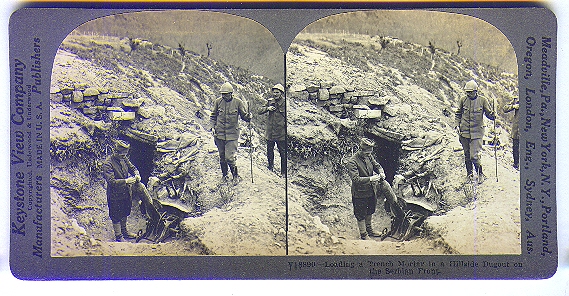 'Loading a trench mortar in a hillside dugout on the Serbian front'.
Order #9347.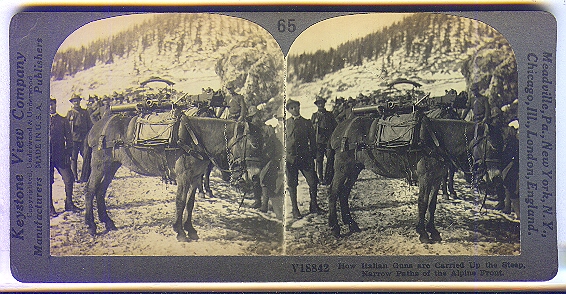 'How Italian guns are carried up the steep, narrow paths of the Alpine front'.
Order #9348.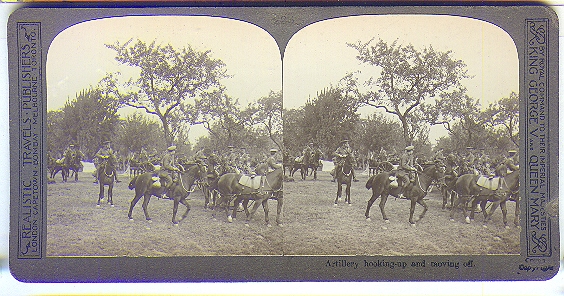 'Artillery hooking up and moving off'.
Order #9349.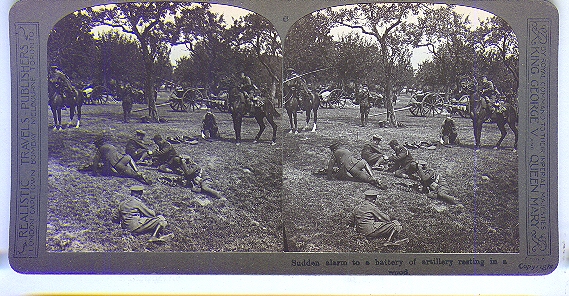 'Sudden alarm to a battery of Artillery resting in a wood'.
Order #9350.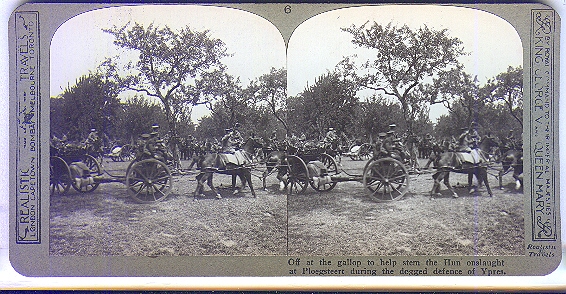 'Off at the gallop to help stem the Hun onslaught at Ploegsteert during the dogged defence of Ypres'.
Order #9351.

'Skoda Works Pilsen, Bohemia, where the famous Skoda Mortars were made'.
Order #9352.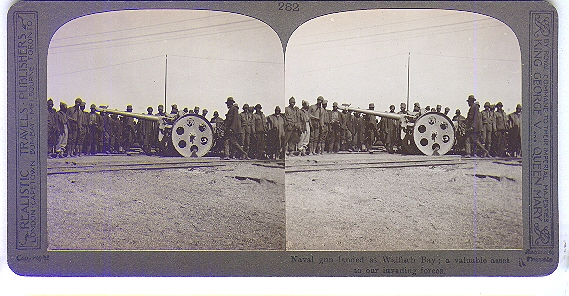 'Naval gun landed at Waldfisch Bay; a valuable asset to our invading forces'.
Order #9353.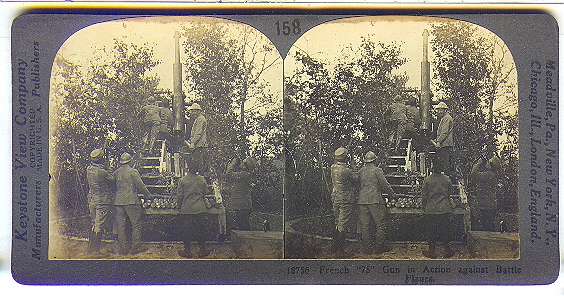 'French "75" gun in action against battle planes'.
Order #9355.
Price $12.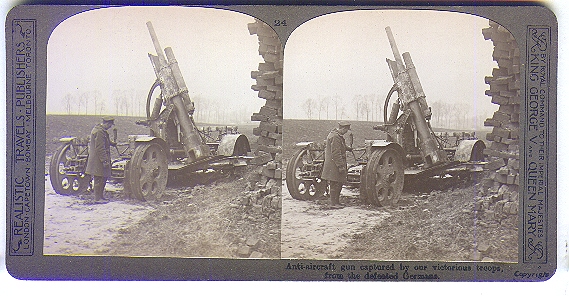 'Anti-aircraft gun captured by our victorious troops, from the defeated Germans'.
Order #9356.
Price $12.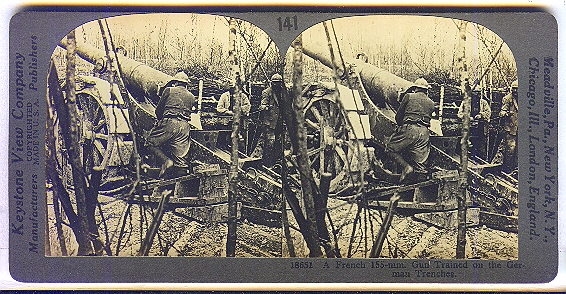 'A French 155-mm gun trained on the German trenches'.
Order #9357.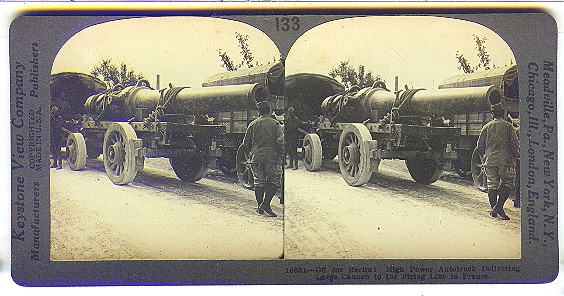 'Off for Berlin! High power autotruck delivering large cannon to the firing line in France'.
Order #9358.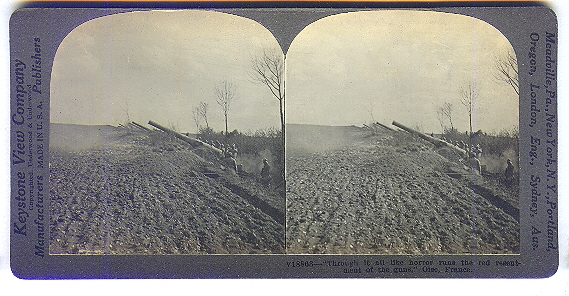 '"Through it all the horror runs the red resentment of the guns", Oise, France'.
Order #9359.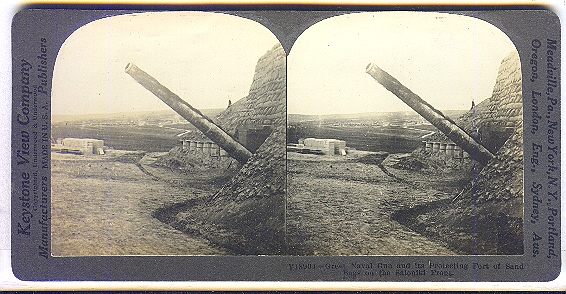 'Great naval gun and its protecting fort of sand bags on the Saloniki front'.
Order #9360.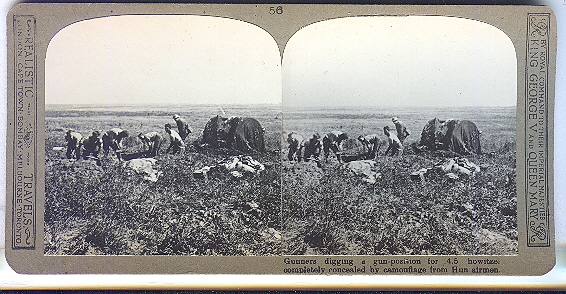 'Gunners digging a gun-position for 4.5 howitzer, completely concealed by camouflage from Hun airmen'.
Order #9361.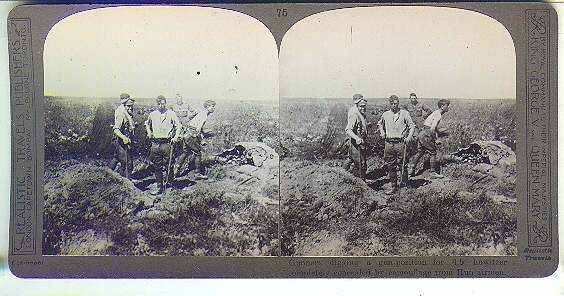 'Gunners digging a gun-position for 4.5 howitzer, completely concealed by camouflage from Hun airmen'.
Order #9362.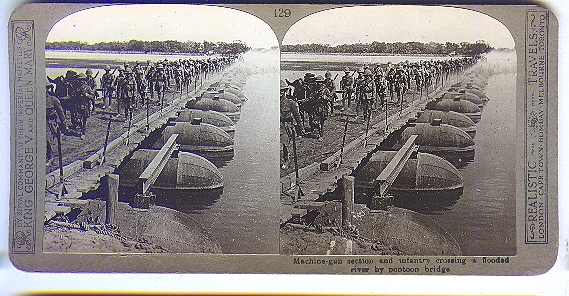 'Machine gun section and infantry crossing a flooded river by pontoon bridge'.
Order #9363.

'Machine gun section of Dragoon Guards crossing stream on aerial span'.
Order #9364.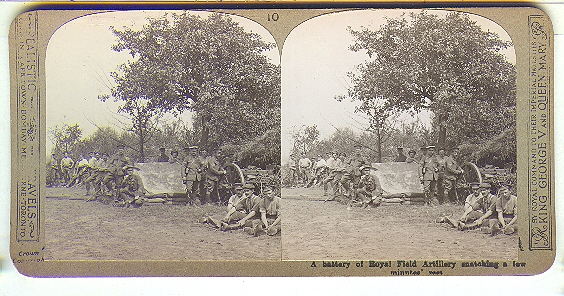 'A battery of Royal Artillery snatching a few minutes' rest'.
Order #9365.

Underwood. 'Right Section. 74th Battery AFD'.
Condition. Mount split thru center not affecting images.
Order #9366.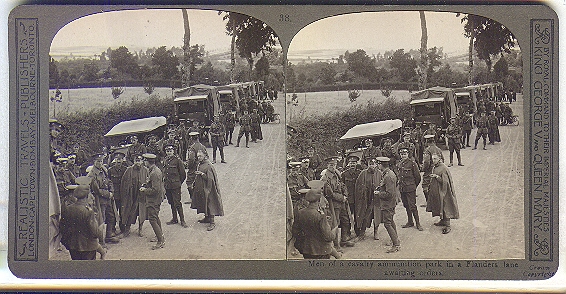 'Men of a cavalry ammunition park in a Flanders lane awaiting orders'.
Order #9367.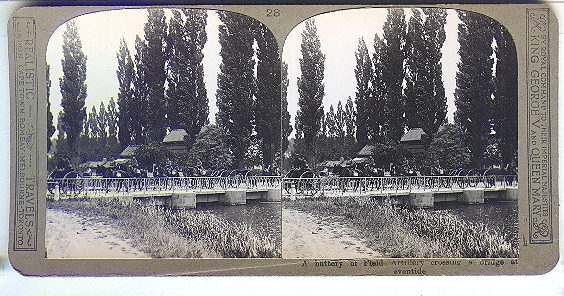 'A battery of field artillery crossing a bridge at eventide'.
Order #9368.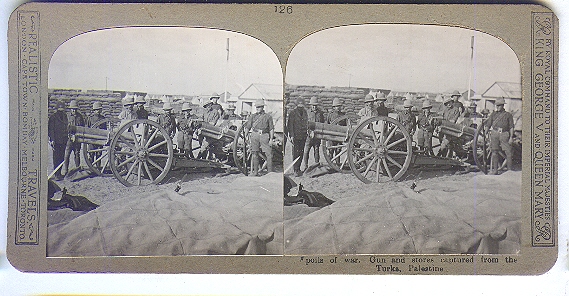 'Spoils of war, guns captured from the Turks, Palestine'. I also have had a copy of this view captioned '...guns captured from the Germans, East Africa'.
Order #9369.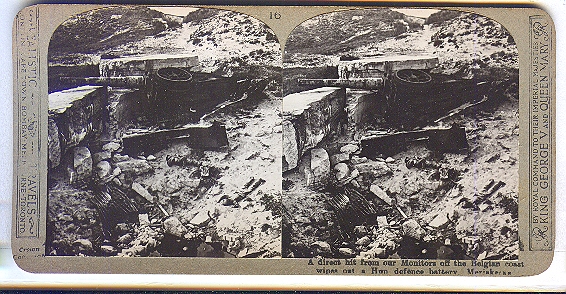 'A direct hit from our monitors off the Belgian coast wipes out a Hun defence battery, Mar?????'. Thanks to Bart who says that this must be the hamlet of Mariakerke (Mariakerke-bad, near Ostend) Google maps: 51.218228,2.881322.
Order #9370.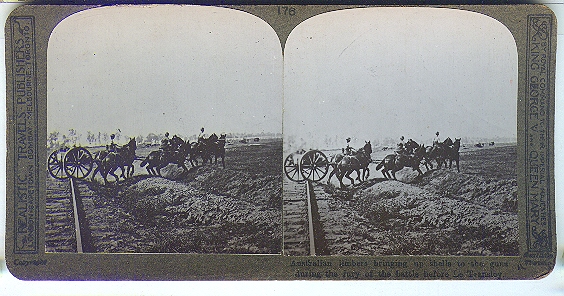 'Australian limbers bringing up shells to the guns during the fury of the battle before Le Tranaloy'.
Order #9371.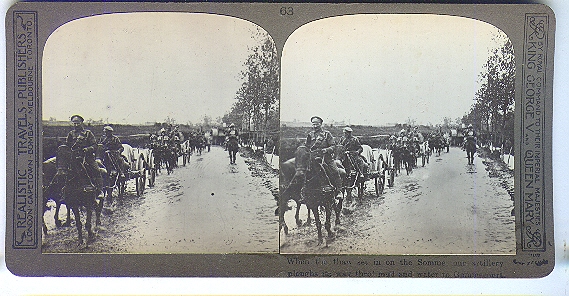 'When the thaw set in on the Somme our artillery ploughs its way thro' mud and water to Gommecourt'.
Order #9372.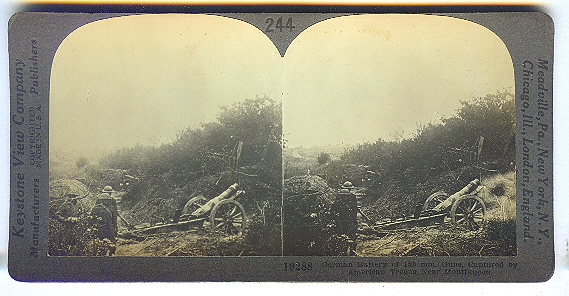 'German battery of 150 mm guns captured by American troops near Montfaucon'.
Order #9375.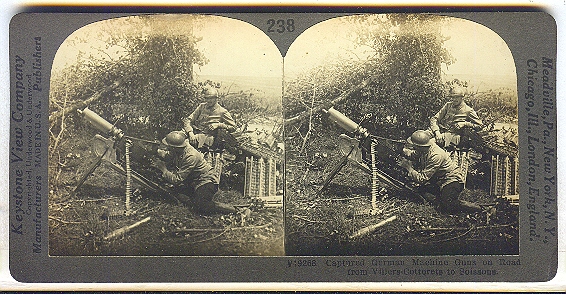 'Captured German machine guns on road from Villers-Cotterets to Soissons'.
Order #9376.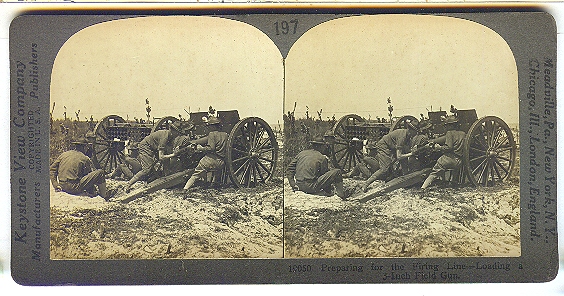 'Preparing for the firing line - Loading a 3-inch field gun'.
Order #9377.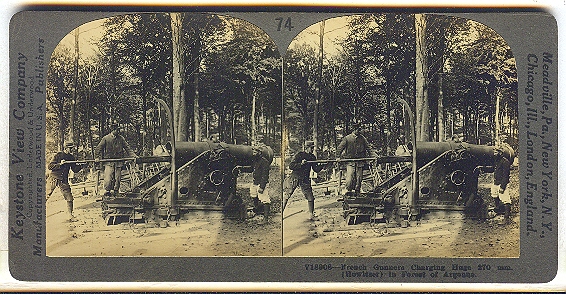 'French gunners charging huge 270 mm (Howitzer) in forest of Argonne'.
Order #9379.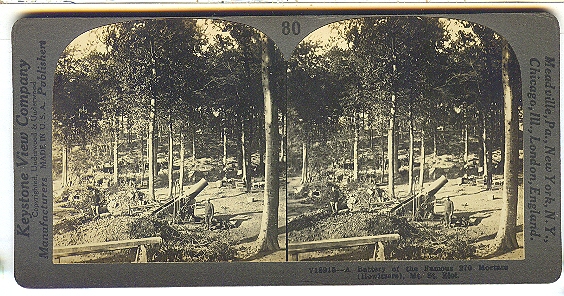 'A battery of the famous 270 mortars (Howitzers). Mt. St. Eloi'.
Order #9380.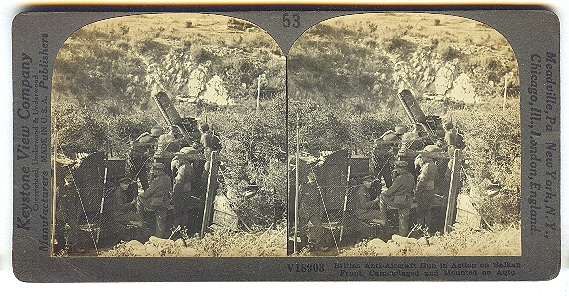 'British anti-aircraft gun in action on Balkan Front, camouflaged and mounted on auto'.
Order #9381.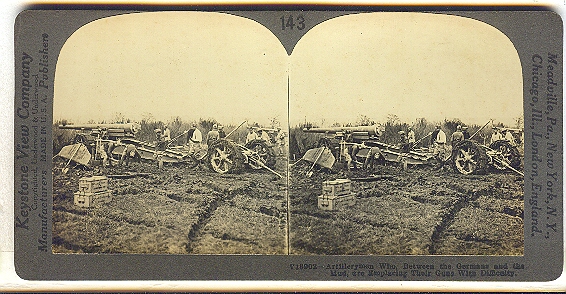 'Artillerymen who, between the Germans and the mud, are emplacing their guns with difficulty'.
Order #9382.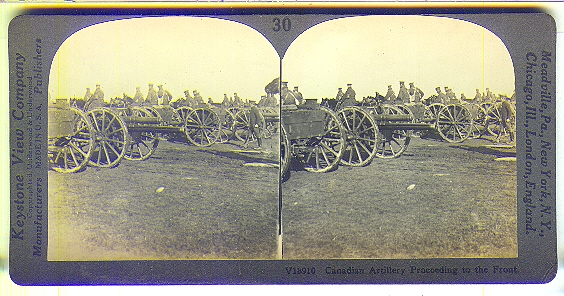 'Canadian artillery proceeding to the Front'.
Order #9383.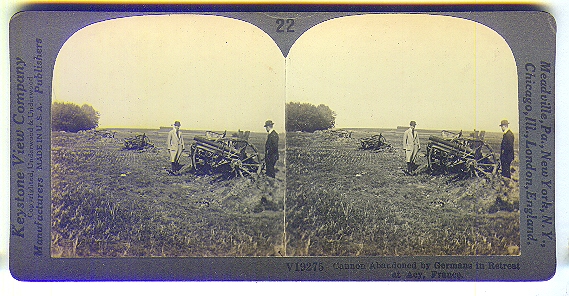 'Cannon abandoned by Germans in retreat at Acy, France'.
Order #9384.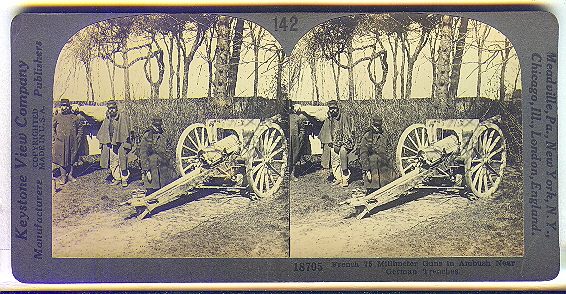 'French 18 millimeter guns in ambush near German Trenches'.
Order #9385.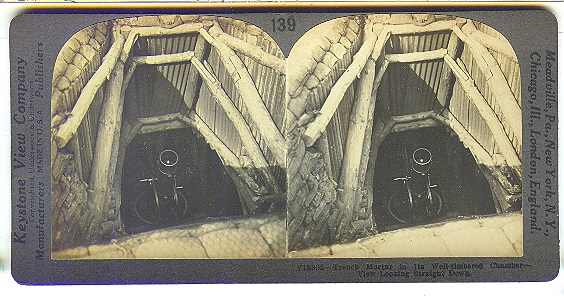 'French mortar in its well-timbered chamber - View looking straight down'.
Order #9389.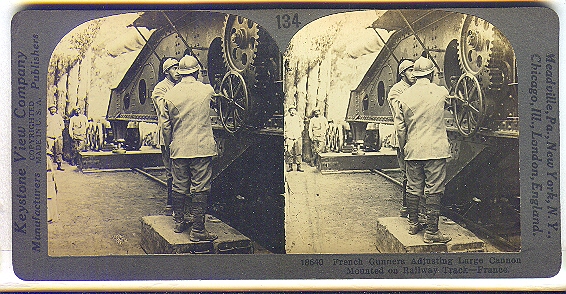 'French gunners adjusting large cannon mounted on railway track - France'.
Order #9391.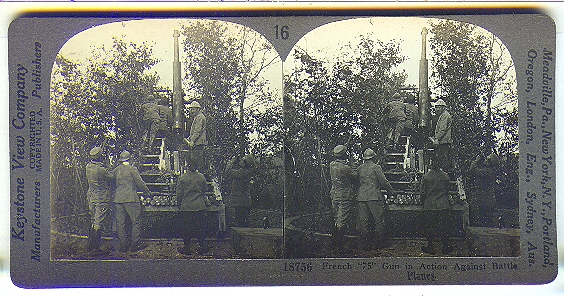 'French "75" gun in action against battle planes'.
Order #9392.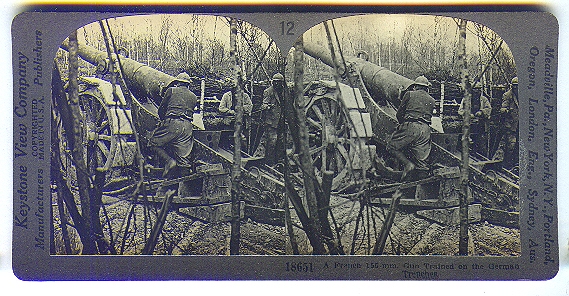 'A French 155-mm. gun trained on the German trenches'.
Order #9393.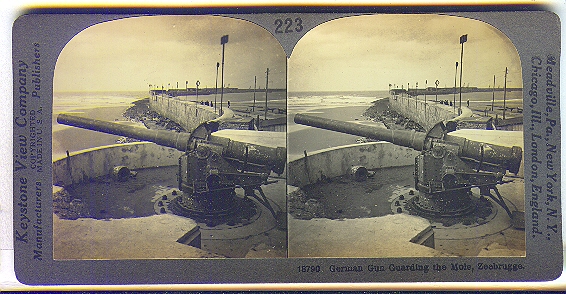 'German gun guarding the Mole, Zeebrugge'.
Order #9394.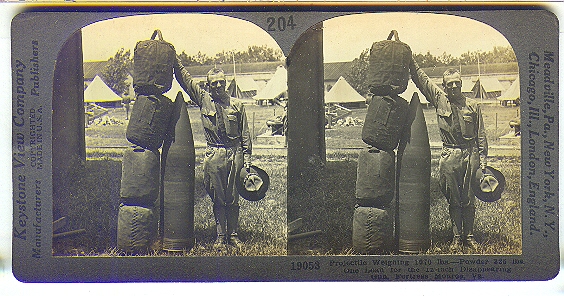 'Projectile weighing 1070 lbs. - Powder 325 lbs. One load for the 12-inch disappearing gun, Fortress Monroe, Va.'.
Order #9395.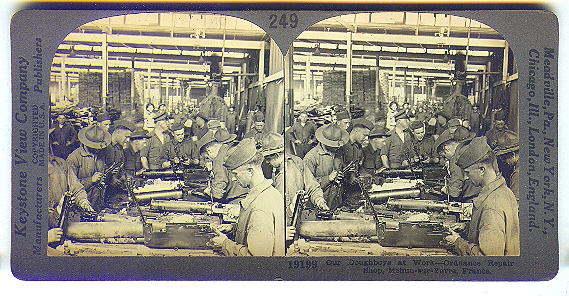 'Our Doughboys at work - Ordnance repair shop, Mehun-sur-Yevre, France'.
Order #9396.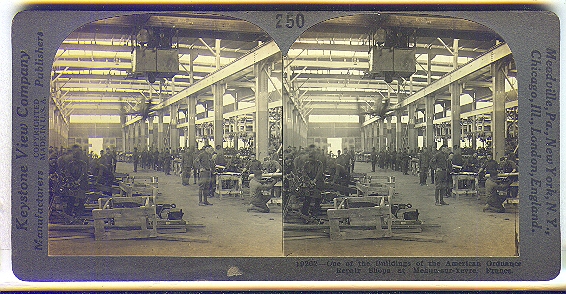 'One of the buildings at the American ordnance repair shops at Mehun-sur-Yevre, France'.
Order #9397.

To page one - Troops on the move
To page five - In the trenches, over the top, fixed defenses, communications, materiel
To page seven - Battlefield landscapes, prisoners
To page eight - Miscellaneous and war damage
To page nine - The wounded, the fallen, war graves
To page ten - Officers, victory parades