Page two, troops at rest
Most of my World War One material is either by H. D. Girdwood, an English company, who sold their views under the trade name 'Realistic Travels' and concentrated on the British troops and UK market, or Keystone which concentrated on US troops, the U.S. market, and entered the war with the U.S. in 1917. Due to the high gloss and exaggerated curve, the Keystone views do not scan very well. They will therefore almost all be of far higher quality than they appear on the screen. The Keystone views all have a full text description on the back - the Realistic Travels views do not.
Please click here for a high quality scan which gives a true indication of the quality.
Girdwood's views have more immediacy and action. They were issued in sets of between 50 and 500 views so the numbering sequence is pretty muddled. Customers could also pick out the views they required and so a box or collection may have non-sequential numbering. They come on Underwood-type mounts or on lighter mounts with curved or beveled edges. These are interchangeable and most views appear on both types of mount.

These are ALL condition 8, 9 or 10 and priced at $8 each unless otherwise mentioned.

>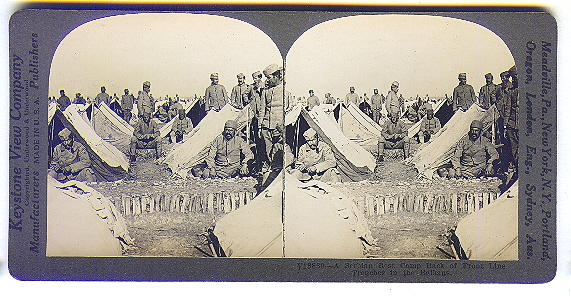 Keystone 'A Serbian rest camp, back of front line trenches in the Balkans'.
Order #5252.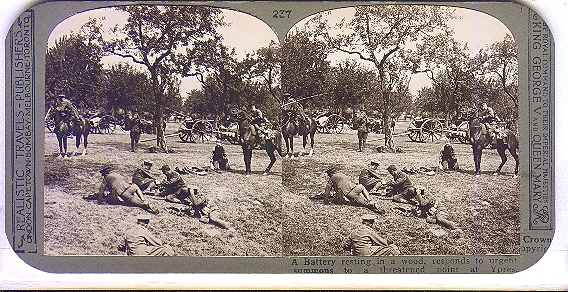 'A battery resting in a wood responds to urgent summons to a threatened point at Ypres'.
Order #5253.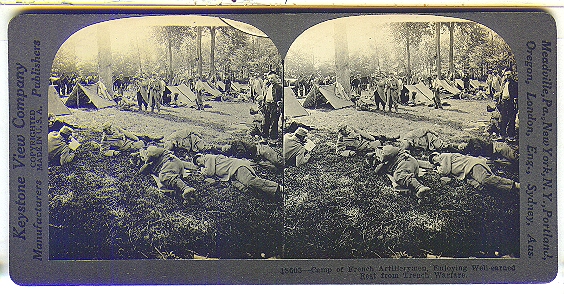 Keystone 'Camp of French artillerymen. Enjoying well-earned rest from trench warfare'.
Order #5254.

'With our fighting forces on the Western front'.
Order #5255.

'British officers planning an attack and giving orders for the day's "straf"'.
Order #5256.

'Seaforths filling their water bottles at a town pump before going into the trenches'.
Order #5258.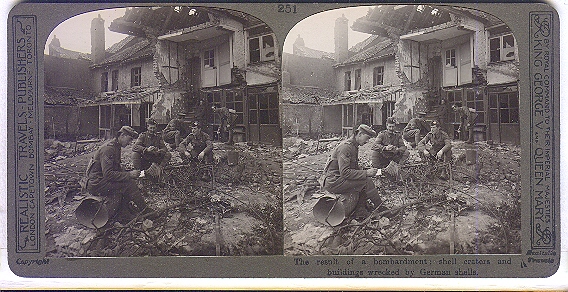 'The result of a bombardment; shell craters and building wrecked by German shells'.
Order #5259.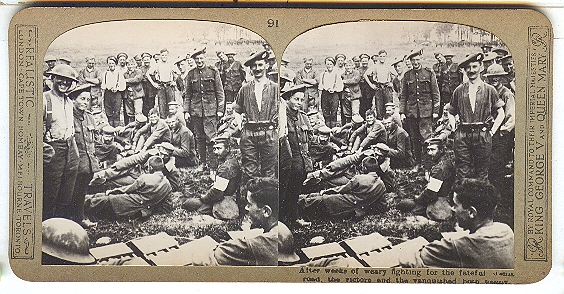 'After weeks of weary fighting for the fateful Menin road, the victors and the vanquished both happy'.
Order #5260.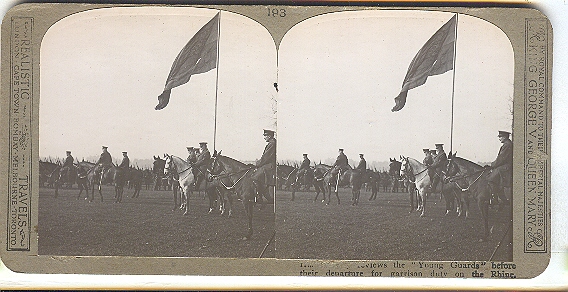 '?? reviews the "Young Guards" before their departure for garrison duty on the Rhine'.
Condition. Slight damage to title.
Order #5261.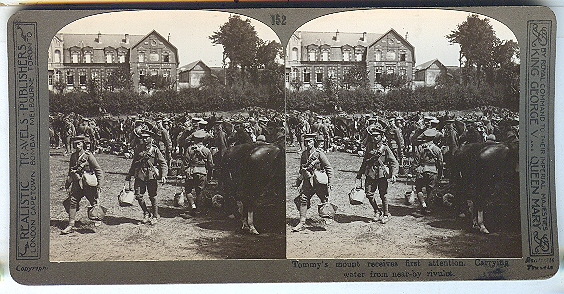 'Tommy's mount receives first attention. Carrying water from nearby rivulets'.
Order #5262.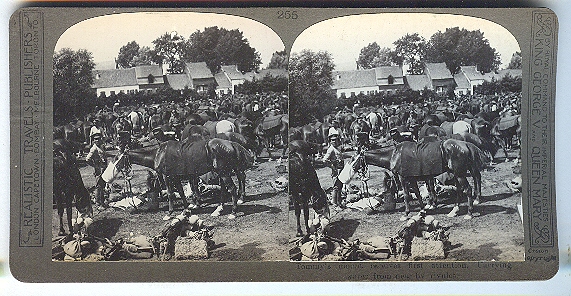 'Tommy's mount receives first attention. Carrying water from nearby rivulet'.
Order #5263.

'Troops enjoy a bathe after a long day's march; crocodiles make the rivers too dangerous'. (Not France then!).
Order #5264.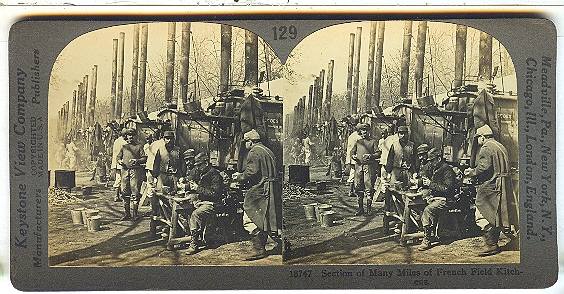 'Section of many miles of field kitchens'.
Order #5265.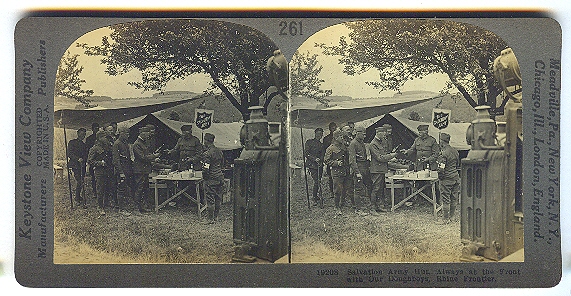 'Salvation Army hut. Always at the Front with our Doughboys. Rhine Frontier'.
Order #5266.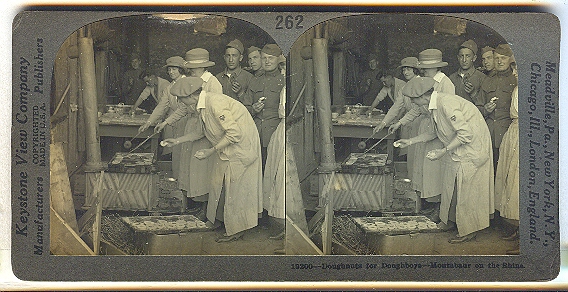 'Doughnuts for Doughboys - Montabaur on the Rhine'. Slight surface deposit at top of left image.
Order #5267.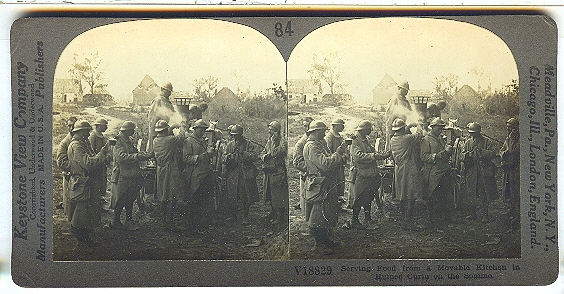 'Serving food at movable kitchen in ruined Curlu on the Somme'.
Order #5268.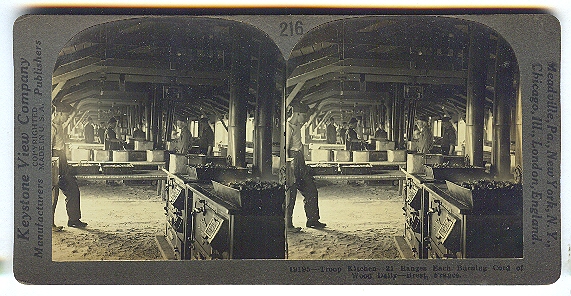 'Troop kitchens. 21 ranges each burning cord of wood daily - Brest, France'.
Order #5269.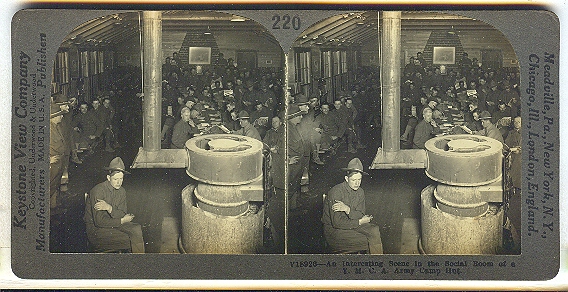 'An interesting scene in the social room of a Y.M.C.A. camp hut'.
Order #5270.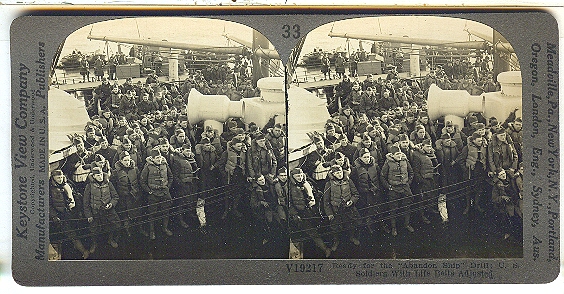 'Ready for the "Abandon Ship" drill. U.S. soldiers with life belts adjusted'.
Order #5271.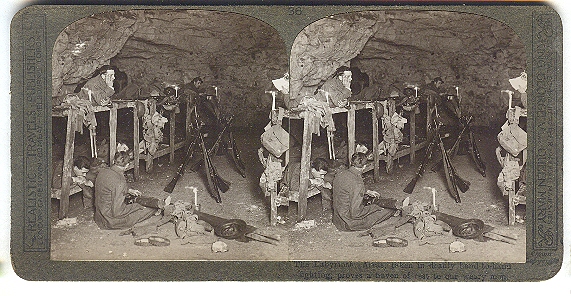 'The Labyrinth, Arras, taken in deadly hand-to-hand fighting, proves a haven of rest to our weary men'.
Order #5272.

'Gun in process of ???, an arbour made from branches of trees, timber and sand-bags'.
Order #5273.

'Watching the effect of German bombardment of a French village'.
Order #5274.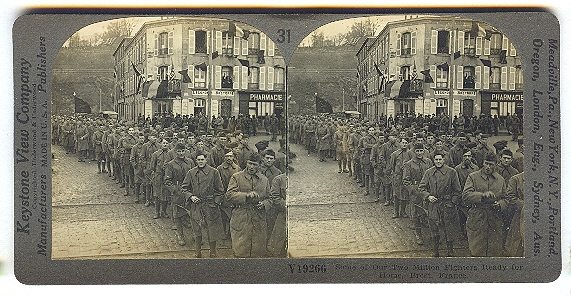 'Some of our two million fighters ready for home, Brest, France'.
Order #5275.


Military church parade (Manchesters in foreground)'.
Condition. Both images badly split.
Order #5276.
Price $1.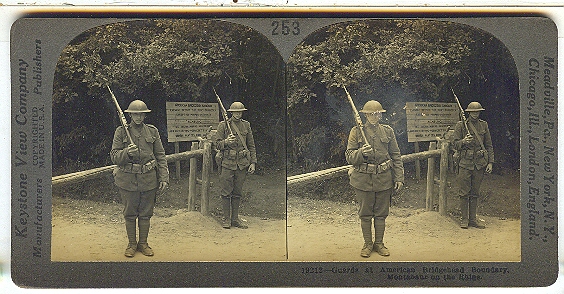 'Guards at American Bridgehead Boundary, Montabaur on the Rhine'.
Order #5277.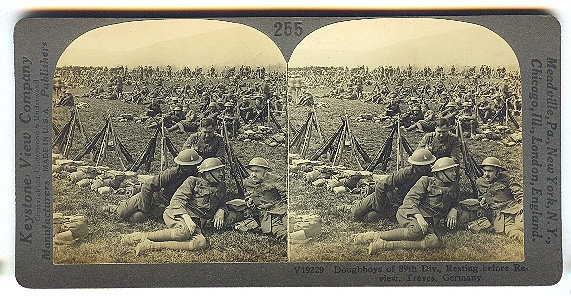 'Doughboys of the 89th Div., resting before review. Treves, Germany'.
Order #5278.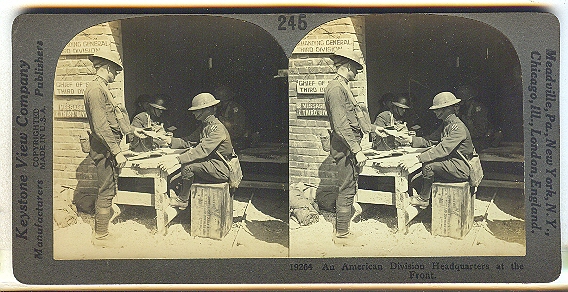 'An American Division Headquarters at the Front'.
Order #5279.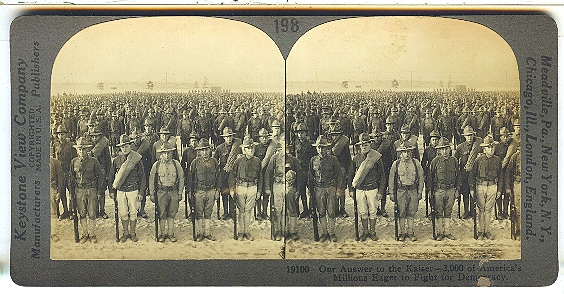 'Our answer to the Kaiser - 3,000 of America's millions eager to fight for democracy'.
Order #5280.


'A bristling forest of bayonets. Russian troops on review'.
Order #5281.

'Our mud-splashed Lewis machine gunners at the junction of the Belgian and our lines'.
Order #5283.

'A quiet hour in a quiet spot out of range of enemy shells'.
Order #5284.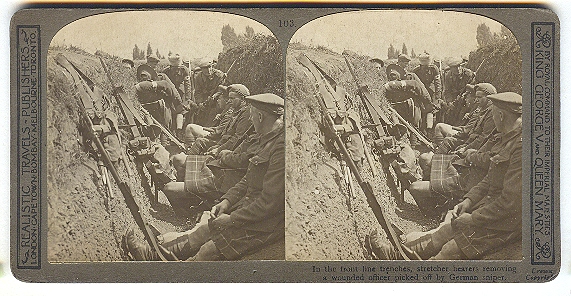 'In the front-line trenches, stretcher bearers removing a wounded officer picked off by German sniper'.
Order #5286.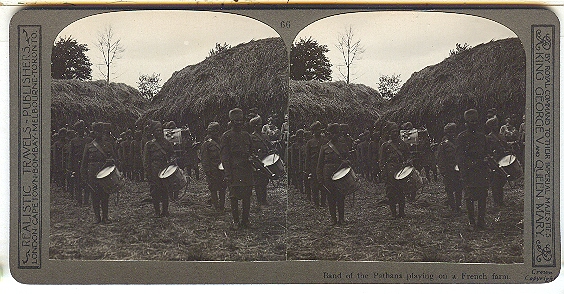 'Band of Pathans playing on a French farm'.
Condition. Slight white fault across r/h image.
Order #5288.
Price $6.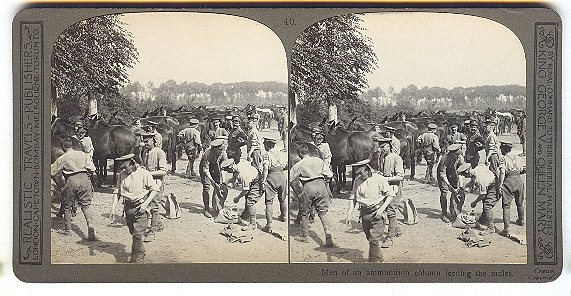 'Men of an ammunition column feeding the mules'.
Order #5289.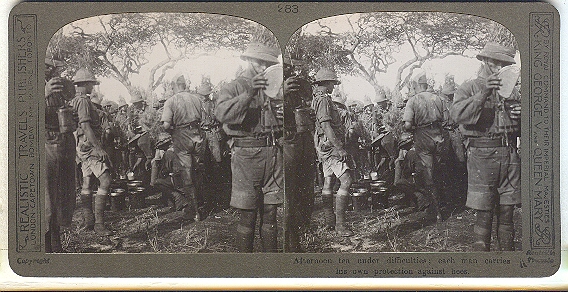 'Afternoon tea under difficulties; each man carries his own protection against bees (yup - bees!)'
Order #5290.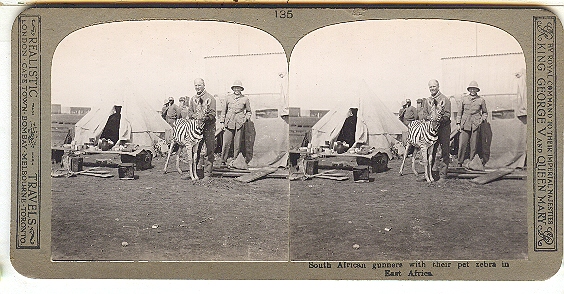 'South African gunners with their pet zebra in East Africa'.
Order #5291.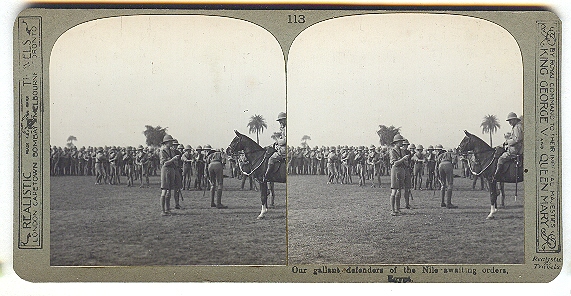 'Our gallant defenders of the Nile awaiting orders, Egypt'.
Order #5292.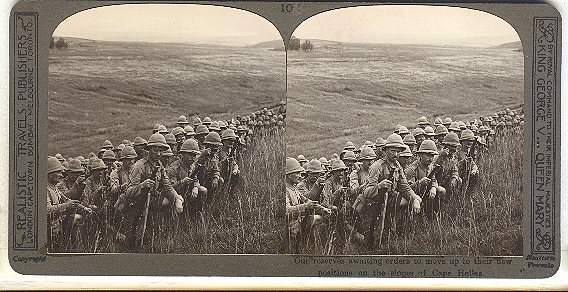 'Our reserves awaiting orders to move up to their new positions on the slopes of Cape Hellas'.
Order #5293.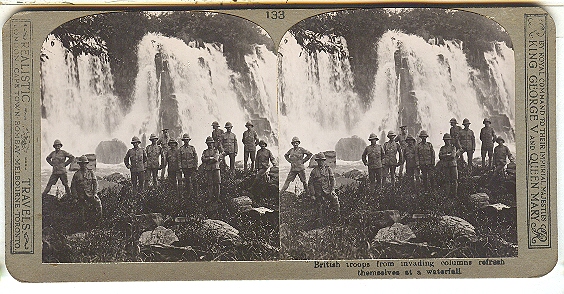 'British troops from invading columns refresh themselves at a waterfall'.
Order #5294.

'A wet camp in a dry country, British camp swamped by rising river'.
Order #5295.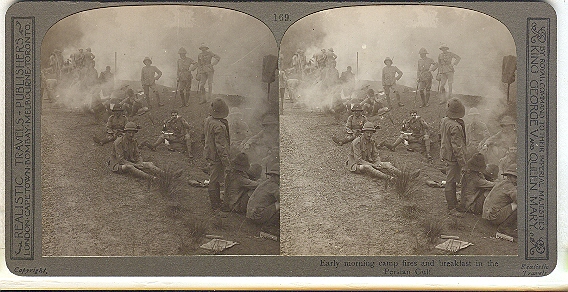 'Early morning camp fires and breakfast in the Persian Gulf'.
Order #5296.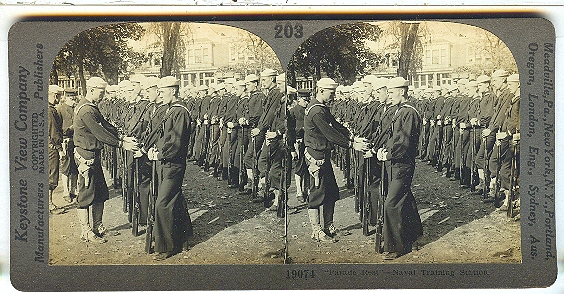 '"Parade Rest" - Naval Training Station'.
Order #5297.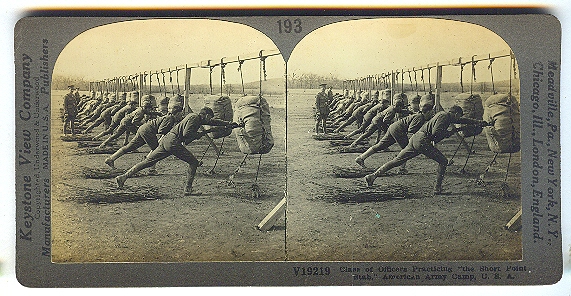 'Class of officers practicing the "short point stab". American Army Camp, USA'.
Order #5298.

'Our boys in France learning to correctly use gas masks'.
Order #5299.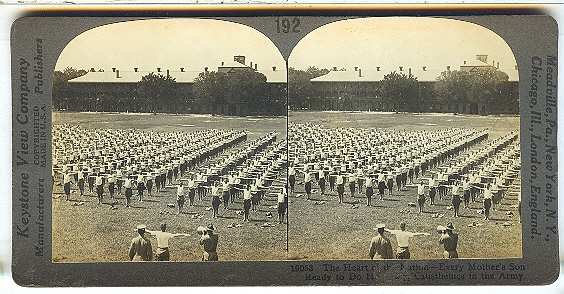 'The Heart of the Nation - Every Mother's Son ready to do his duty. Calisthenics in the Army'.
Order #5300.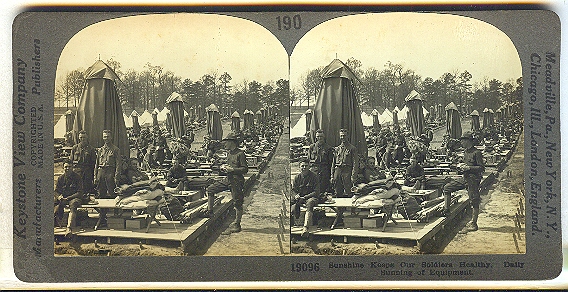 'Sunshine keeps our soldiers healthy. Daily sunning of equipment'.
Order #5302.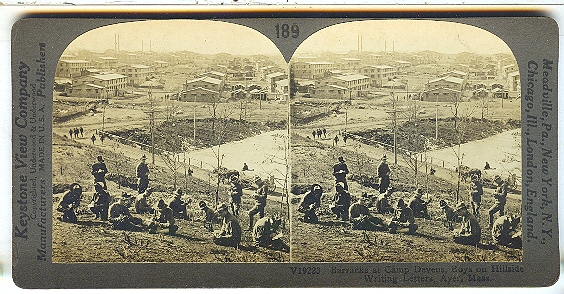 'Barracks at Camp Devens, boys on hillside writing letters, Ayer, Mass.'. Slight crease at bottom of right image.
Order #5303.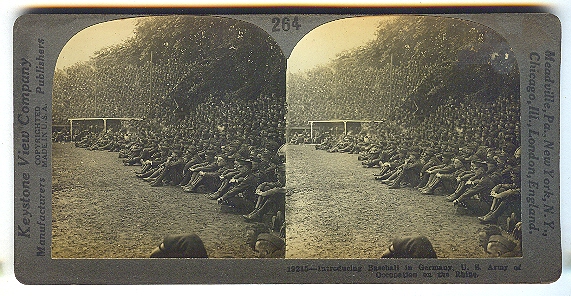 'Introducing baseball in Germany. US Army occupation of the Rhine'.
Order #5304.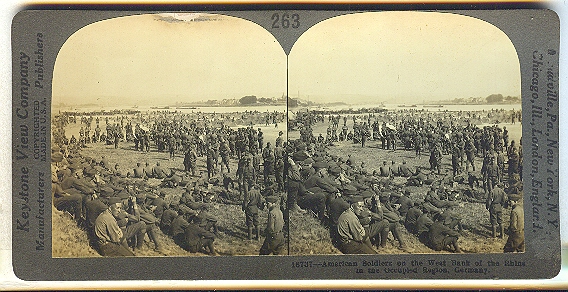 'American soldiers on the west bank of the Rhine in the occupied region, Germany.'. Slight deposit at top of left image.
Order #5305.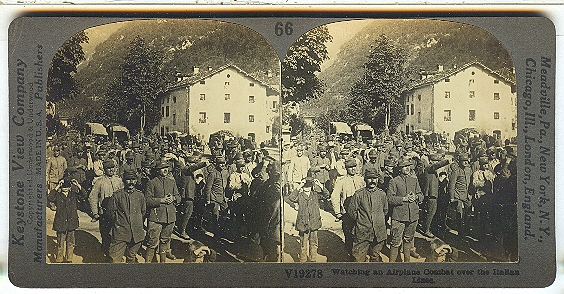 'Watching an airplane combat over the Italian lines'.
Order #5306.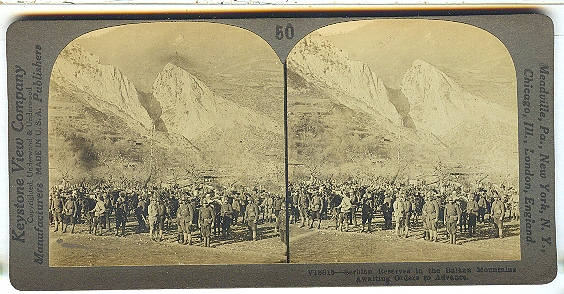 'Serbian reserves in the Balkan mountains, awaiting orders to advance'.
Order #5309.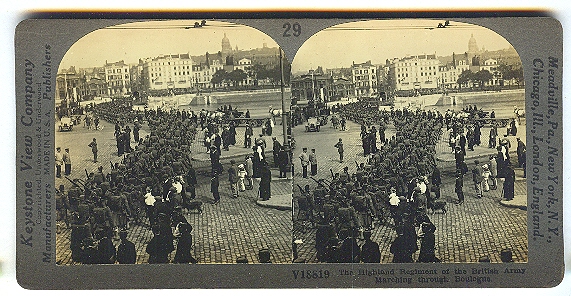 'The Highland Regiment of the British Army marching through Boulogne'.
Order #5310.

'Parade of Cuirassler Guards marching on the Parade Ground, Berlin, Germany'.
Order #5311.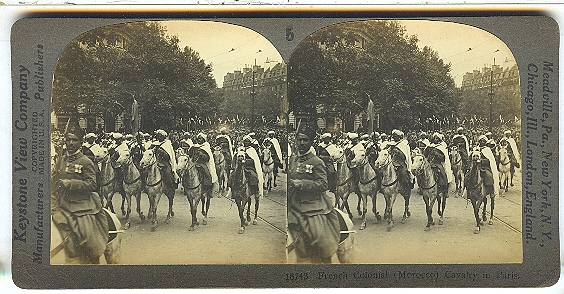 'French Colonial (Morocco) Cavalry in Paris'.
Order #5312.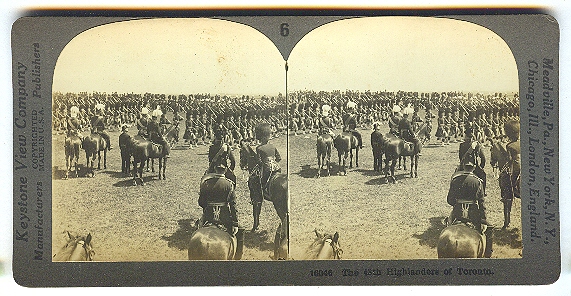 'The 48th Highlanders in Toronto'.
Order #5313.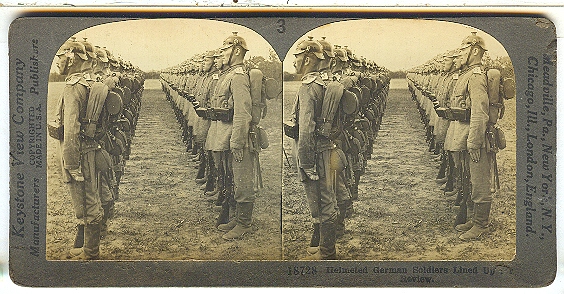 'Helmeted German Soldiers lined up on Review'. Slight damage to edge of mount.
Order #5314.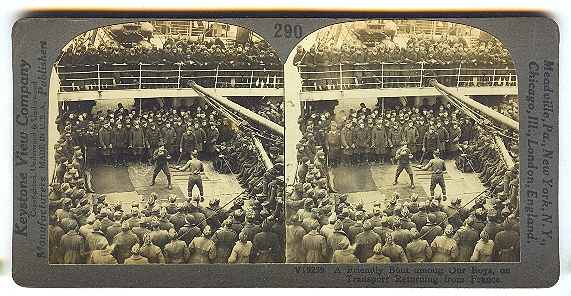 'A friendly bout among Our Boys on Transport Returning from France'.
Order #5315.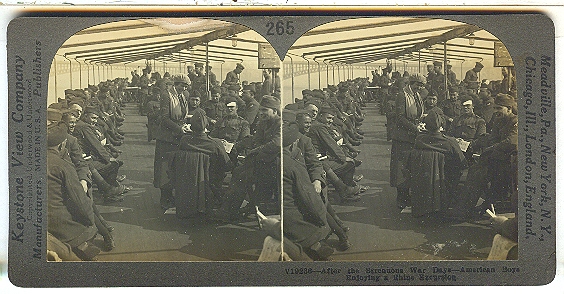 'After the strenuous war days - American Boys enjoying a Rhine excursion'.
Order #5317.

To page one - Troops on the move
To page four - Guns and gunners
To page five - In the trenches, over the top, fixed defenses, communications, materiel
To page seven - Battlefield landscapes, prisoners
To page eight - Miscellaneous and war damage
To page nine - The wounded, the fallen, war graves
To page ten - Officers, victory parades