Page eight, miscellaneous and war damage
Most of my World War One material is either by H. D. Girdwood, an English company, who sold their views under the trade name 'Realistic Travels' and concentrated on the British troops and UK market, or Keystone which concentrated on US troops, the U.S. market, and entered the war with the U.S. in 1917. Due to the high gloss and exaggerated curve, the Keystone views do not scan very well. They will therefore almost all be of far higher quality than they appear on the screen. The Keystone views all have a full text description on the back - the Realistic Travels views do not.
Please click here for a high quality scan which gives a true indication of the quality.
Girdwood's views have more immediacy and action. They were issued in sets of between 50 and 500 views so the numbering sequence is pretty muddled. Customers could also pick out the views they required and so a box or collection may have non-sequential numbering. They come on Underwood-type mounts or on lighter mounts with curved or beveled edges. These are interchangeable and most views appear on both types of mount.


These are ALL condition 8, 9 or 10 and priced at $8 each unless otherwise mentioned.


'After the fury of a great battle'. Black spotting on right image is production fault.
Order #12727.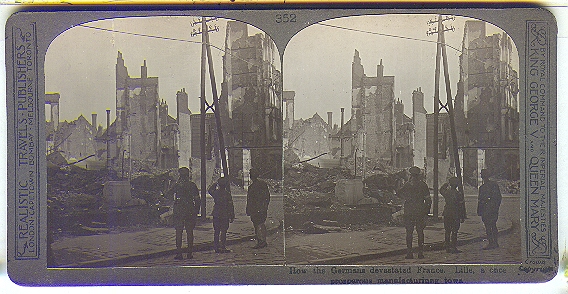 'How the Germans devastated France. Lille, once a prosperous manufacturing town'.
Order #12729.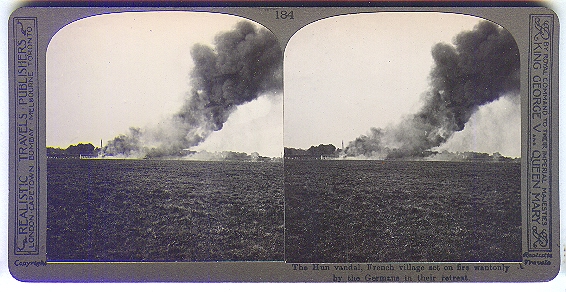 'The Hun vandal, French village set on fire wantonly by the Germans in their retreat'.
Order #12730.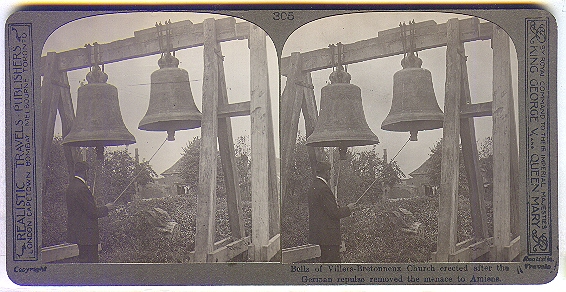 'Bells of Villers-Bretonneux Church, erected after the German repulse removed the menace to Amiens'.
Order #12731.

'The beautiful church at Merville, which is now a heap of ruins'.
Order #12732.

'Mariakerke, shelled by British Monitors in battles which loosened the enemy's hold on Flanders coast'.
Order #12733.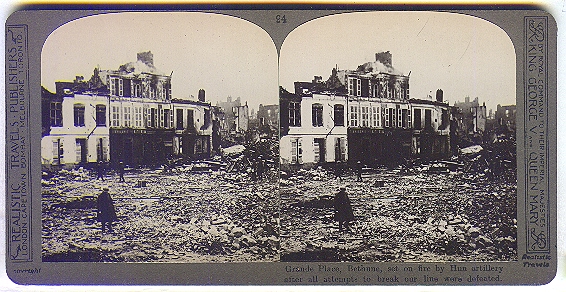 'Grand Place, Bethune, set on fire by Hun artillery after all attempts to break our line were defeated'.
Order #12734.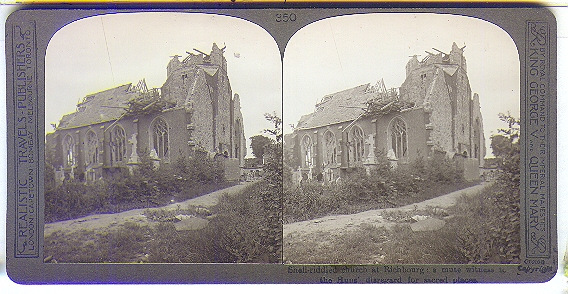 'Shell-riddled church at Richbourg; a mute witness to the Huns' disregard for sacred places'.
Order #12735.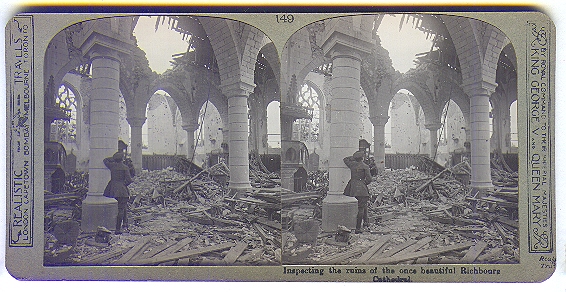 'Inspecting the ruins of the once beautiful Richbourg Cathedral'.
Order #12736.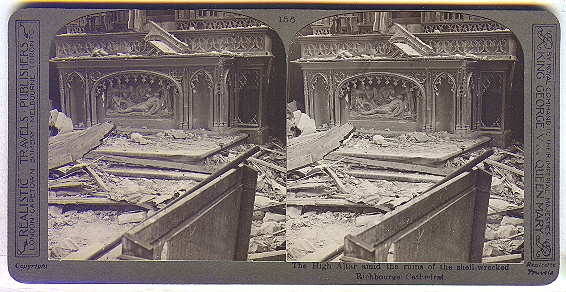 'The High Altar amid the ruins of the shell-wrecked Richbourg Cathedral'.
Order #12737.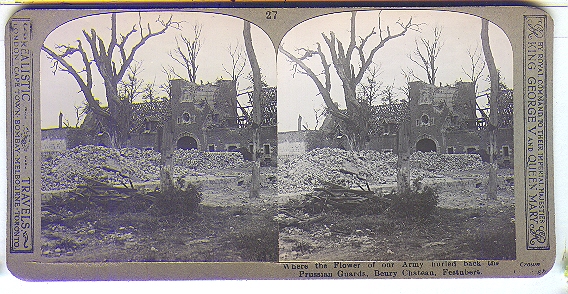 'Where the flower of our Army hurled back the Prussian Guards, Beury Chateau, Festubert'.
Order #12738.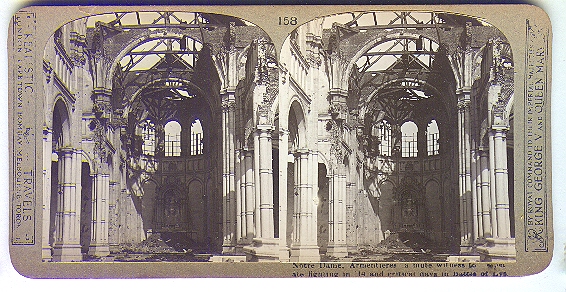 'Notre Dame, Armentieres, a mute witness to desperate fighting in '14 and critical days in Battle of Lys'.
Order #12739.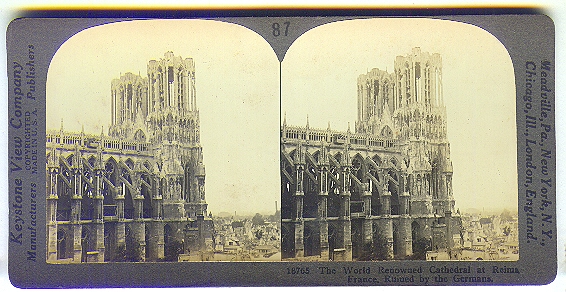 'The world-renowned cathedral of Reims, France. Ruined by the Germans'.
Order #12742.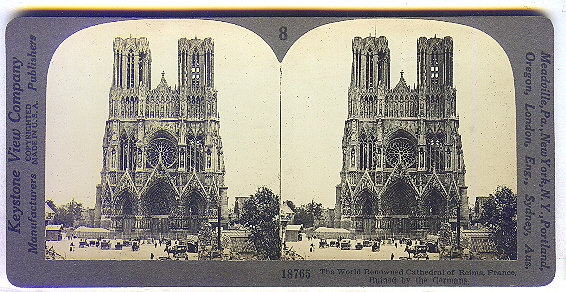 'The world-renowned cathedral of Reims, France. Ruined by the Germans'.
Order #12743.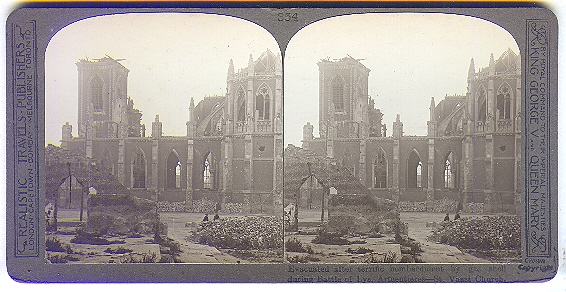 'Evacuated after terrific bombardment by gas shell during battle of Lys, Armentieres - St Vaast Church'.
Order #12745.

'Hun sacrilege. Desecrated church of Notre Dame at Armentiers'.
Order #12746.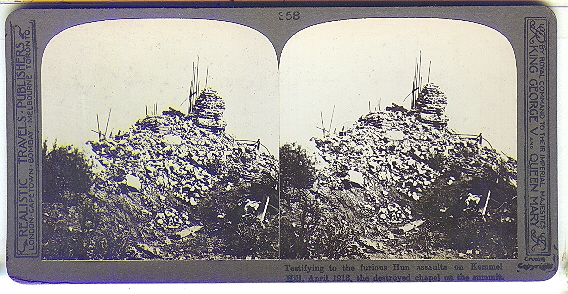 'Testifying to the furious Hun assaults on Kemmel Hill, April 1918, the destroyed chapel on the summit'.
Order #12747.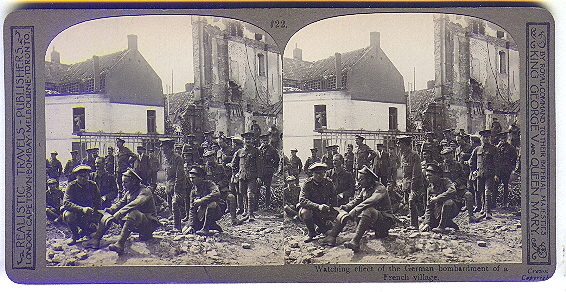 'Watching effect of the German bombardment of a French village'.
Order #12748.

'Examining fragments of shell in craters before buildings wrecked by shell-fire'.
Order #12750.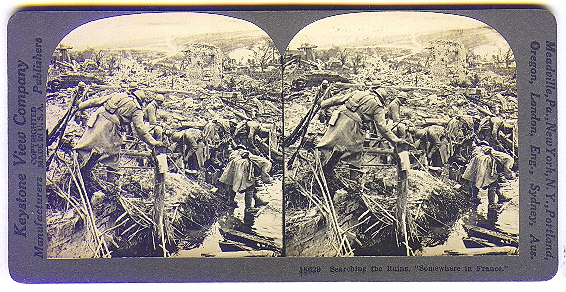 'Searching the ruins, "Somewhere in France"'.
Order #12751.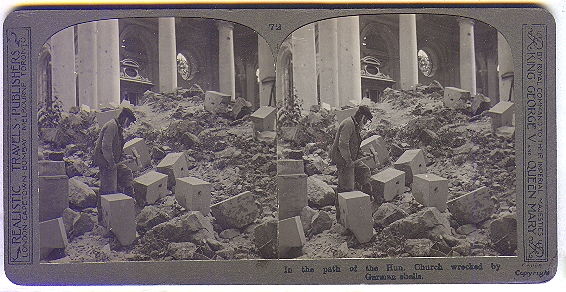 'In the path of the Hun. Church wrecked by German shells'.
Order #12752.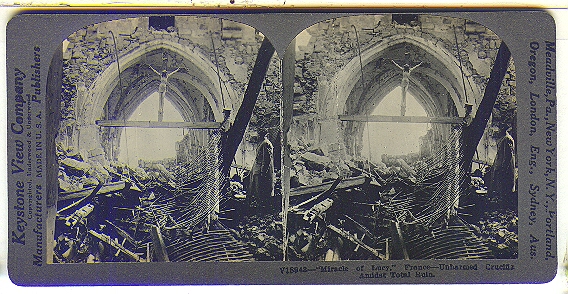 '"Miracle of Lucy", France - Unharmed crucifix amidst total ruin'.
Order #12753.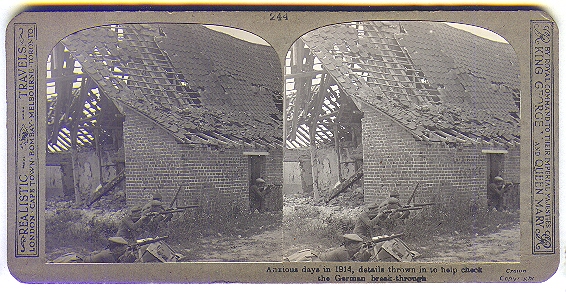 'Anxious days in 1914, details thrown in to help check the German break-through'.
Order #12754.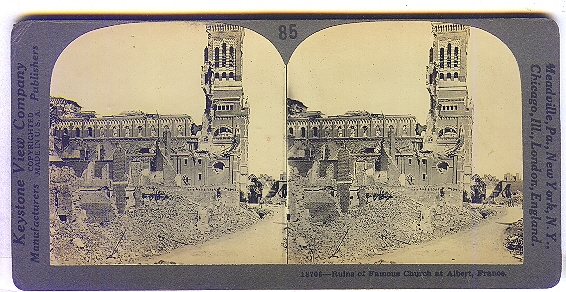 'Ruins of famous church at Albert, France'. Couple of slight creases at bottom.
Order #12755.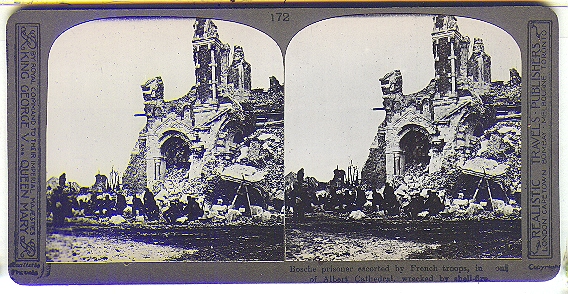 'Bosche prisoner escorted by French troops, in front of Albert Cathedral, wrecked by shellfire'.
Order #12756.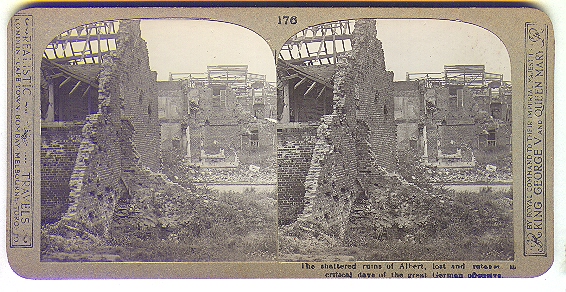 'The shattered ruins of Albert, lost and retaken in critical days of the great German offensive'.
Order #12757.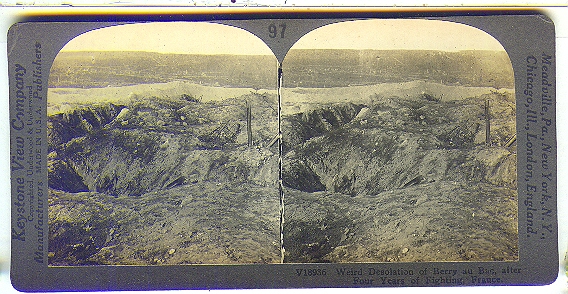 'Weird desolation of Berry au Bac, after four years of fighting, France'.
Order #12758.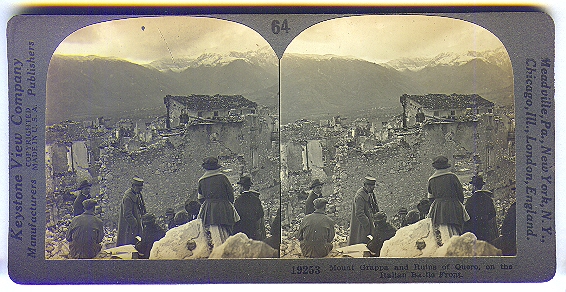 'Mount Grappa and ruins of Quero, on the Italian battle front'.
Order #12759.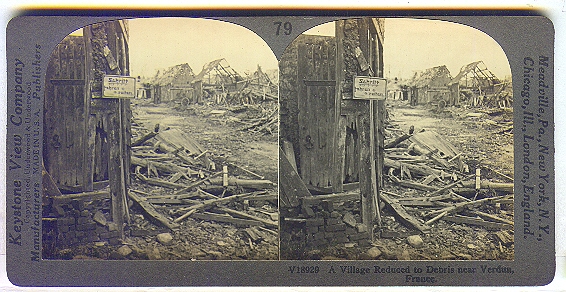 'A village reduced to debris near Verdun, France'.
Order #12760.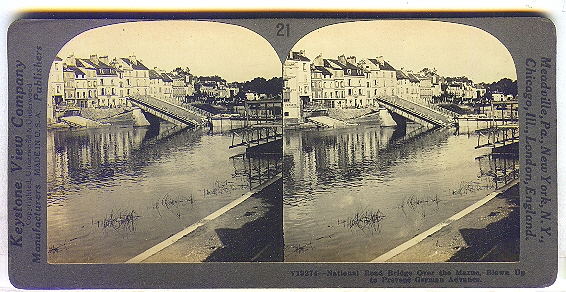 'National Road Bridge over the Marne, blown up to prevent German advance'.
Order #12763.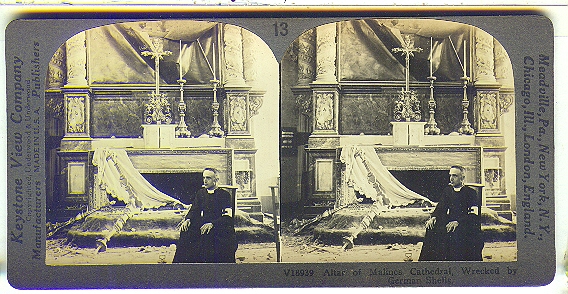 'Altar of Malines Cathedral, wrecked by German shells'.
Order #12764.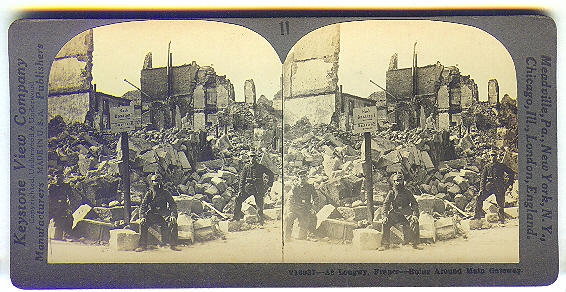 'At Longwy, France - Ruins around main gateway'.
Order #12765.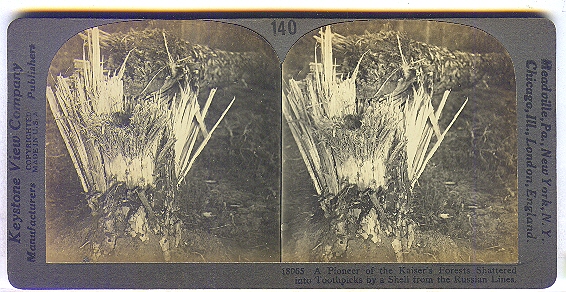 'A pioneer of the Kaiser's forests, shattered into toothpicks by a shell from the Russian lines'.
Order #12766.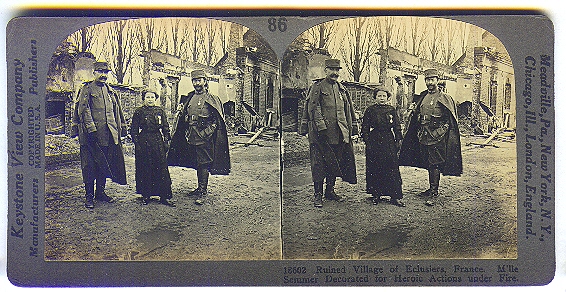 'Ruined village of Eclusiers, France. M'lle Semmer, decorated for heroic actions under fire'.
Order #12768.
Price $18.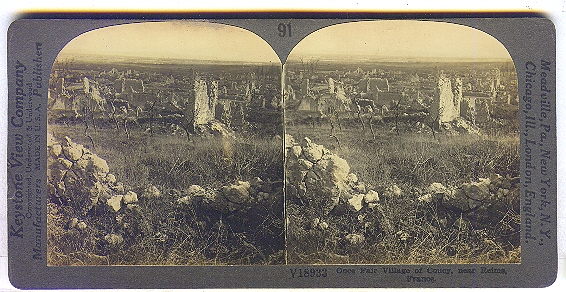 'Once fair village of Coucy, near Reims, France'.
Order #12769.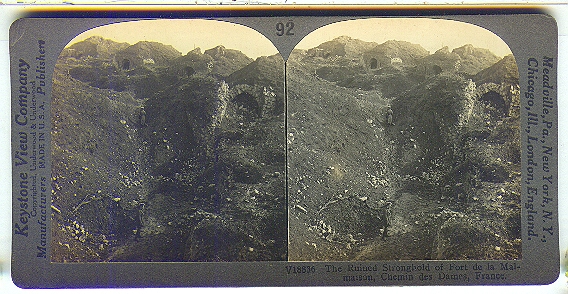 'The ruined stronghold of Fort de la Malmaison, Chemin des Dames, France'.
Order #12770.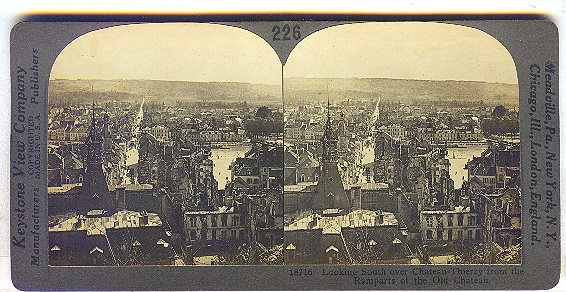 'Looking south over Chateau-Thierry from Ramparts of the Old Chateau'.
Order #12772.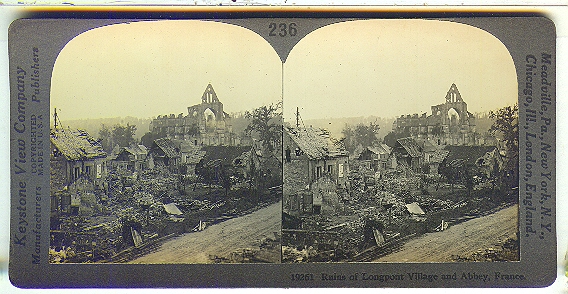 'Ruins of Longpont Village and Abbey, France'.
Order #12773.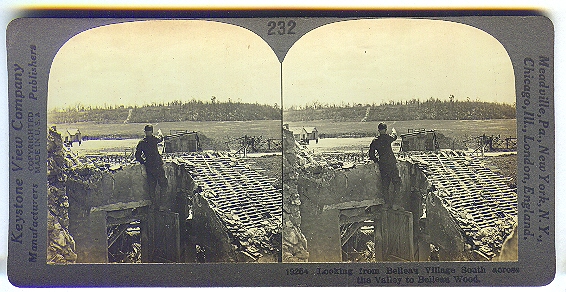 'Looking from Belleau Village south across the valley to Belleau Wood'.
Order #12774.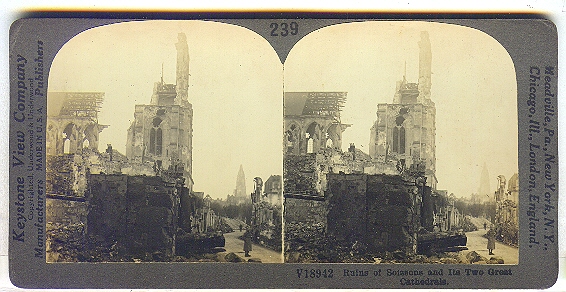 'Ruins of Soissons and its two great Cathedrals'.
Order #12775.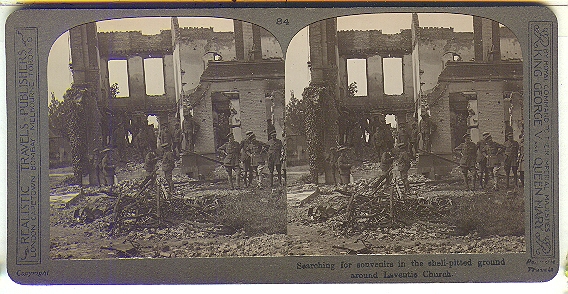 'Searching for souvenirs in the shell-pitted ground around Laventis Church'.
Order #12776.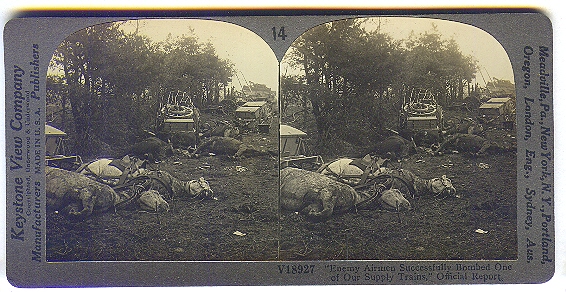 '"Enemy airmen successfully bombed one of our supply trains". Official Report'.
Order #12777.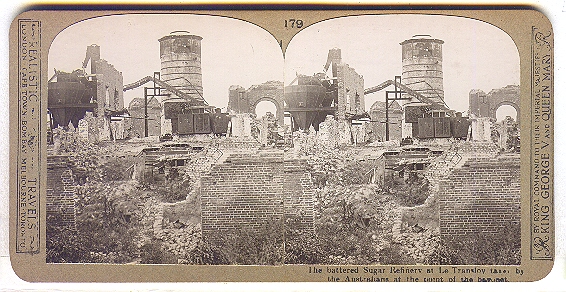 'The battered sugar refinery at Le Transloy taken by the Australians at the point of a bayonet'.
Order #12778.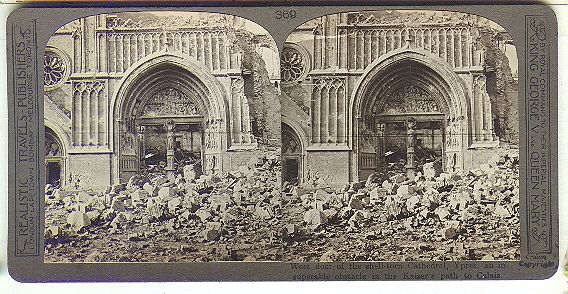 'West door of the shell-torn Cathedral, Ypres, an insuperable obstacle in the Kaiser's path to Calais'.
Order #12779.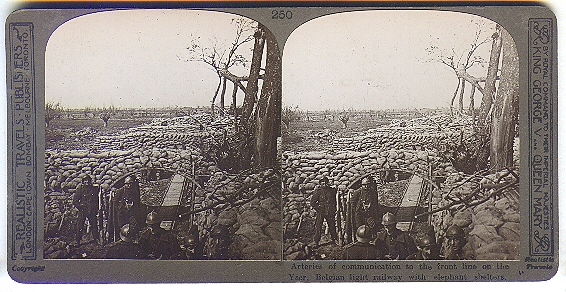 'Arteries of communication to the front line on the Yser, Belgian light railway with elephant shelters'.
Order #12780.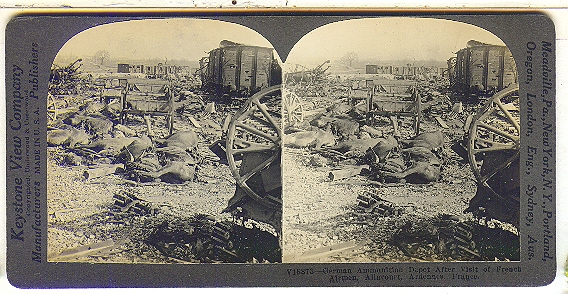 'German ammunition depot after visit of French airmen, Alincourt, Ardennes'.
Order #12782.

To page one - Troops on the move
To page four - Guns and gunners
To page five - In the trenches, over the top, fixed defenses, communications, materiel
To page seven - Battlefield landscapes, prisoners
To page nine - The wounded, the fallen, war graves
To page ten - Officers, victory parades