Page nine, The wounded, the fallen, war graves
Most of my World War One material is either by H. D. Girdwood, an English company, who sold their views under the trade name 'Realistic Travels' and concentrated on the British troops and UK market, or Keystone which concentrated on US troops, the U.S. market, and entered the war with the U.S. in 1917. Due to the high gloss and exaggerated curve, the Keystone views do not scan very well. They will therefore almost all be of far higher quality than they appear on the screen. The Keystone views all have a full text description on the back - the Realistic Travels views do not.
Please click here for a high quality scan which gives a true indication of the quality.
Girdwood's views have more immediacy and action. They were issued in sets of between 50 and 500 views so the numbering sequence is pretty muddled. Customers could also pick out the views they required and so a box or collection may have non-sequential numbering. They come on Underwood-type mounts or on lighter mounts with curved or beveled edges. These are interchangeable and most views appear on both types of mount.


These are ALL condition 8, 9 or 10 and priced at $8 each unless otherwise mentioned.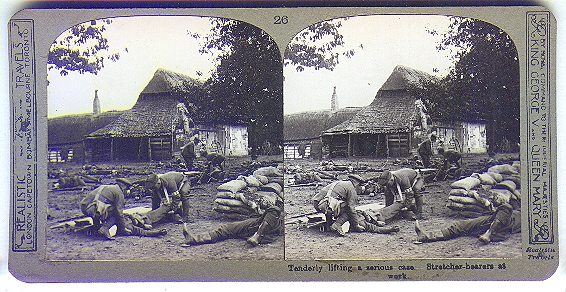 'Tenderly lifting a serious case. Stretcher-bearers at work'.
Order #12787.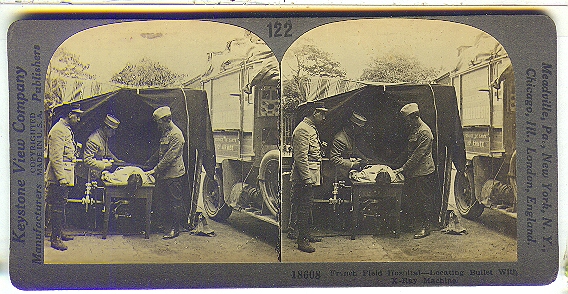 'French field hospital - locating bullet with X-ray machine'.
Order #12789.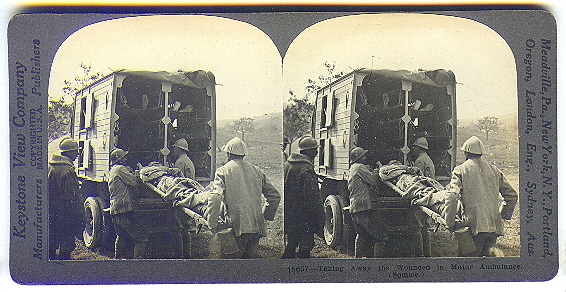 'Taking away the wounded in motor ambulance (Somme)'.
Order #12790.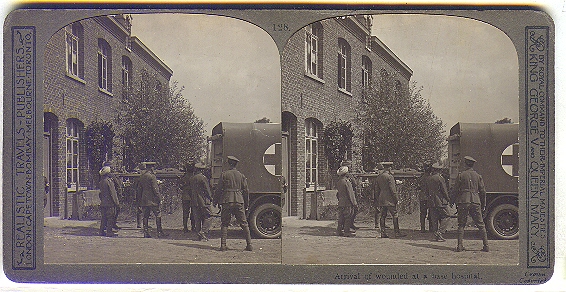 'Arrival of wounded at a base hospital'.
Order #12791.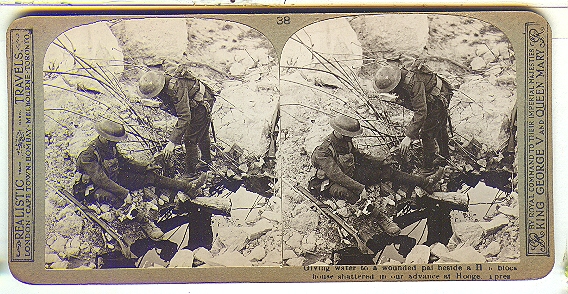 'Giving water to a wounded pal beside a Hun block house shattered in our advance at Hooge, Ypres'.
Order #12792.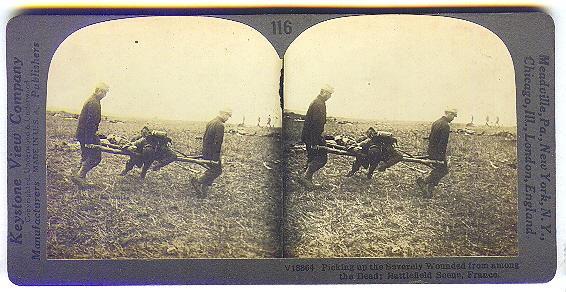 Picking up the severely wounded from among the dead, battlefield scene, France'.
Order #12796.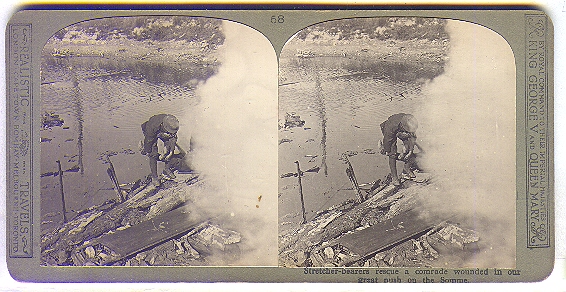 'Stretcher bearers rescue a comrade wounded in our great push on the Somme'.
Order #12797.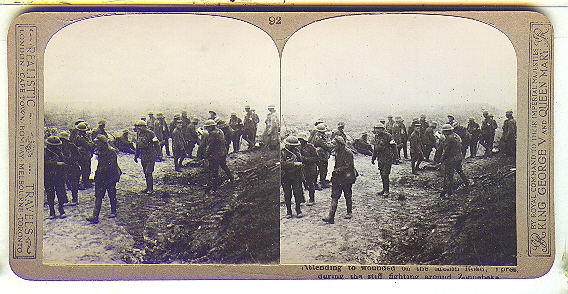 'Attending to wounded on the Menim Road, Ypres, during the stiff fighting around Zonnebeke'.
Order #12798.

'Red Cross dog and soldier for whom he got help'.
Order #12799.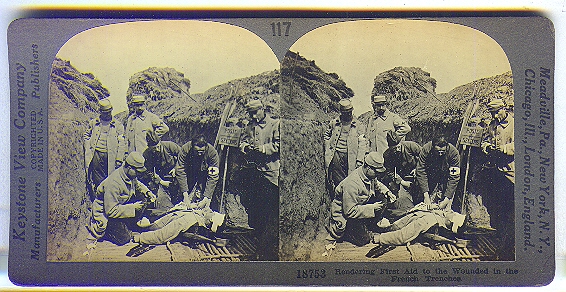 'Rendering first aid to the wounded in the French trenches'.
Order #12800.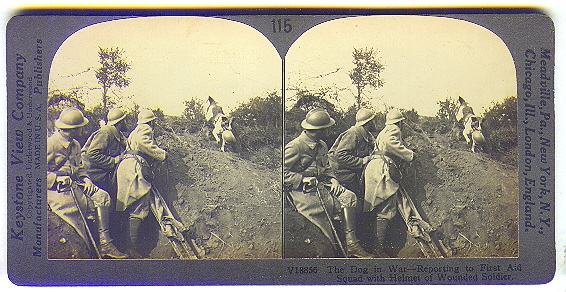 'The dog in war - Reporting to First Aid Squad with helmet of wounded soldier'.
Order #12802.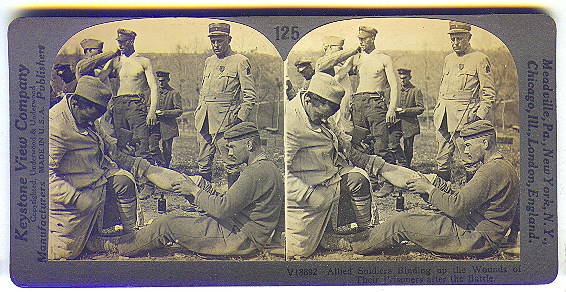 'Allied soldiers binding up the wounds of their prisoners after the battle'.
Order #12805.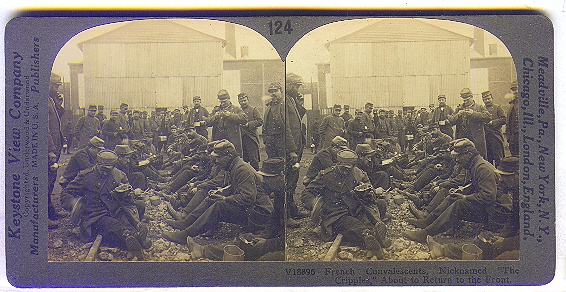 'French convalescents nicknamed "The Cripples", about to return to the Front'.
Order #12806.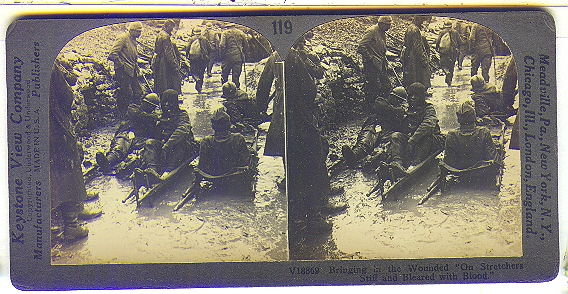 'Bringing in the wounded "on stretchers stiff and bleared with blood"'.
Order #12807.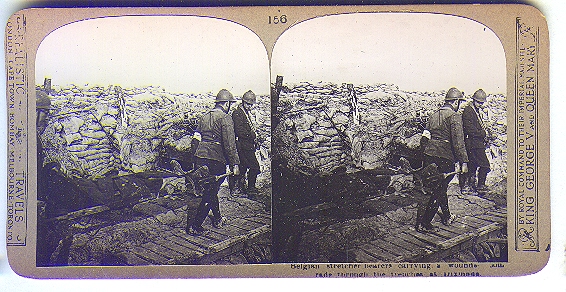 'Belgian stretcher bearers carrying a wounded comrade through the trenches at Dixmude'.
Order #12808.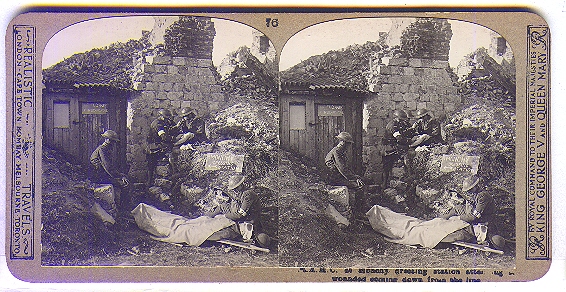 'RAMC at Monchy Dressing Station attending the wounded coming down the line'.
Order #12809.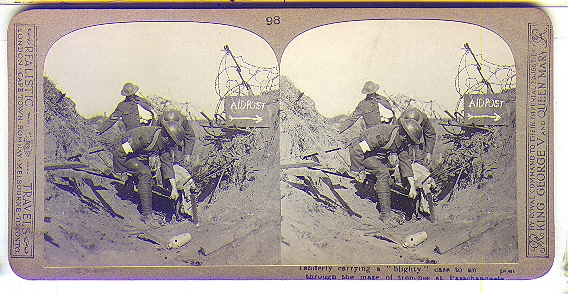 'Tenderly carrying a "blighty" case to an aid post through the maze of trenches at Passchendaele'.
Order #12810.

'After the storm and stress of battle, caring for the wounded'.
Order #12812.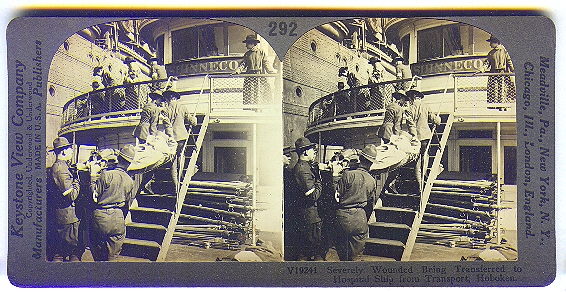 'Severely wounded being transferred to hospital ship from transport, Hoboken'.
Order #12816.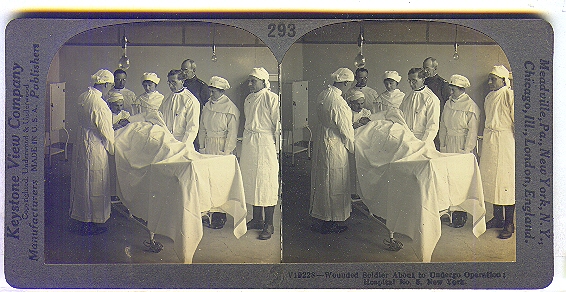 'Wounded soldier about to undergo operation. Hospital No 5, New York'.
Order #12817.
Price $18.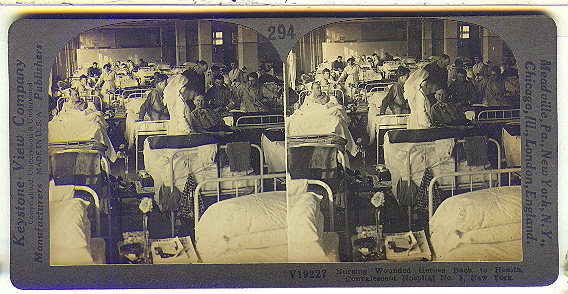 'Nursing wounded heroes back to health. Convalescent Hospital No 5, New York'.
Order #12818.
Price $18.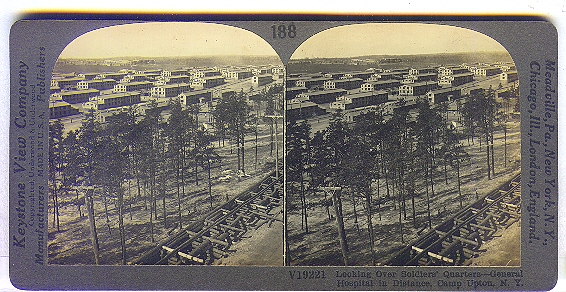 'Looking over soldiers' quarters - General Hospital in distance, Camp Upton, N.Y.'.
Order #12820.



'Casualties after the charge has swept over captured positions under German shell-fire'.
Order #12824.

'A fine charge by the Leicesters baffles the Kaiser's bid to wipe out the Old Contemptibles, Ypres'.
Order #12825.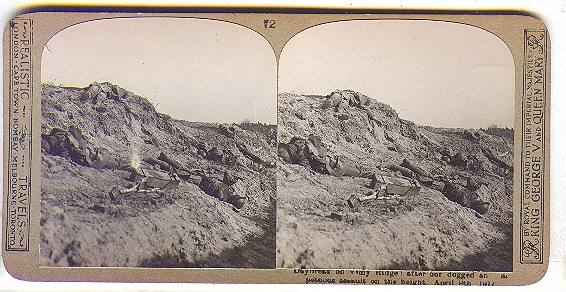 'Daybreak on Vimy Ridge after our dogged and impetuous assault on the height. April 9th 1917'.
Order #12826.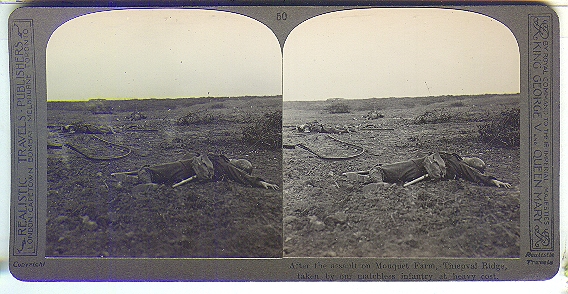 'After the assault on Mouquet Farm, Thiepval Ridge, taken by our matchless infantry at heavy cost'.
Condition. Slightly darker on l/h image but scanner has struggled to reproduce.
Order #12827.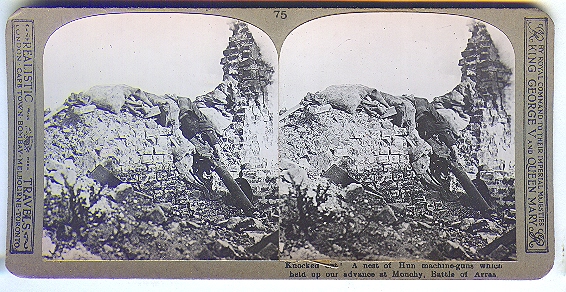 'Knocked out! A nest of Hun machine-guns which held up our advance at Monchy, Battle of Arras'.
Order #12828.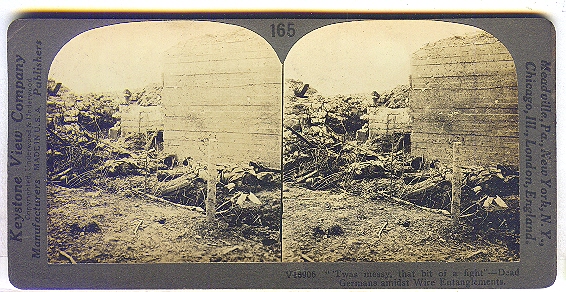 '"Twas messy, that bit of a fight". Dead Germans amidst wire entanglements'.
Order #12832.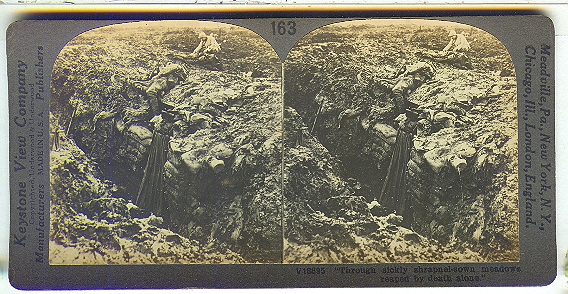 'Through sickly shrapnel-sown meadows reaped by death alone'.
Order #12833.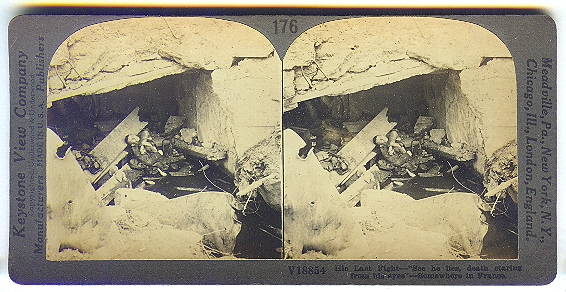 'His last fight - "See he lies, death staring from his eyes" - Somewhere in France'.
Order #12834.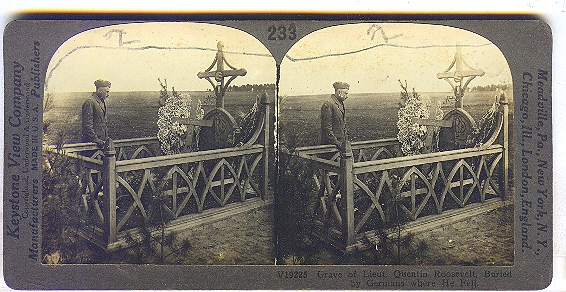 'Grave of Lieut. Quentin Roosevelt, buried by Germans where he fell'.
Order #12835.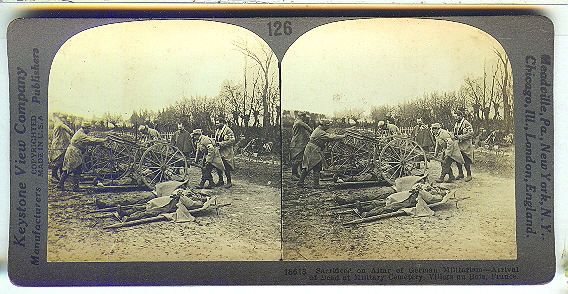 'Sacrificed on Altar of German Militarism - Arrival of dead at Military Cemetary, Villers au Bois, France'.
Order #12836.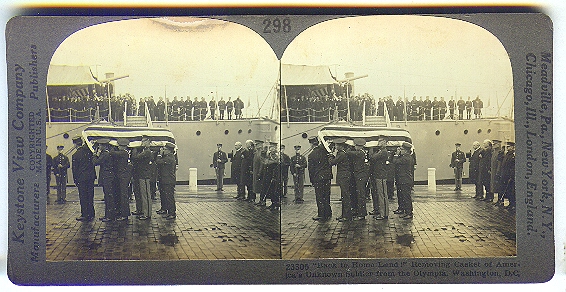 '"Back to the Home Land". Removing Casket of America's Unknown Soldier from the Olympia, Washington D.C.'.
Order #12837.
Price $18.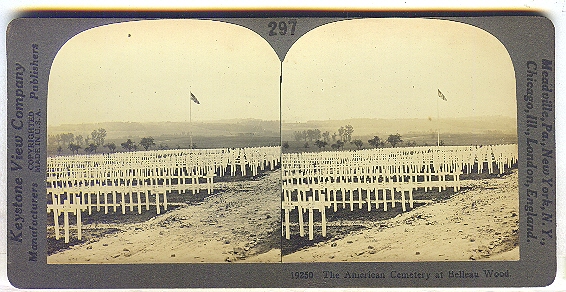 'The American Cemetery at Belleau Wood'.
Order #12840.



To page one - Troops on the move
To page four - Guns and gunners
To page five - In the trenches, over the top, fixed defenses, communications, materiel
To page seven - Battlefield landscapes, prisoners
To page eight - Miscellaneous and war damage
To page ten - Officers, victory parades