Page three, transport in the air, on and under the sea, and by road and rail
Most of my World War One material is either by H. D. Girdwood, an English company, who sold their views under the trade name 'Realistic Travels' and concentrated on the British troops and UK market, or Keystone which concentrated on US troops, the U.S. market, and entered the war with the U.S. in 1917. Due to the high gloss and exaggerated curve, the Keystone views do not scan very well. They will therefore almost all be of far higher quality than they appear on the screen. The Keystone views all have a full text description on the back - the Realistic Travels views do not.
Please click here for a high quality scan which gives a true indication of the quality.
Girdwood's views have more immediacy and action. They were issued in sets of between 50 and 500 views so the numbering sequence is pretty muddled. Customers could also pick out the views they required and so a box or collection may have non-sequential numbering. They come on Underwood-type mounts or on lighter mounts with curved or beveled edges. These are interchangeable and most views appear on both types of mount.


These are ALL condition 8, 9 or 10 and priced at $8 each unless otherwise mentioned. Air views are substatially more difficult to obtain and are therefore more expensive.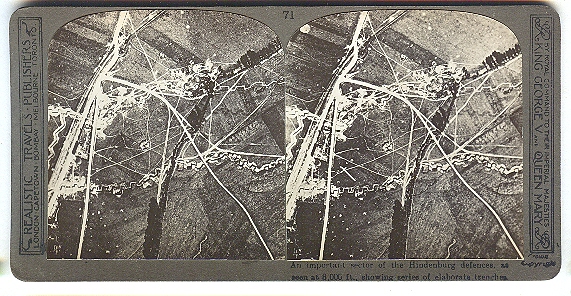 'An important sector of the Hindenburg defences, as seen at 8,000 feet, showing series of elaborate trenches'.
Order #5321.


'Zeppelin shot down near Colchester, even with the back broken towers above a nearby farmhouse'.
Order #5324.
Price $12.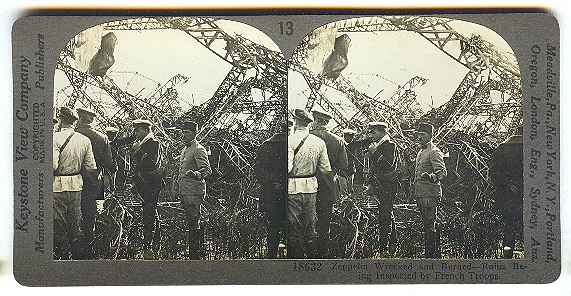 'Zeppelin wrecked and burned - Ruins being inspected by French troops'.
Order #5327.
Price $18.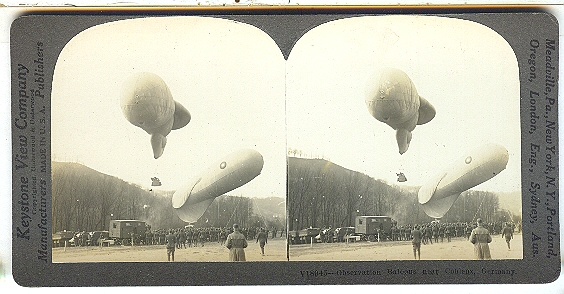 'Observation baloons (sic) near Coblenz, Germany'.
Order #5329.
Price $18.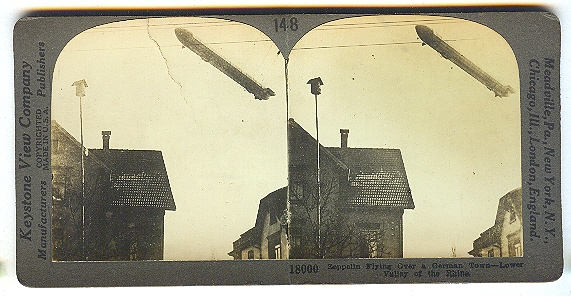 'Zeppelin flying over a German town - Lower valley of the Rhine'. Split in left image at top.
Order #5330.
Price $15.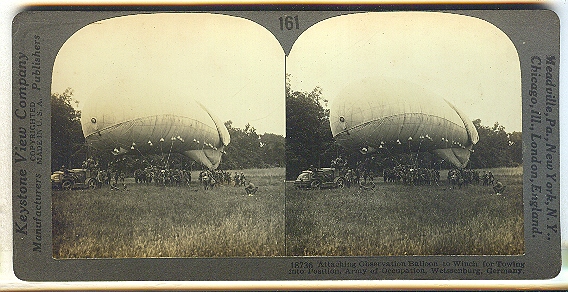 'Attaching observation balloon to winch for towing into position, Army of Occupation, Weissenburg, Germany'.
Order #5331.
Price $18.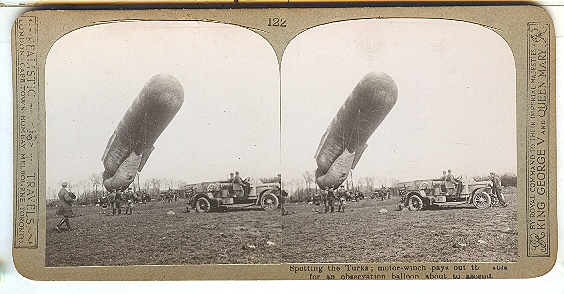 'Spotting the Turks; motor-winch pays out the cable for an observation balloon about to ascend'.
Order #5332.
Price $25.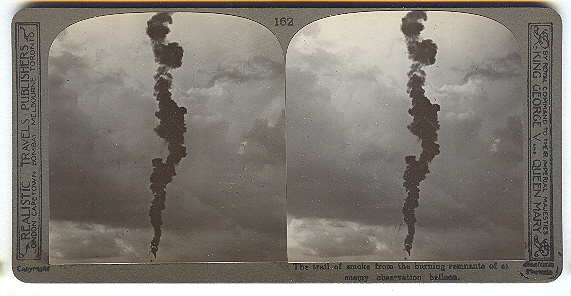 'The trail of smoke from the burning remnants of an enemy observation balloon'.
Order #5333.
Price $12.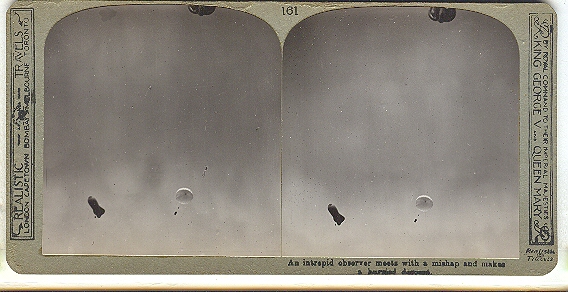 'An intrepid observer meets with a mishap and makes a hurried descent'.
Order #5334.
Price $12.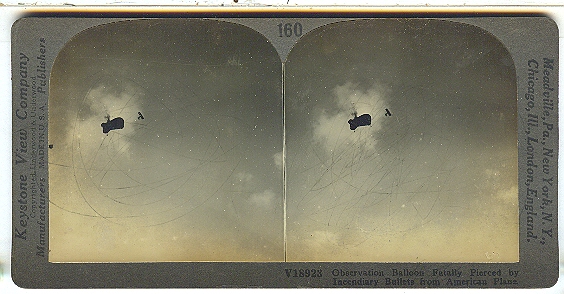 'Observation balloon fatally pierced by incendary bullets from American plane'.
Condition. Surface marks made by kid with pencil.
Order #5335.
Price $2.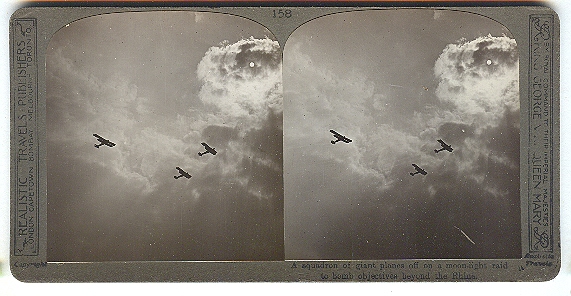 'A squadron of giant planes on a moon-light raid to bomb objectives beyond the Rhine'.
Order #5336.
Price $18.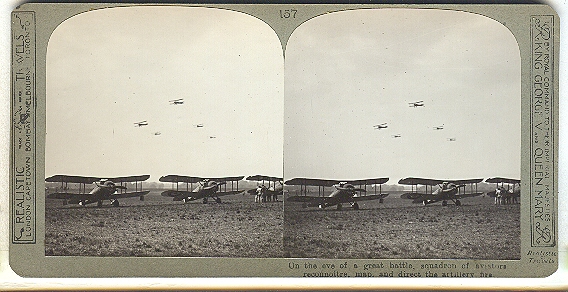 'On the eve of a great battle, squadron of aviators reconnoitre, map, and direct artillery fire'.
Order #5337.
Price $25.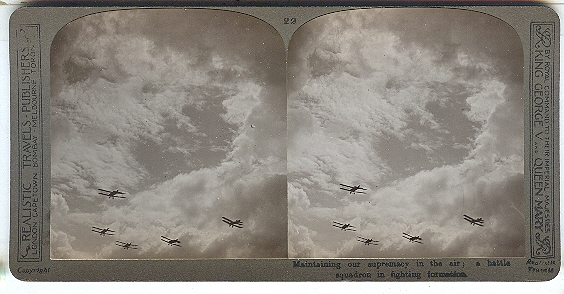 'Maintaining our supremacy in the air; a battle squadron in fighting formation'.
Order #5338.
Price $18.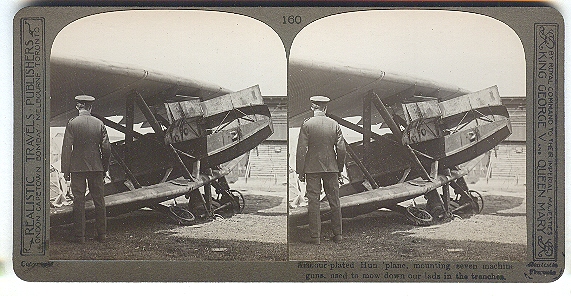 'Armour-plated Hun plane, mounting seven machine guns, used to mow down our lads in the trenches'. Presumably our planes were used to drop invitations to tea and cakes.
Order #5339.
Price $28.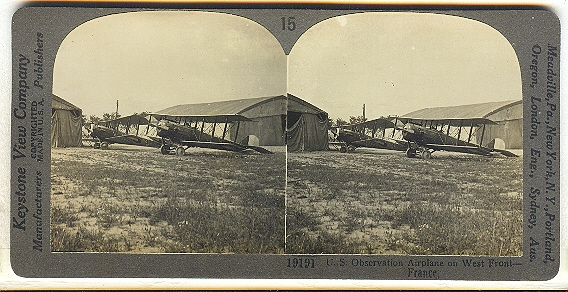 'U.S. Observation Airplane on West Front - France'.
Order #5340.
Price $25.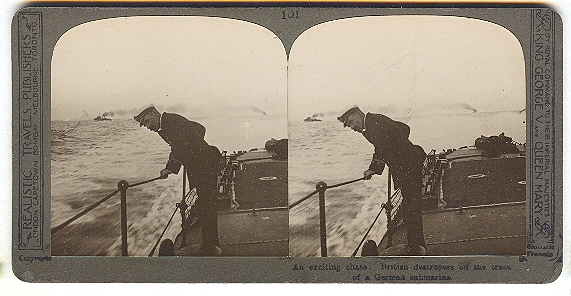 'An exciting chase! British Destroyers on the track of a German submarine'.
Order #5342.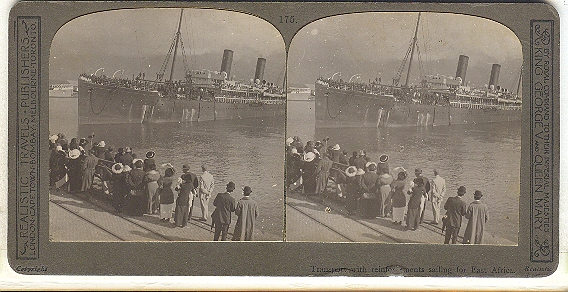 'Transport with reinforcements sailing for East Africa'.
Order #5343.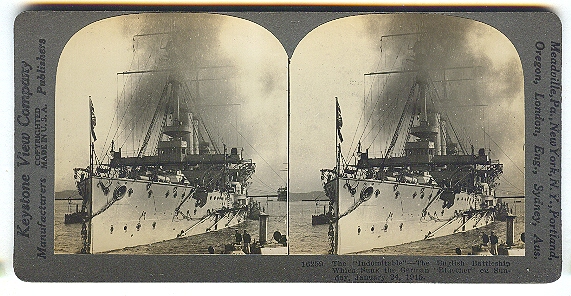 'The "Indomitable" - The English Battleship which sunk the German "Bluccher (sic) on Sunday, January 24, 1915'.
Order #5345.
Price $12.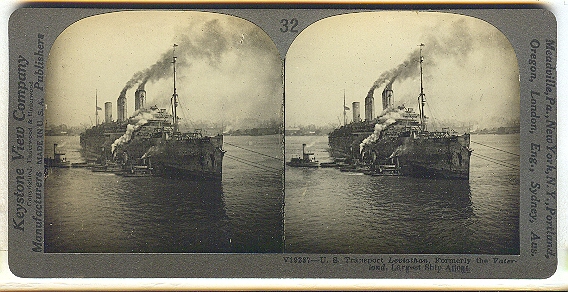 'U.S. Transport Leviathan. Formerly the Vaterland, largest ship afloat'.
Order #5346.
Price $12.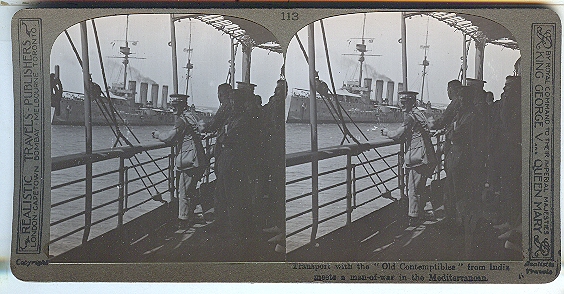 'Transport with the "Old Comtemptibles" from India meets a man-of-war in the Mediterranean'.
Order #5347.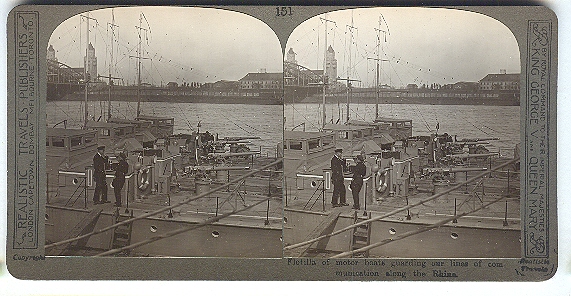 'Flotilla of motor boats guarding our lines of communication along the Rhine'.
Order #5348.

'Marines and sailors despersing (sic) after an assembly aft for instructions - Life on board a battleship'.
Order #5350.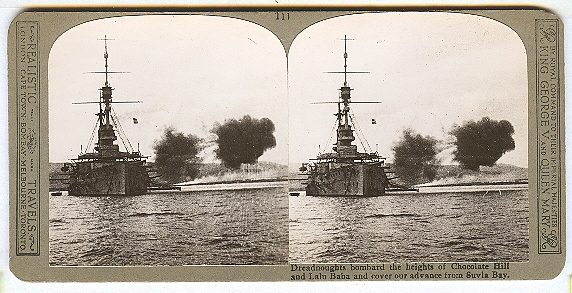 'Dreadnoughts bombard the heights of Chocolate Hill and Lala Baba and cover our advance from Sulva Bay'. This is identified as the Cornwallis on another view.
Order #5351.
Price $12.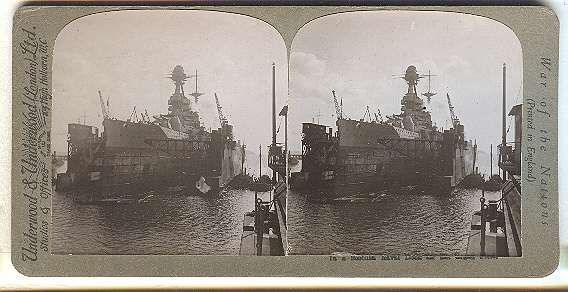 Underwood. 'In a Scottish Naval Dock of the Grand Fleet'.
Order #5352.
Price $12.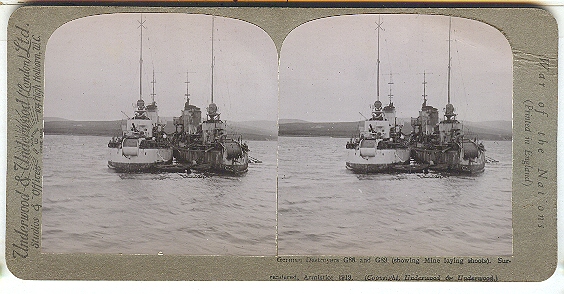 Underwood. 'German Destroyers G86 and G89 (showing mine laying shoots). Surrendered, Armistice, 1919'.
Order #5353.
Price $12.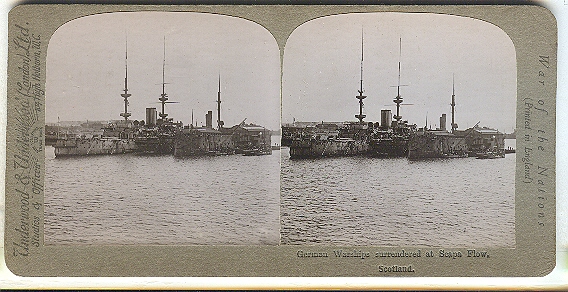 Underwood. 'German Warships surrendered at Scapa Flow, Scotland'.
Order #5355.
Price $12.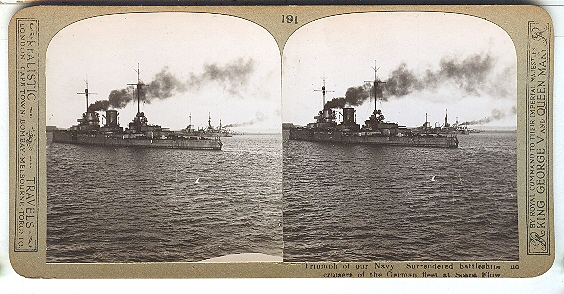 'Triumph of our Navy. Surrendered battleships and cruisers of the German Fleet at Scapa Flow'.
Order #5356.
Price $12.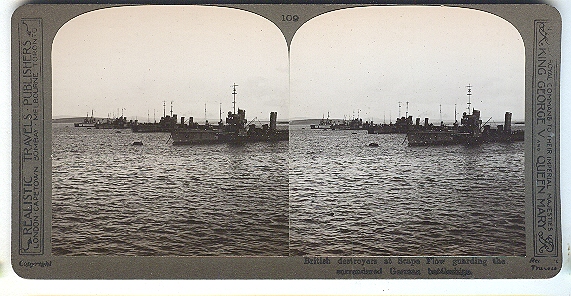 'British destroyers at Scapa Flow guarding the surrendered German battleships'.
Order #5357.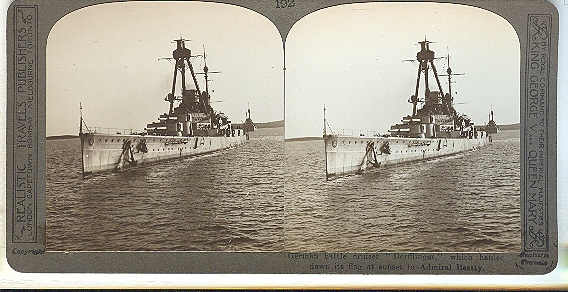 'German battle cruiser Derfflinger which hauled down its flag at sunset to Admiral Beatty'.
Order #5358.
Price $12.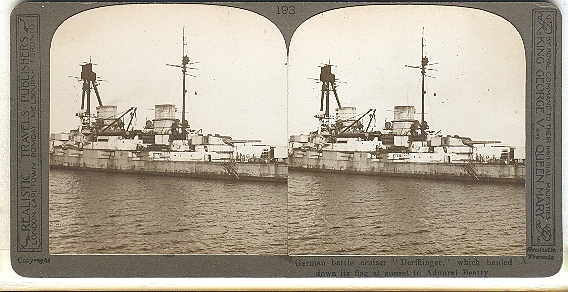 'German battle cruiser Derfflinger which hauled down its flag at sunset to Admiral Beatty'.
Order #5359.
Price $12.

'The silent work of the Navy. Transports on their way to distant parts of our far-flung battle line'.
Order #5360.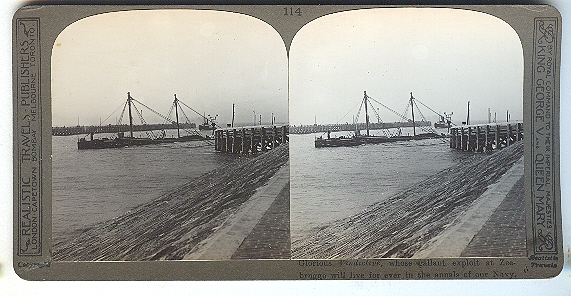 'Glorious Vindictive whose gallant exploits at Zeebrugge will live for ever in the annals of our Navy'.
Order #5361.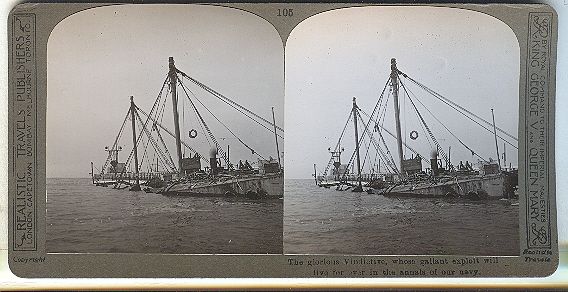 'The Glorious Vindictive whose gallant exploit will live for ever in the annals of our Navy'.
Order #5362.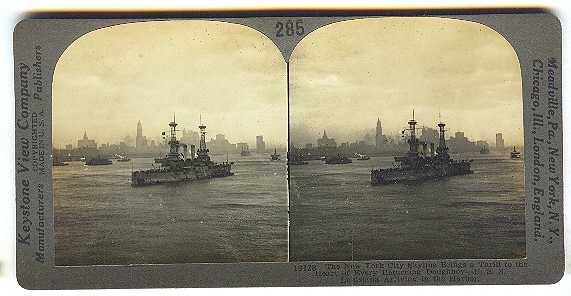 'The New York city skyline brings a thrill to the heart of every returning doughboy - USS Louisiana arriving in the harbor'.
Order #5364.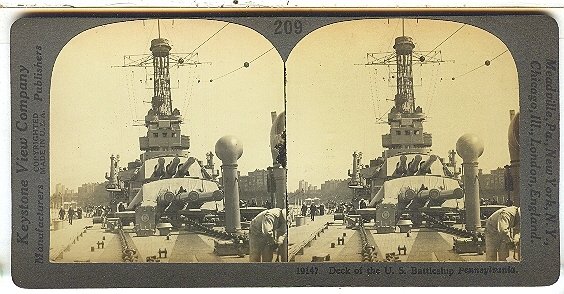 'Deck of the US Battleship Pennsylvania'.
Order #5365.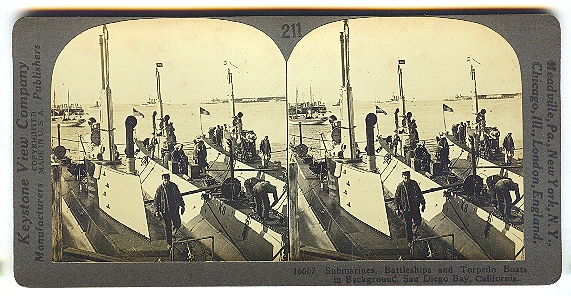 'Submarines, battleships and torpedo boats in background, Diego Bay, California'.
Order #9301.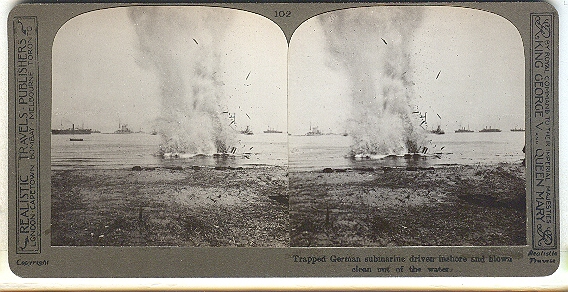 'Trapped German submarine driven inshore and blown clean out of the water'.
Order #9302.

'A dauntless trawler which met its doom by striking a floating mine in the Dardanelles'. Almost certainly a doctored version of the previous view.
Order #9303.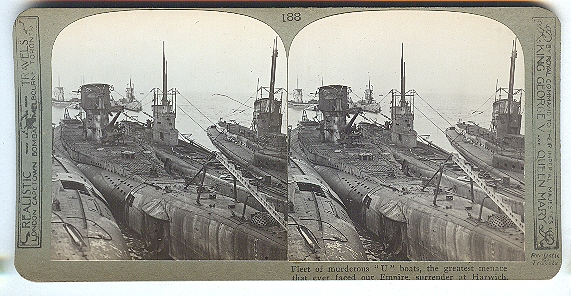 'Fleet of murderous "U" boats, the greatest menace that ever faced our Empire, surrender at Harwich'.
Order #9304.
Price $12.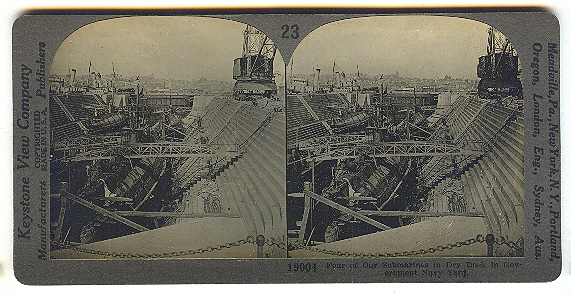 'Four of our submarines in Dry Dock in Government Navy Yard'.
Order #9307.
Price $12.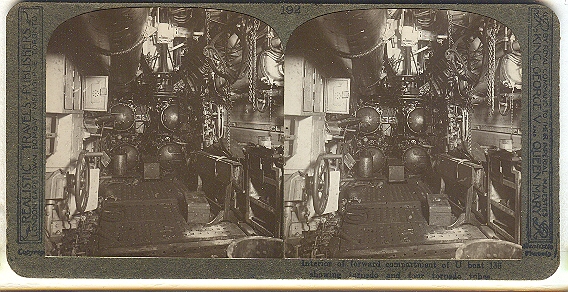 'Interior of forward compartment of U Boat 135, showing torpedo and four torpedo tubes'.
Order #9308.
Price $12.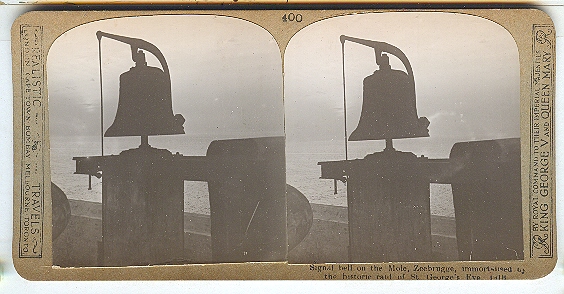 'Signal bell on the Mole, Zeebrugge, immortalized by the historic raid of St George's Eve, 1918'.
Order #9309.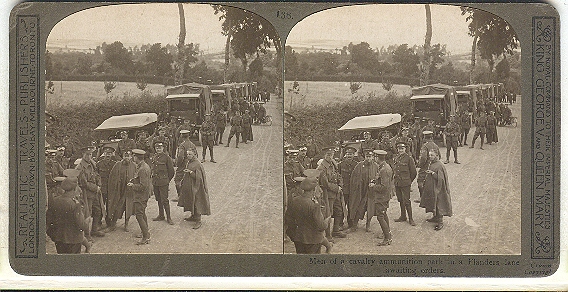 'Men of a cavalry ammunition park in a Flanders lane awaiting orders'.
Order #9311.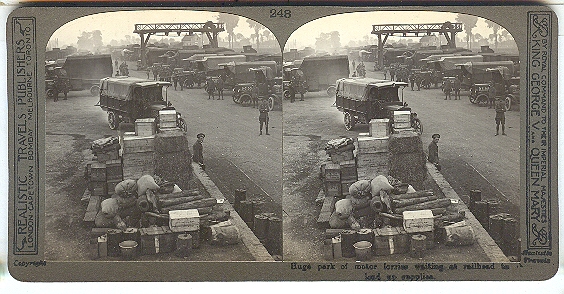 'Huge park of motor lorries at railhead to load up supplies'.
Order #9312.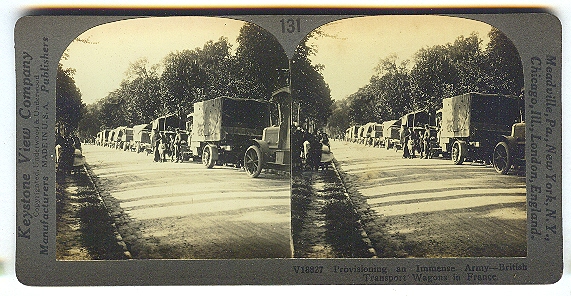 'Provisioning an immense army - British transport wagons in France'.
Order #9313.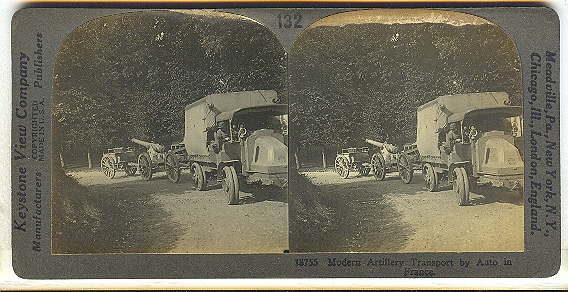 'Modern artillery transport by auto in France'.
Order #9314.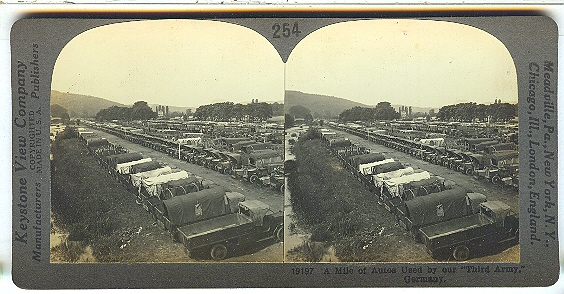 'A mile of autos used by our "Third Army", Germany'.
Order #9315.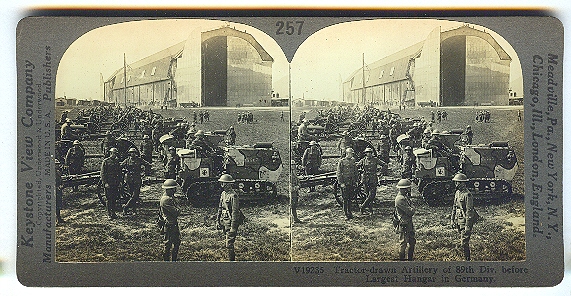 'Tractor-drawn artillery of 89th Div. before largest hanger in Germany'.
Order #9316.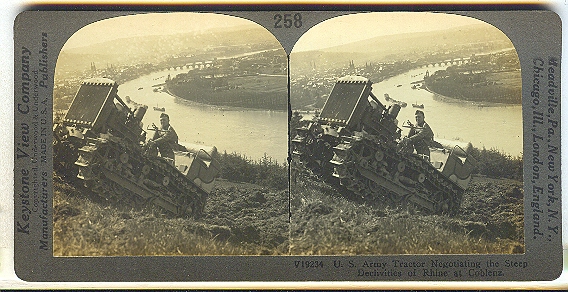 'US Army tractor negotiating the steep declivities of Rhine at Coblenz'.
Order #9317.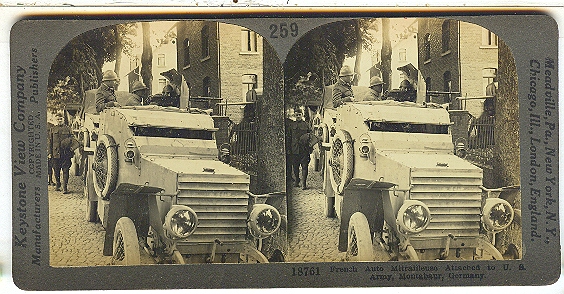 'French Auto Mitrailleuse attached to US Army, Montabaur, Germany'.
Order #9318.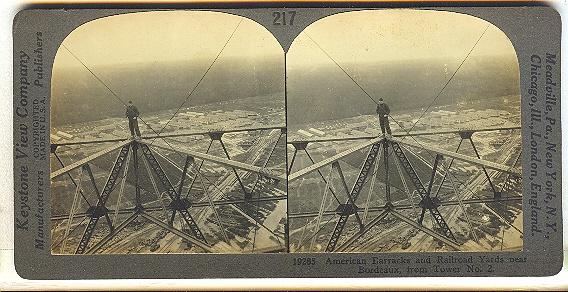 'American barracks and railroad yards near Bordeaux, from Tower No 2'.
Order #9319.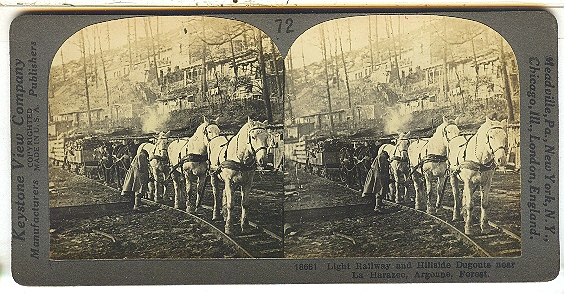 'Light railway and hillside dugouts near La Harazee, Argonne Forest'.
Order #9320.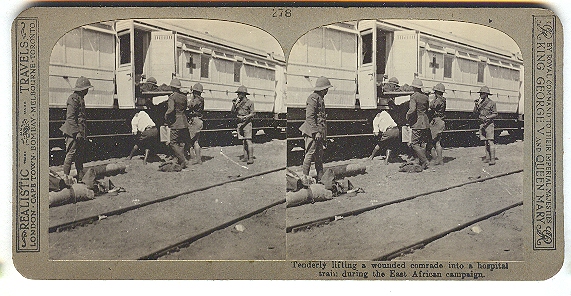 'Tenderly lifting a wounded comrade into a hospital train during the East African campaign'.
Order #9321.


To page one - Troops on the move
To page four - Guns and gunners
To page five - In the trenches, over the top, fixed defenses, communications, materiel
To page seven - Battlefield landscapes, prisoners
To page eight - Miscellaneous and war damage
To page nine - The wounded, the fallen, war graves
To page ten - Officers, victory parades