Page five. In the trenches; over the top; fixed defences; communications; materiel
Most of my World War One material is either by H. D. Girdwood, an English company, who sold their views under the trade name 'Realistic Travels' and concentrated on the British troops and UK market, or Keystone which concentrated on US troops, the U.S. market, and entered the war with the U.S. in 1917. Due to the high gloss and exaggerated curve, the Keystone views do not scan very well. They will therefore almost all be of far higher quality than they appear on the screen. The Keystone views all have a full text description on the back - the Realistic Travels views do not.
Please click here for a high quality scan which gives a true indication of the quality.
Girdwood's views have more immediacy and action. They were issued in sets of between 50 and 500 views so the numbering sequence is pretty muddled. Customers could also pick out the views they required and so a box or collection may have non-sequential numbering. They come on Underwood-type mounts or on lighter mounts with curved or beveled edges. These are interchangeable and most views appear on both types of mount.


These are ALL condition 8, 9 or 10 and priced at $8 each unless otherwise mentioned.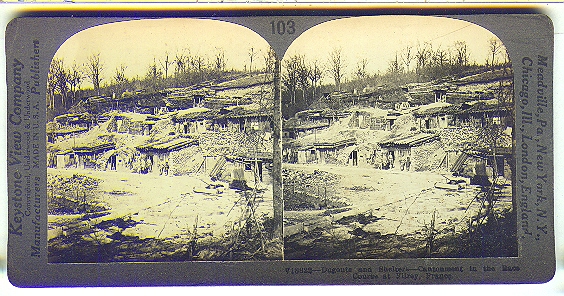 'Dugouts and shelters - Cantonment in the Race Course at Flirey, France'.
Order #9401.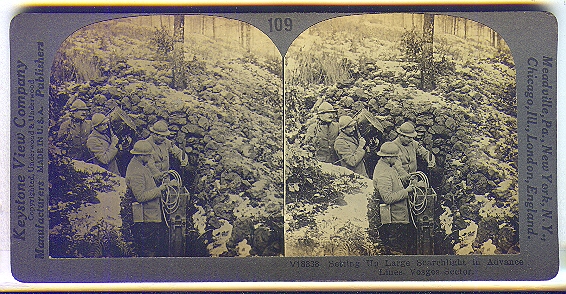 'Setting up large searchlight in advance lines, Vosges Sector'.
Order #9403.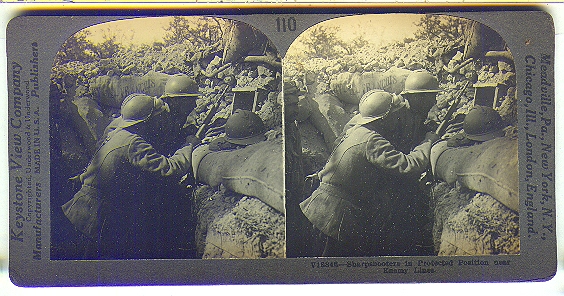 'Sharpshooters in protected position near enemy lines'.
Order #9404.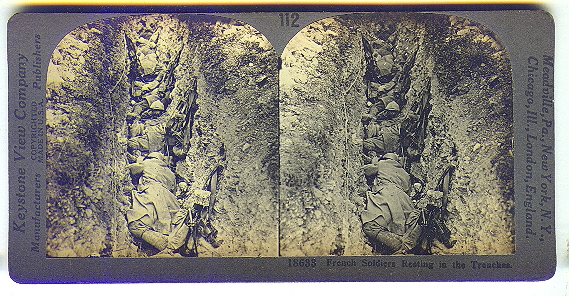 'French soldiers resting in the trenches'.
Order #9405.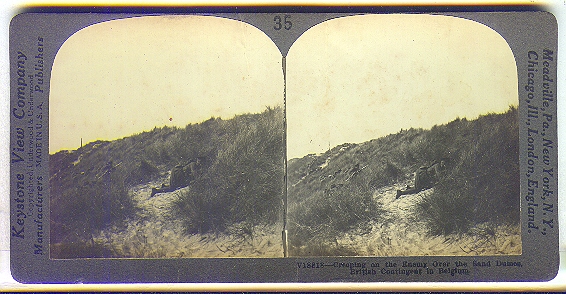 'Creeping on the enemy over the sand dunes. British contingent in Belgium'.
Condition. Light stains in sky and some production creases.
Order #9406.
Price. $3.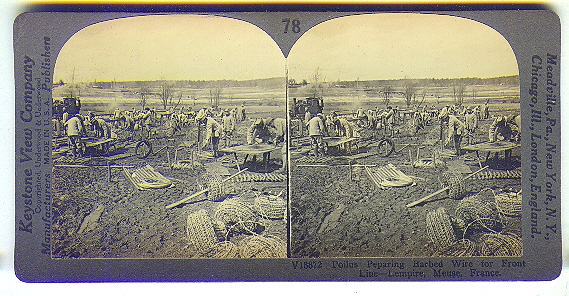 'Polius preparing barbed wire for Front Line - Lempire, Meuse, France'.
Order #9411.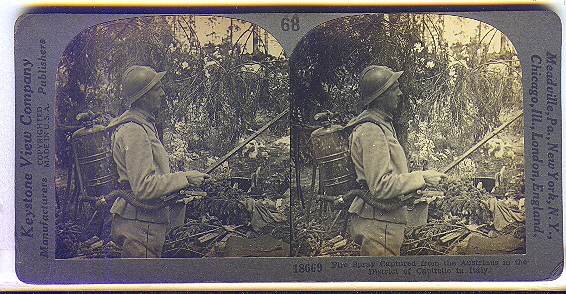 'Fire spray captured from the Austrians in the District of Capitello in Italy'.
Order #9412.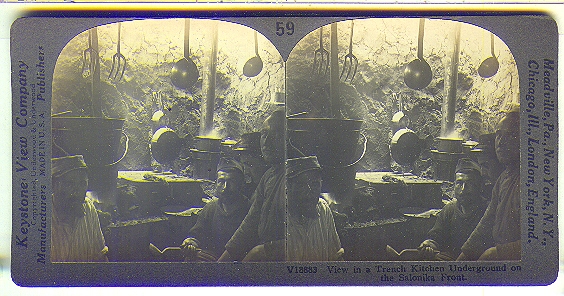 'View in a trench kitchen underground on the Salonika Front'.
Order #9416.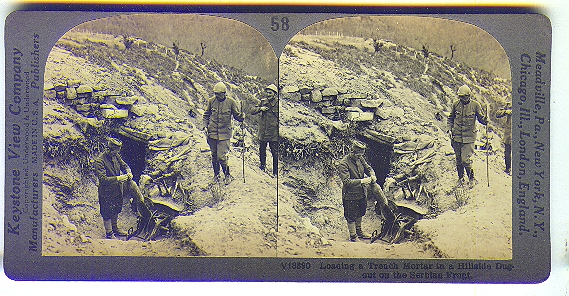 'Loading a trench mortar in a hillside dugout on the Serbian Front'.
Order #9417.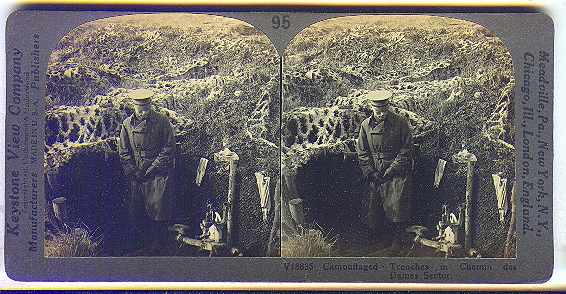 'Camouflaged trenches in Chemin des Dames sector'.
Condition. Slight split at bottom of right image.
Order #9418.
Price $6.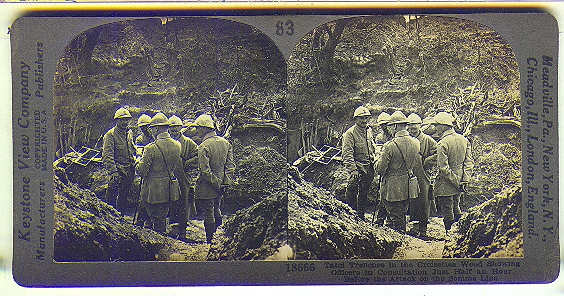 'Tatoi trenches in the Croisettes Wood showing officers in consultation just half an hour before an attack on the Somme Line'.
Order #9419.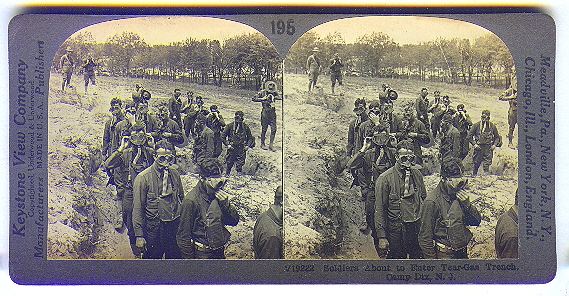 'Soldiers about to enter tear-gas trench, Camp Dix, N.J.'.
Order #9420.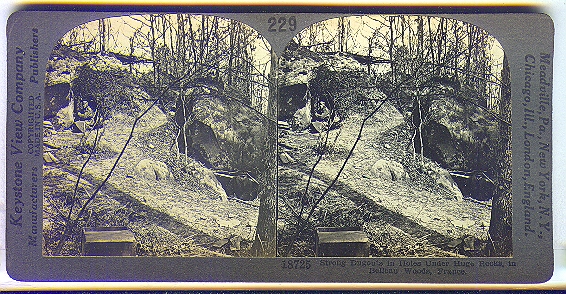 'Strong dugouts in holes under huge rocks in Belleau Woods, France'.
Order #9421.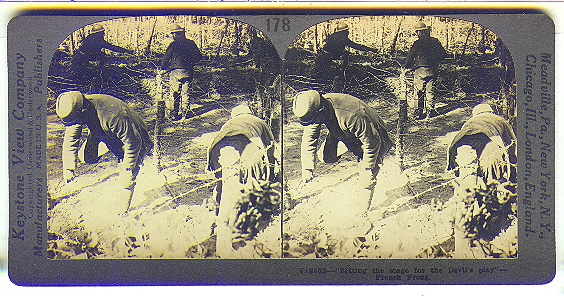 'Setting the stage for the Devil's play - French Front'.
Order #9422.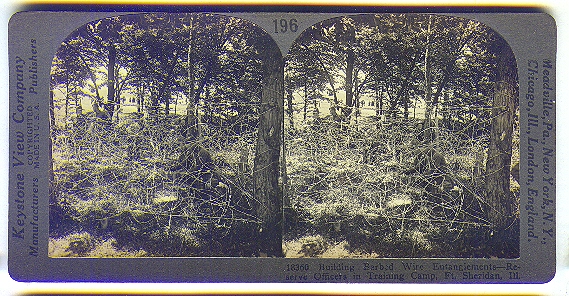 'Building barbed wire entanglements - Reserve officers in training camp, Ft. Sheridan, Ill.'.
Order #9423.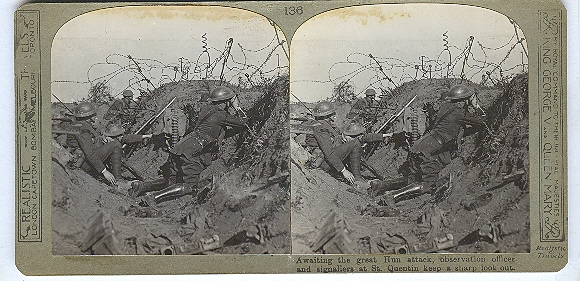 'Ready for the great Somme push, officer and signallers keep a sharp look-out over the Sausage valley'.
Order #9424.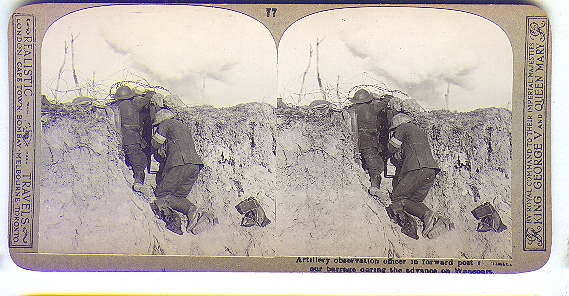 'Artillery observation officer in forward post regulates our barrage during the advance on Woncourt'.
Order #9426.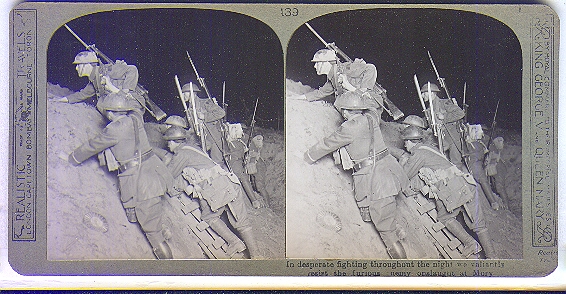 'In desperate fighting throughout the night we valiantly resist the furious enemy onslaught at Mory'.
Order #9427.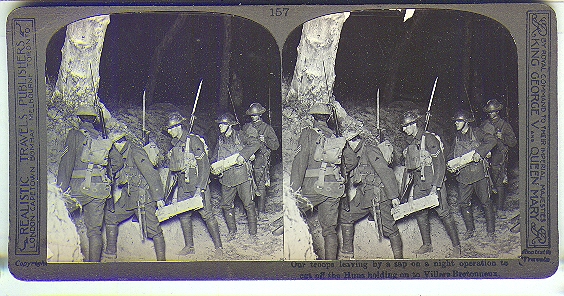 'Our troops leaving by a sap on a night operation to cut off the Huns holding on to Villers-Bretonneux'.
Order #9428.

'A British infantry maxim gun going into action'.
Order #9429.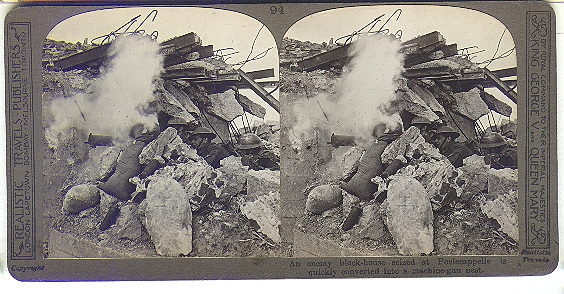 'An enemy blockhouse seized at Poelecappelle is quickly converted into a machine-gun nest'.
Order #10351.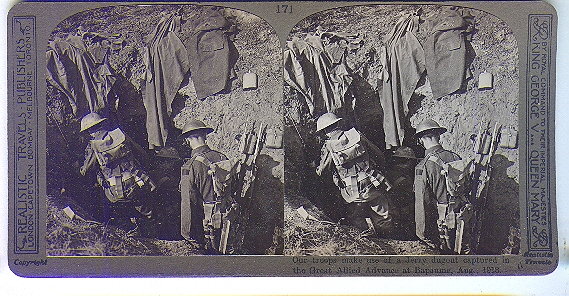 'Our troops make use of a Jerry dugout captured in the Great Allied Advance at Bapaume, Aug. 1918'.
Order #10352.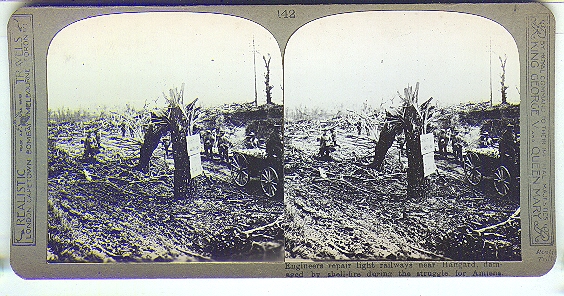 'Engineers repair light railway near Hangard, damaged by shell-fire during the struggle for Amiens'.
Order #10354.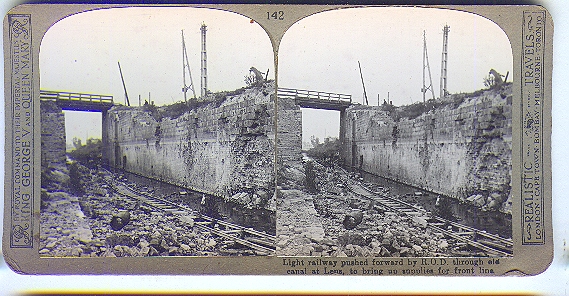 'Light railway pushed forward by ROD through old canal at Lens, to bring up supplies for front line'.
Order #10355.

'Cable section laying cable - each wagon holds several miles'.
Order #10356.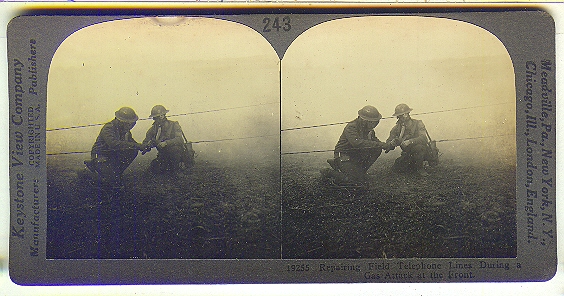 'Repairing field telephone lines during a gas attack at the Front'.
Order #10357.

'Air line section of signal corps putting up telegraph line along a Flanders canal'.
Order #10359.



'Signal section putting up telephone wires communicating with headquarters'.
Order #10361.

'R.E. Signals; lorry winding up telegraph wire'.
Order #10362.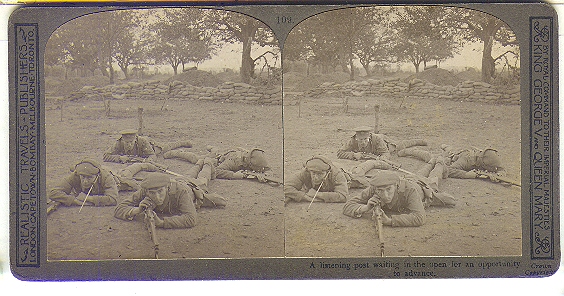 'A listening post waiting in the open for an opportunity to advance'.
Order #10363.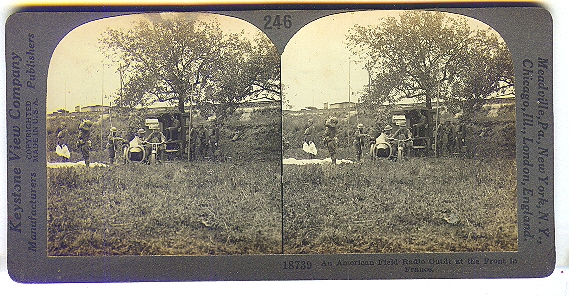 'An American field radio outfit at the Front in France'.
Order #10364.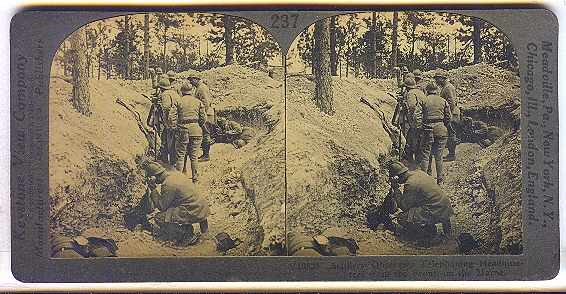 'Artillery observers telephoning headquarters from the Front, on the Marne'.
Order #10365.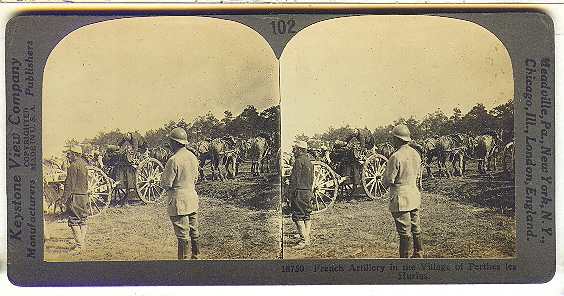 'French artillery in the village of Perthes Hurlus'.
Order #10366.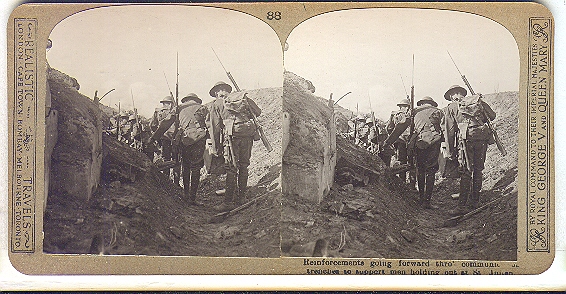 'Reinforcements going forward thro' communication trenches to support men holding out at St. J????en'.
Order #10368.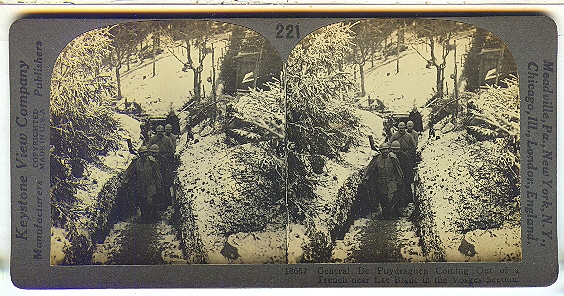 'General de Puydraguen coming out of a trench near Lac Blanc in the Vosges Section'.
Order #10369.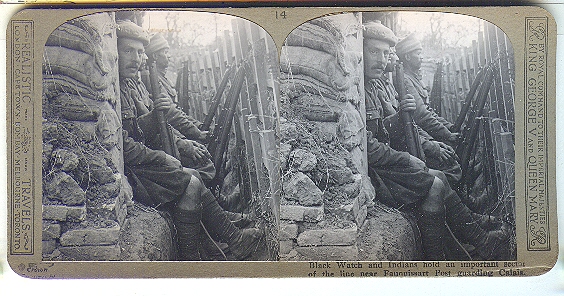 'Black Watch and Indians hold an important sector of the line near Fauquissart Post guarding Calais'.
Order #10372.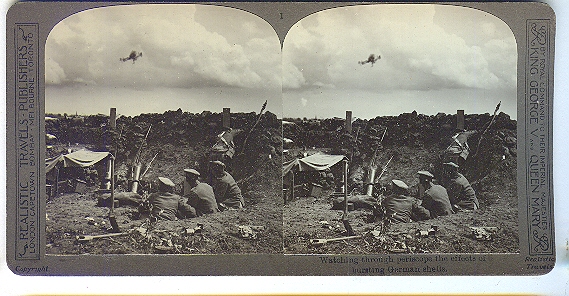 'Watching through periscope the effects of bursting German shells'.
Order #10373.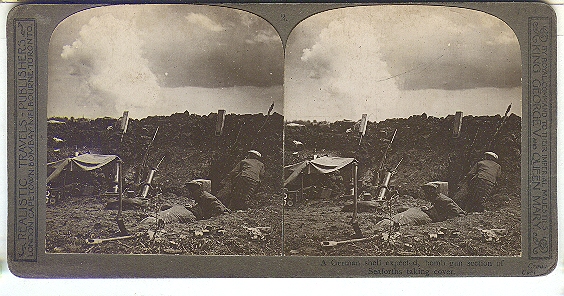 'A German shell expected, bomb gun section of Seaforths taking cover'.
Order #10375.


'A defensive post in a shell-swept building, held by our troops'.
Order #10378.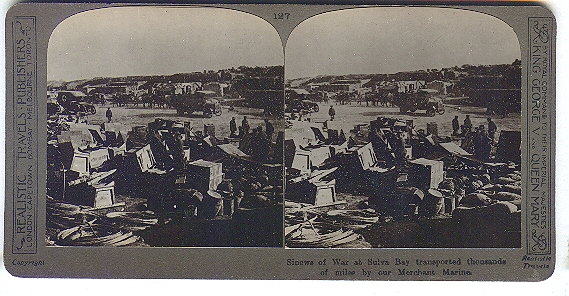 'Sinews of war at Sulva Bay, transported thousands of miles by our Merchant Marine'.
Order #10379.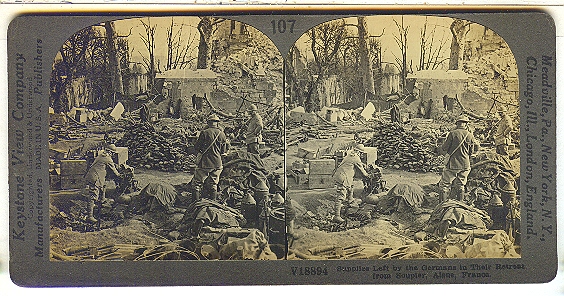 'Supplies left by the Germans in their retreat from Soupier, Alane, France'.
Order #10381.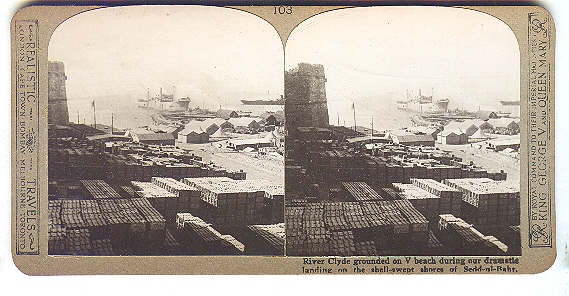 'River Clyde grounded on V Beach during our dramatic landing on the shell-swept shores of Sedd-al-Bahr'.
Order #10382.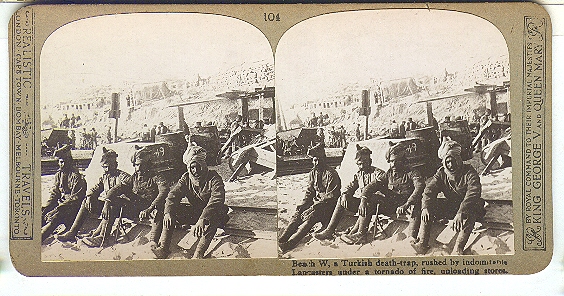 'Beach W, a Turkish death-trap rushed by indominitable Lancasters under a tornado of fire, unloading stores'.
Order #10384.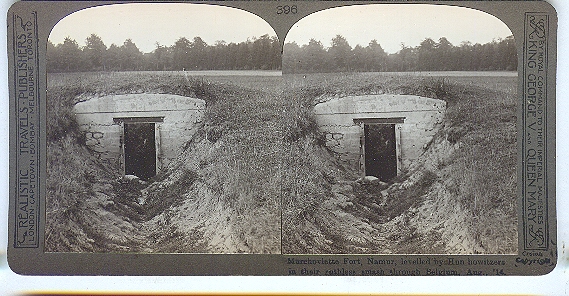 'Marchovlette Fort, Namur, levelled by Hun howitzers in their ruthless smash through Belgium, Aug. '14'.
Order #10385.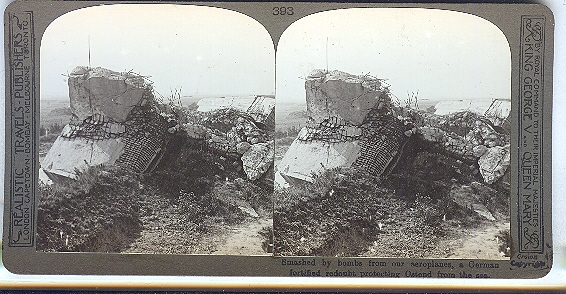 'Smashed by bombs from our aeroplanes, a German fortified redoubt protecting Ostend from the sea'.
Order #10386.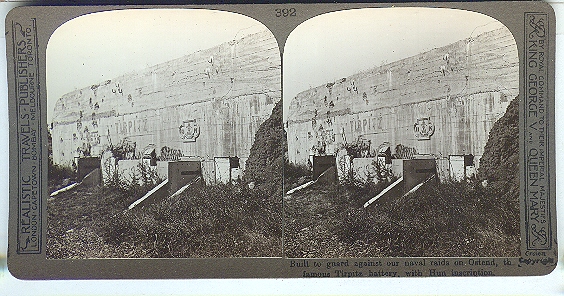 'Built to guard against our naval raids on Ostend, the famous Tirpitz battery, with Hun inscription'.
Order #10387.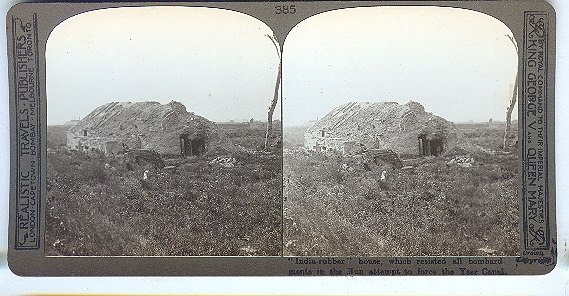 '"India-rubber" house which resisted all bombardments in the Hun attempt to force the Yser Canal'.
Order #10388.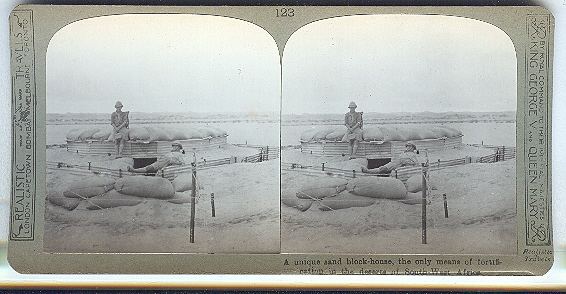 'A unique sand blockhouse, the only means of fortification in the deserts of South-West Africa'.
Order #10389.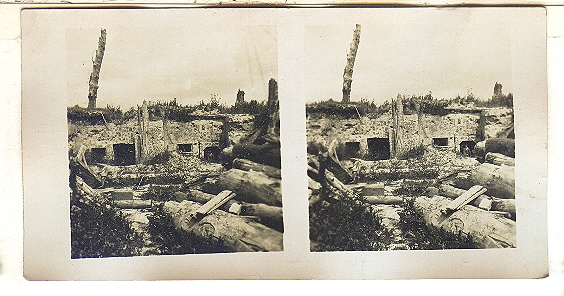 'German dugouts, Nieuport'. Geo. Nightingale Battlefield Series on thin mount.
Order #10390.
Price $3.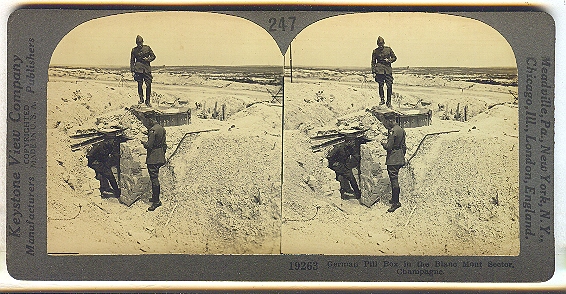 'German pill box in the Blanc Mont Sector, Champagne'.
Order #10392.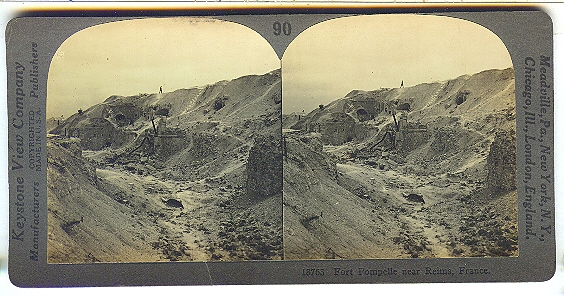 'Fort Pompelle near Reims, France'.
Order #10393.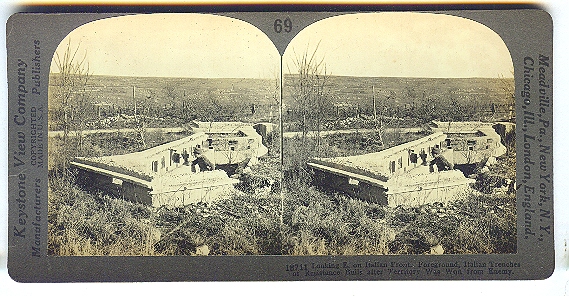 'Looking E. on Italian Front. Foreground, Italian trenches of resistence built after territory was won from the enemy'.
Order #10394.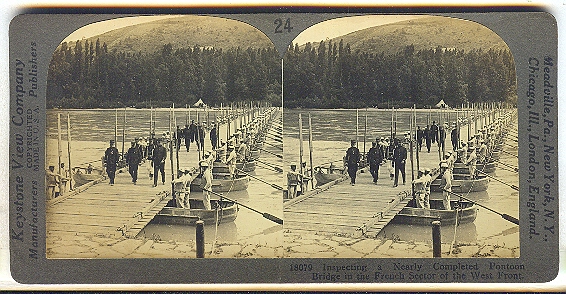 'Inspecting a nearly completed pontoon bridge in the French sector of the West Front'.
Order #10395.


HAVE you forgotten yet?...
For the world's events have rumbled on since those gagged days,
Like traffic checked while at the crossing of city-ways:
And the haunted gap in your mind has filled with thoughts that flow
Like clouds in the lit heaven of life; and you're a man reprieved to go,
Taking your peaceful share of Time, with joy to spare.
But the past is just the same--and War's a bloody game...
Have you forgotten yet?...
Look down, and swear by the slain of the War that you'll never forget.
Do you remember the dark months you held the sector at Mametz--
The nights you watched and wired and dug and piled sandbags on parapets?
Do you remember the rats; and the stench
Of corpses rotting in front of the front-line trench--
And dawn coming, dirty-white, and chill with a hopeless rain?
Do you ever stop and ask, 'Is it all going to happen again?'
Do you remember that hour of din before the attack--
And the anger, the blind compassion that seized and shook you then
As you peered at the doomed and haggard faces of your men?
Do you remember the stretcher-cases lurching back
With dying eyes and lolling heads--those ashen-grey
Masks of the lads who once were keen and kind and gay?
Have you forgotten yet?...
Look up, and swear by the green of the spring that you'll never forget.
Siegfried Sassoon. 1920


To page one - Troops on the move
To page four - Guns and gunners
To page seven - Battlefield landscapes, prisoners
To page eight - Miscellaneous and war damage
To page nine - The wounded, the fallen, war graves
To page ten - Officers, victory parades