Page seven, battlefield landscapes, prisoners
Most of my World War One material is either by H. D. Girdwood, an English company, who sold their views under the trade name 'Realistic Travels' and concentrated on the British troops and UK market, or Keystone which concentrated on US troops, the U.S. market, and entered the war with the U.S. in 1917. Due to the high gloss and exaggerated curve, the Keystone views do not scan very well. They will therefore almost all be of far higher quality than they appear on the screen. The Keystone views all have a full text description on the back - the Realistic Travels views do not.
Please click here for a high quality scan which gives a true indication of the quality.
Girdwood's views have more immediacy and action. They were issued in sets of between 50 and 500 views so the numbering sequence is pretty muddled. Customers could also pick out the views they required and so a box or collection may have non-sequential numbering. They come on Underwood-type mounts or on lighter mounts with curved or beveled edges. These are interchangeable and most views appear on both types of mount.


These are ALL condition 8, 9 or 10 and priced at $8 each unless otherwise mentioned.

'Jerusalem, the Holy City, goal of the Crusaders, rescued for ever from the Turks'.
Order #10466.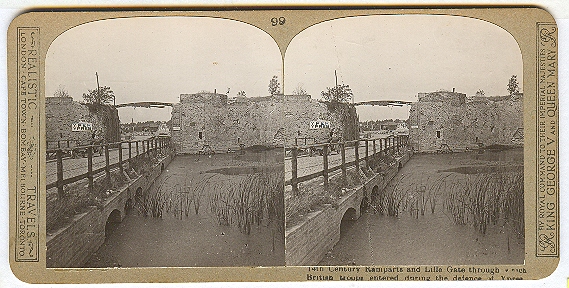 '14th century ramparts and Lille Gate through which British troops entered during defence of Ypres'.
Order #10467.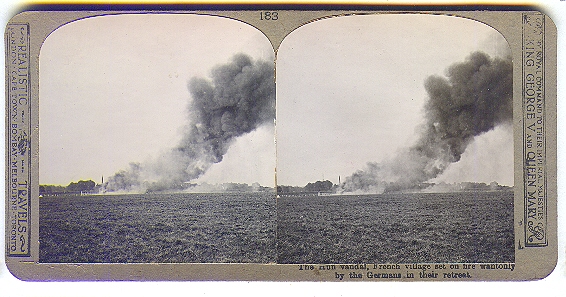 'The Hun vandal, French village set on fire wantonly by the Germans in their retreat'.
Order #10468.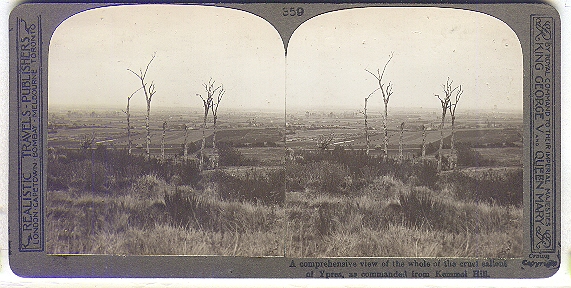 'A comprehensive view of the whole of the cruel salient of Ypres, as commanded from Kemmel Hill'.
Order #10469.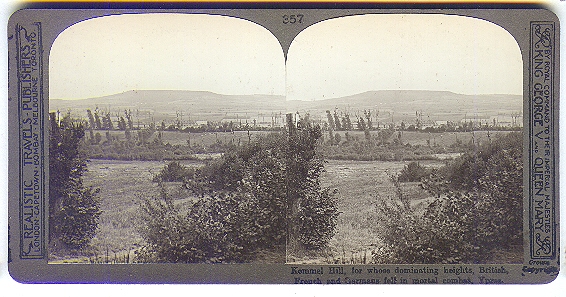 'Kemmel Hill, for whose dominating heights British, French and Germans fell in mortal combat, Ypres'.
Order #10471.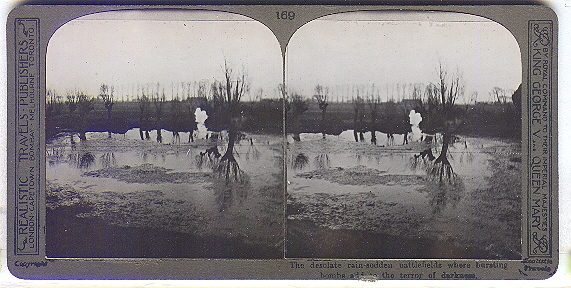 'The desolate rain-sodden battlefields where bursting bombs added to the terror of darkness'.
Order #10472.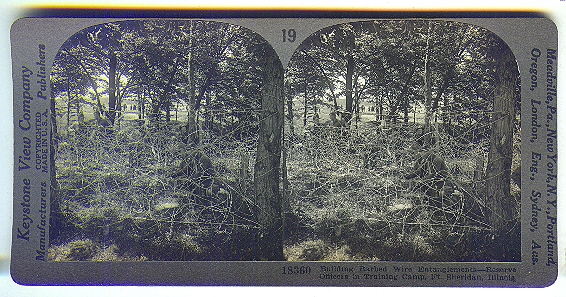 'In Bellean Wood where Americans gave Germany her fatal check'.
Order #10473.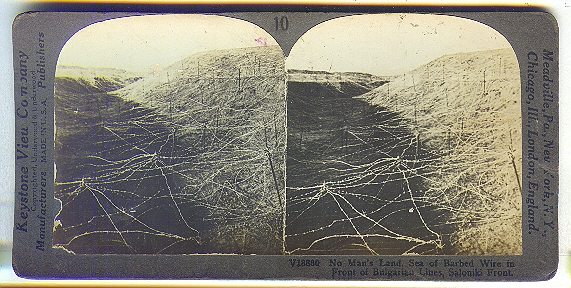 'No Man's Land, sea of barbed wire in front of Bulgarian lines, Saloniki Front'.
Order #10474.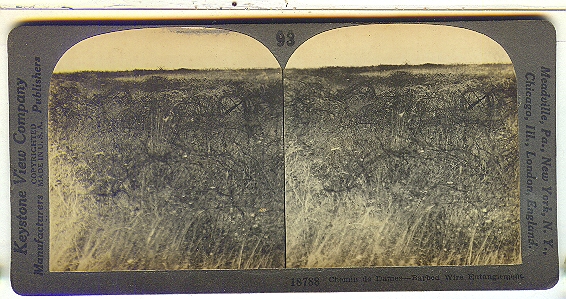 'Chemin de Dames - Barbed wire entanglement'.
Order #10475.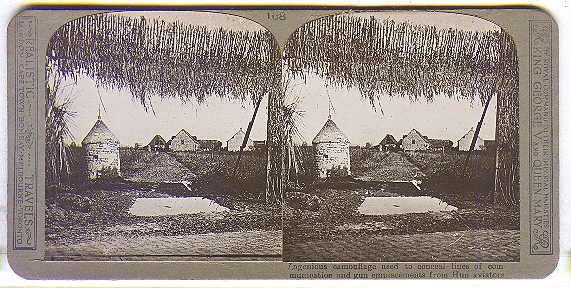 'Ingenuous camouflage used to conceal lines of communication and gun emplacements from Hun aviators'.
Order #10478.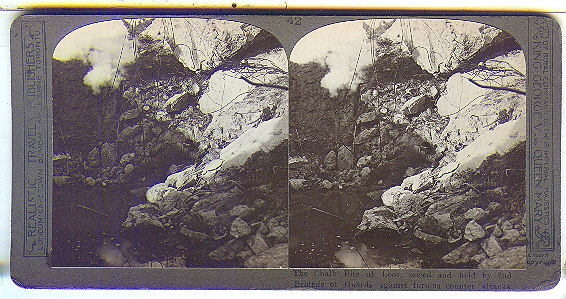 The chalk pits at Loos, seized and held by 2nd Brigade of Guards against furious counter attacks'.
Order #10479.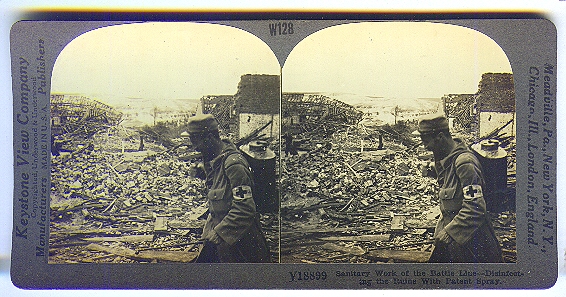 'Sanitary work of the battle line - Disinfecting the ruins with patent spray'.
Order #10480.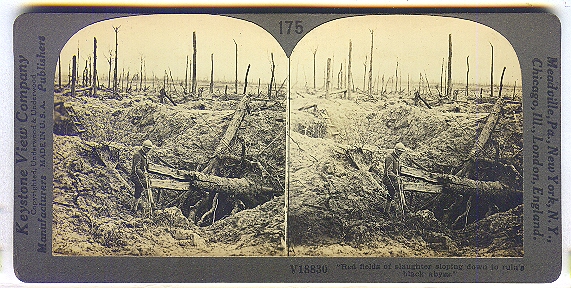 'Red fields of slaughter sloping down to ruin's black abyss'.
Order #10481.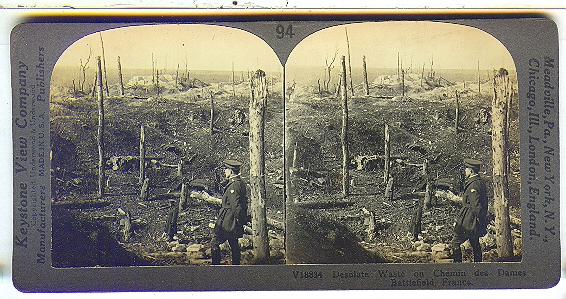 'Desolate waste on Chemin des Dames Battlefield, France'.
Order #10482.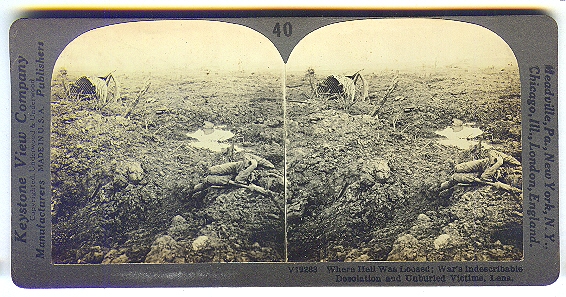 'Where Hell was loosed. War's indescribable desolation and unburied victims, Lens'.
Order #10483.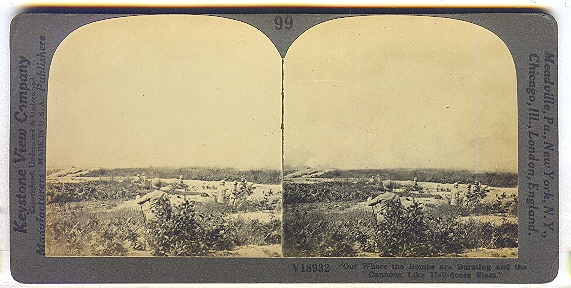 'Out where the bombs are bursting and the cannons like Hell-doors slam'.
Order #10484.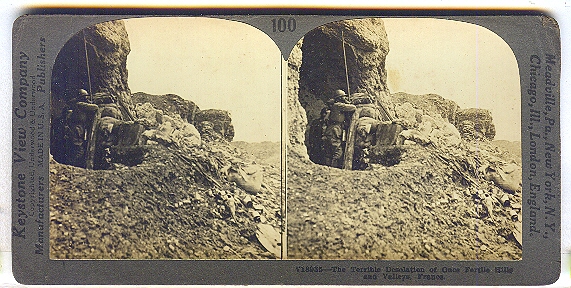 'The terrible desolation of once fertile hills and valleys, France'.
Order #10486.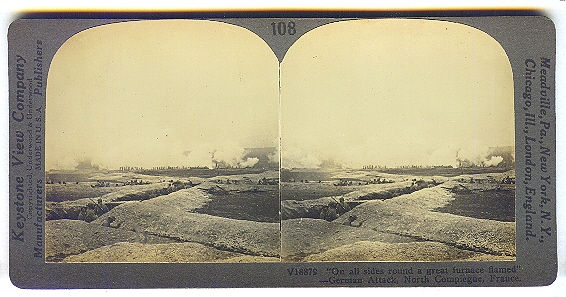 '"On all sides round a great furnace flamed". German attack, North Compiegne, France'.
Order #10488.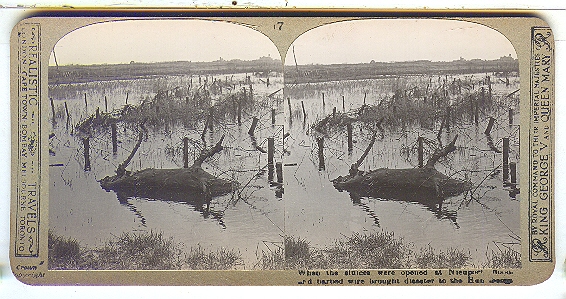 'When the sluices were opened at Nieuport water and barbed wire brought disaster to the Hun'.
Order #10490.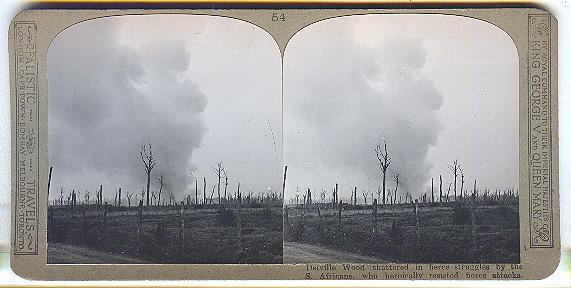 'Delville Wood shattered in fierce struggles by the S. Africans who heroically resisted fierce attacks'.
Order #10492.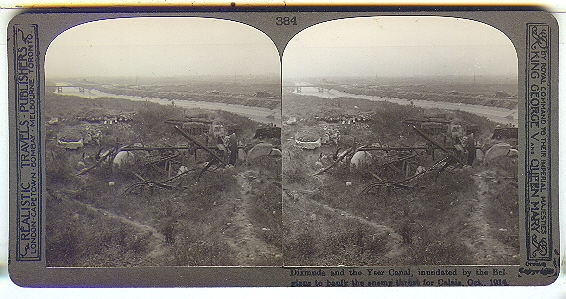 'Dixmude and the Yser Canal, inundated by the Belgians to baulk the enemy thrust for Calais, Oct. 1914.
Condition 7 (marks and scratches).
Order #10493.
Price $5.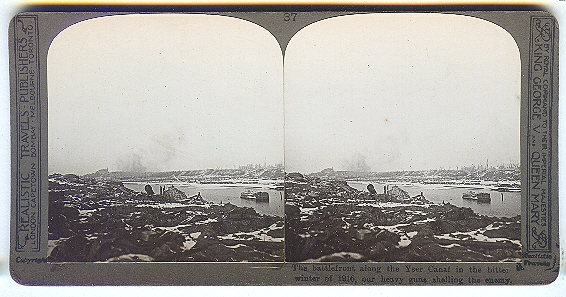 'The battlefront along the Yser Canal, in the bitter winter of 1916, our heavy guns shelling the enemy'.
Order #10494.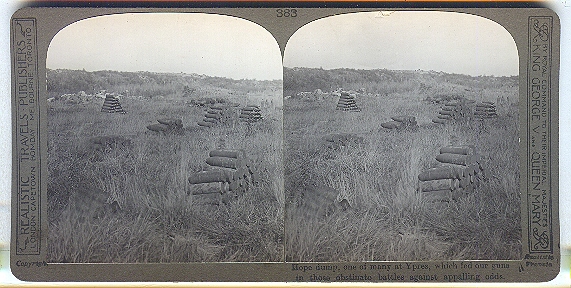 'Hope Dump, one of many at Ypres, which fed our guns in those obstinate battles against appalling odds'.
Order #10495.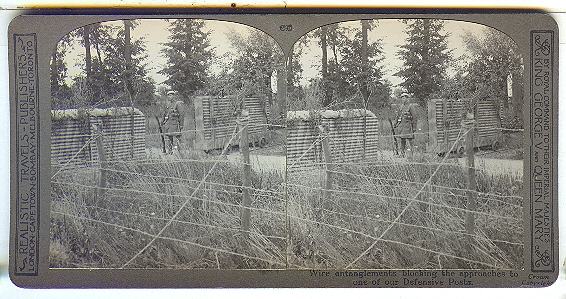 'Wire entanglements blocking the approaches to one of our defensive posts'.
Order #10496.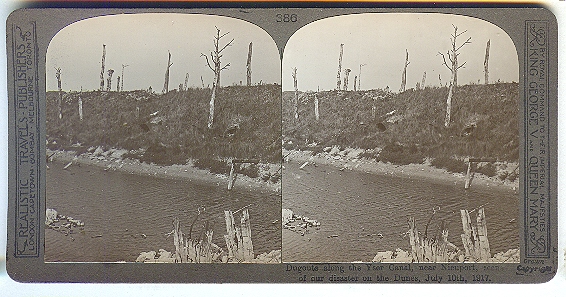 'Dugouts along the Yser Canal, near Nieuport, scene of our disaster on the dunes, July 10th 1917'.
Order #10497.

'The battlefield at Nieuport, where we hurled back the enemy thrust towards Calais by the seashore'.
Order #10498.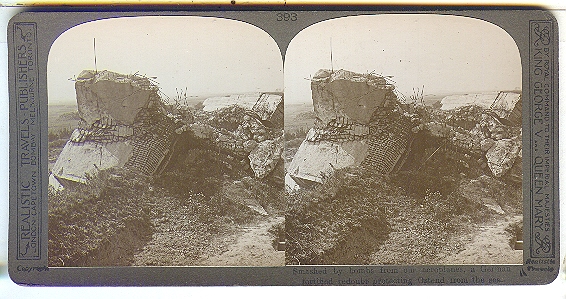 'Smashed by bombs from our aeroplanes, a German fortified redoubt protecting Ostend from the sea'.
Order #10499.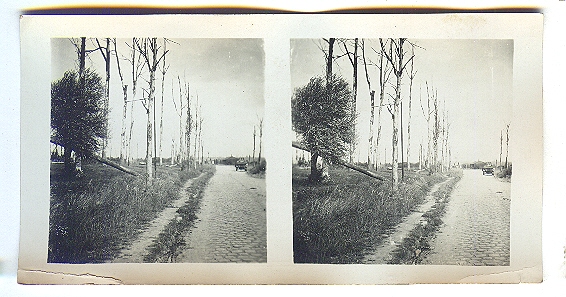 George Nightingale. The Battlefield Series, on thin white mount. 'Plug Street, Le Vizey'.
Order #10500.
Price $3.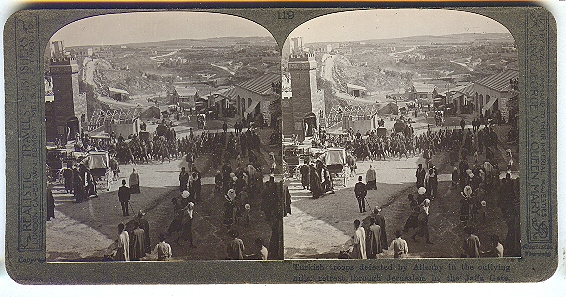 'Turkish troops defeated by Allenby in the outlying hills, retreat through Jerusalem by the Jaffa Gate'.
Order #12703.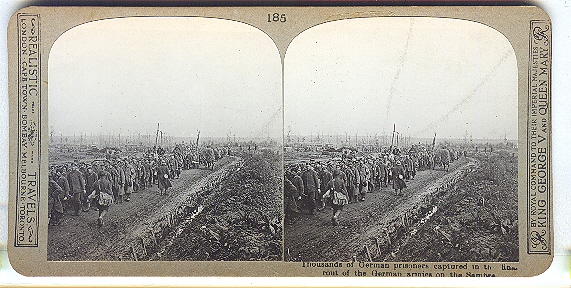 'Thousands of German prisoners captured in the final rout of the German armies on the Sambre'.
Order #12704.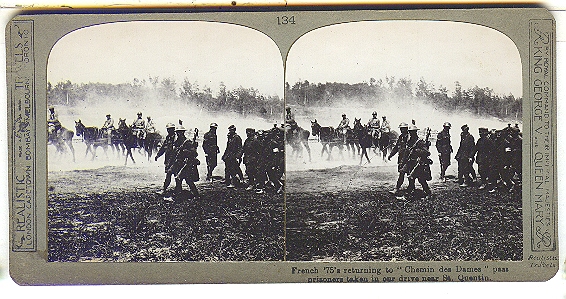 'French 75s returning to Chemin des Dames pass prisoners taken in our big drive near St. Quentin'.
Order #12705.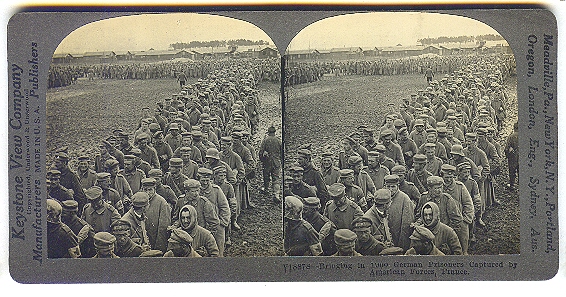 'Bringing in 1900 German prisoners captured by American forces, France'.
Order #12706.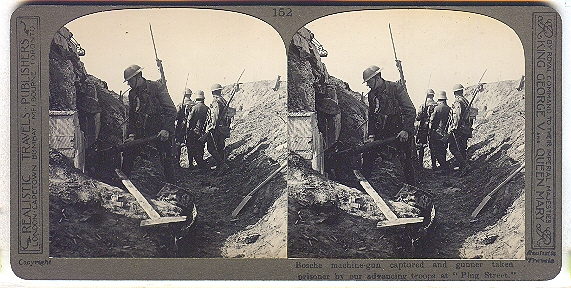 'Boche machine-gun captured and gunner taken prisoner by our advancing troops at "Plug Street"'.
Order #12707.

Violets from Plug Street Wood -
Think what they have meant to me -
Life and Hope and Love and You
(And you did not see them grow
Where his mangled body lay,
Hiding horror from the day;
Sweetest, it was better so.)
Roland Leighton (shot at Hébuterne and died in Louvencourt, 1915)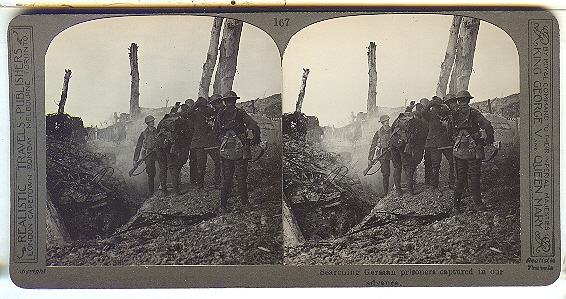 'Searching German prisoners taken in our advance'.
Order #12708.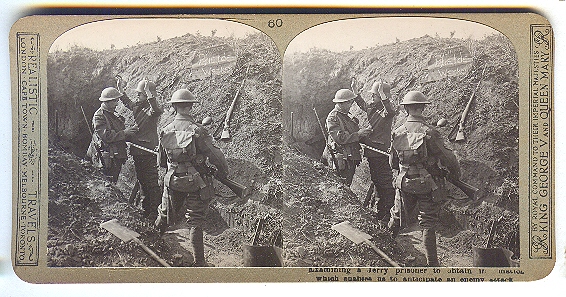 'Examining a Jerry prisoner to obtain information which enables us to anticipate an enemy attack'.
Order #12709.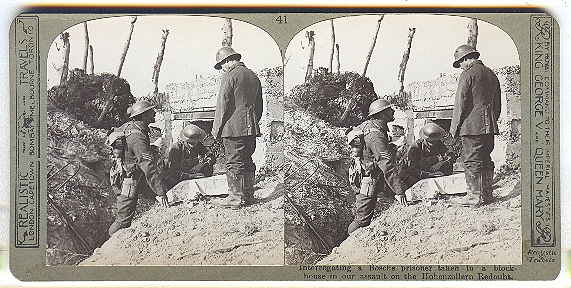 'Interrogating a Boche prisoner taken in a block house in our assault on the Hohenzollern Redoubt'.
Order #12710.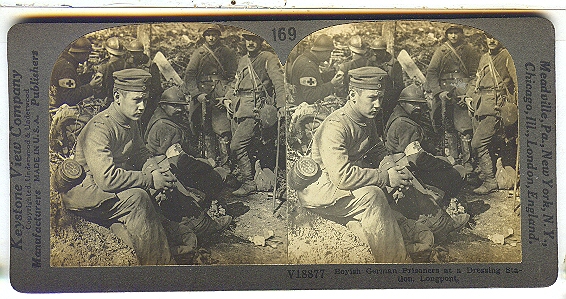 'Boyish German prisoners at a dressing station, Longpont'.
Order #12711.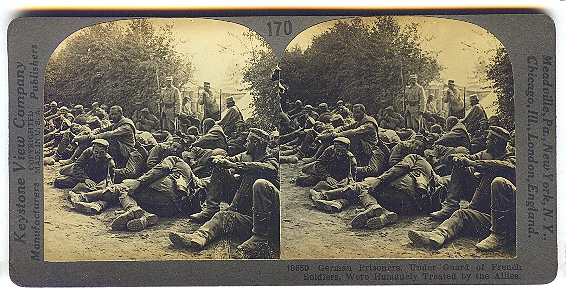 'German prisoners, under guard of French soldiers, were humanely treated by the Allies'.
Order #12712.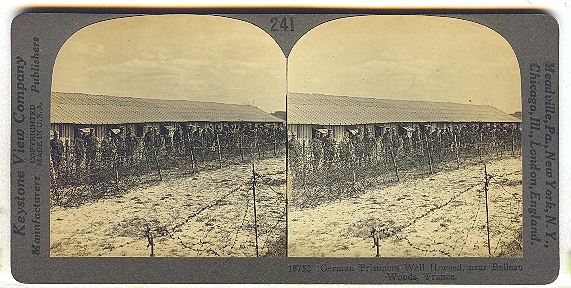 'German prisoners, well housed near Belleau Woods, France'.
Order #12713.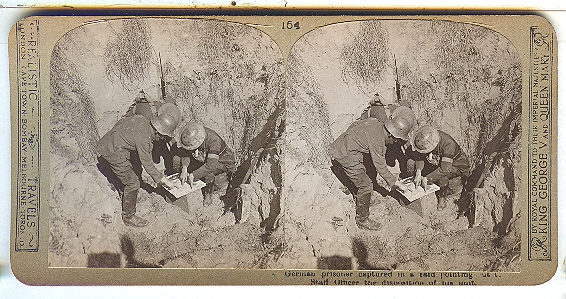 'German prisoner captured in a raid, pointing out to Staff Officer the disposition of his units'.
Order #12714.
'German prisoners escorted by French troops in front of Albert Cathedral, wrecked by shellfire'.
Order #12715.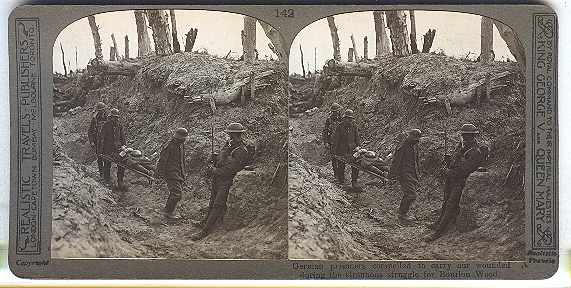 'German prisoners compelled to carry our wounded during the strenuous battle for Bourlon Wood'.
Order #12716.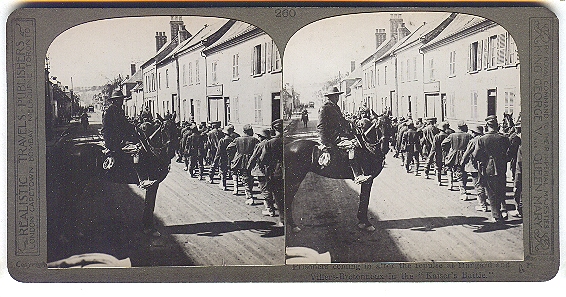 'Prisoners coming in after the repulse at Hangard and Villers-Bretonneux in the "Kaiser's Battle"'.
Order #12718.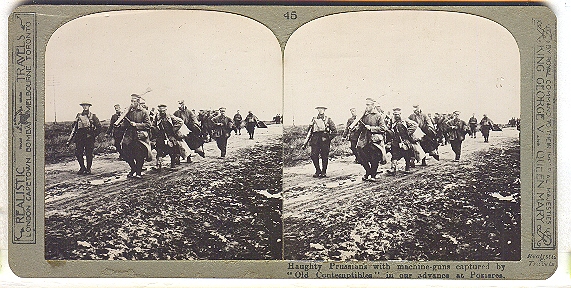 'Haughty Prussians with machine-guns captured by "Old Contemptibles" in our advance on Pozieres'.
Order #12719.

To page one - Troops on the move
To page four - Guns and gunners
To page five - In the trenches, over the top, fixed defenses, communications, materiel
To page eight - Miscellaneous and war damage
To page nine - The wounded, the fallen, war graves
To page ten - Officers, victory parades